For many intrepid travelers wanting to experience true wilderness environments, Antarctica and the Arctic are high on the bucket list. Geographically, both poles could not be further apart, and yet they share many similarities. So, how do you choose which to visit?
Getting there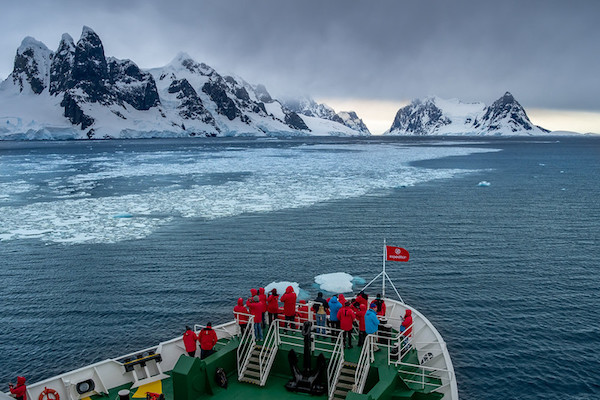 There is no doubt that the Arctic region is more easily accessible for most people living in Europe and North America.
The Arctic region encompasses several continents and multiple countries including Russia, Canada, Greenland, and parts of Scandinavia. Most notable among Arctic cruise destinations is Svalbard which lies off the coast of Norway in the heart of the Arctic Circle.
To get to Svalbard requires one short flight from Oslo which makes this a relatively easy option for people wanting to experience the Arctic without the hassle of traveling far.
For most travelers, reaching Antarctica is a much longer exercise. The vast majority of cruises to the Antarctic Peninsula depart from Ushuaia on the Southern tip of South America. This means a fairly long and expensive flight for people living in Europe and North America.
You also need to spend two days at sea crossing the infamous Drake Passage to even reach the peninsula, although there are some express itineraries which fly over this section. For more information, see our express itinerary here.
Landscape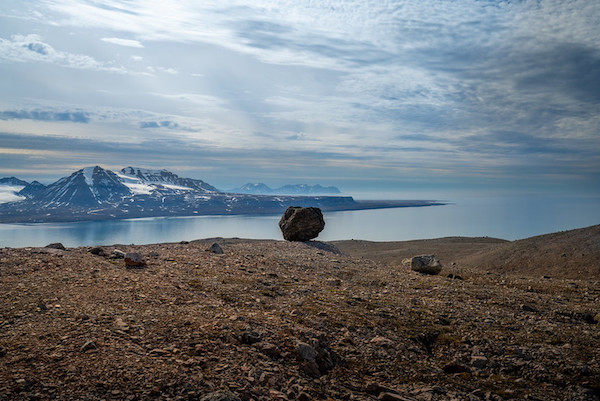 When people think of the Poles, an image of ice and snow often appears. However, this is not always the case, particularly in the Arctic during summer when much of the snow and ice melts and recedes.
Antarctica has a more otherworldly feel to it. If you are looking for ice, then Antarctica is the place to go. The Antarctic Peninsula is also best for seeing huge icebergs and snow-covered hills. Because Antarctica is so icy and barren, very little vegetation grows on the mainland continent and flora lovers may want to look elsewhere.
The Arctic has a more traditional mountainous feel to it. Snow-covered peaks, glaciers and bleak tundra characterize many of the popular Arctic cruise destinations. Shore landings are more often on rock or grass than snow or ice.
The Arctic is also home to many human settlements. Inuit people live throughout the region, especially in the Canadian Arctic. Longyearbyen in Svalbard is home to over 2,000 people and has a vibrant hotel and restaurant scene. Antarctica in stark contrast has no permanent settlement and you will not encounter any other humans on your cruise.
Both destinations feel remote and somewhat alien, but Antarctia offers that traditional white landscape that many travelers are hoping for when they visit the Poles. The Arctic however is more varied and diverse in its landscapes.
Wildlife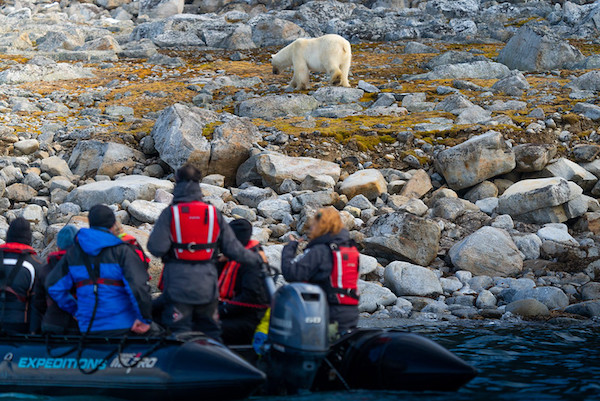 Penguins VS polar bears is the main consideration for most travelers when it comes to what wildlife you will see in the Poles.
During your Antarctic voyage, you are guaranteed to see hundreds, if not thousands of penguins. Most landing sites will be home to a penguin rookery and these charismatic creatures will often come right up to you.
Polar bears however are not so easily found. There is no guarantee that you will see them, unless you travel to Churchill, Canada in October and November.
Svalbard is probably the best chance you have of seeing polar bears without spending a fortune. The archipelago of Svalbard is a haven for bears and most cruises to this region are more than likely to see these majestic creatures. Bear in mind that sightings are often not close and you will need a telephoto lens.
If you want to see seabirds then the Arctic is your best option. Whilst Antarctica is home to albatross, the Arctic has a wider variety of species in much higher abundance.
As for whales, you are likely to see whales in both destinations. Many whale species migrate to both Poles following the currents and krill. Humpbacks are the most commonly seen whale species, but minke whales, fin whales and blue whales are also spotted regularly.
Activities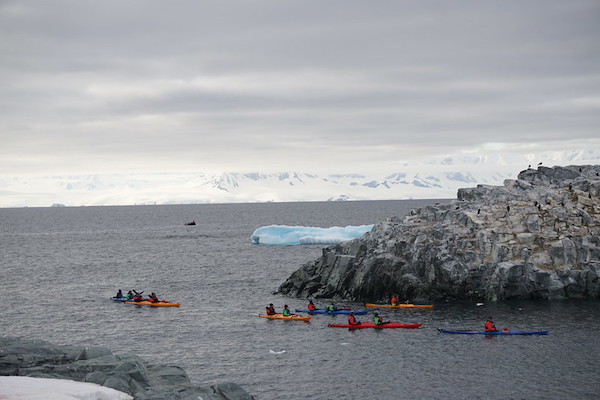 Activities are a big part of your polar voyage. Most activities will be optional and cost extra. However, they are a great way to make memories and experience the region in a different way.
Hiking is the most popular activity on any polar trip and comes as standard. You will generally make one or two landings a day. The Arctic is a little better for hiking as the landscape is more varied and you get the chance to hike for longer if you wish. Antarctic shore landings are more about seeing and photographing penguins.
Kayaking is another popular activity on both Arctic and Antarctic voyages. Kayaking usually costs extra but is a great way to see the landscape from a different perspective.
A select number of Antarctic voyages offer activities such as camping, snowshoeing, snorkeling or diving, but these itineraries are not common. Skiing and mountain climbing is also possible, but requires specialized itineraries. A great activity when visiting the Arctic is dog sledding. In the summer period, dog sledding is operated using wheels on the sleds. This is a great option pre or post voyage.
For adrenaline junkies the Polar Plunge is offered on both Arctic and Antarctic voyages. If you like the idea of jumping into freezing water without a wetsuit then this free activity is for you.
Culture and History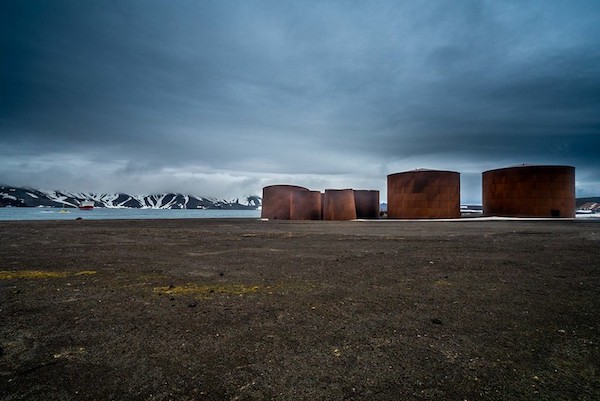 Historically Antarctica has been completely deserted. Despite this, it has a rich history in exploration, scientific research, and whaling.
History lovers will be excited to see the remains of multiple expedition huts including Scott, Shackleton and Mawson. On Deception Island you can see the huge oil tanks that once held thousands of gallons of whale oil.
Because Antarctica has never had a permanent settlement there is no culture to be found on the continent. The Arctic region however has plenty of culture which provides a fascinating backdrop to many of the regions.
The native Inuit People still inhabit much of the Arctic coastal areas in Canada, Alaska and Greenland. Cruise passengers often visit these small settlements and learn all about the local environment and way of life.
When to visit?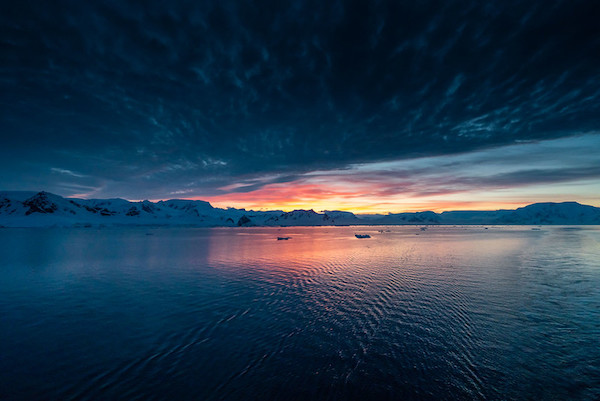 For cruise goers, Antarctica and the Arctic can only be visited in their respective summer periods.
For the Arctic this is between May and August when the sea ice has melted enough for cruise ships to visit the most popular destinations.
For Antarctia the cruise season runs from November through to March when the Antarctic Peninsula is most accessible.
Bear in mind that traveling at the beginning of each season will be colder and the landscape will have more and ice and snow. Also note that if you travel in the high summer period there will be 24 hours of daylight each day.