Although not well known, scuba diving in Antarctica is definitely one of the most fascinating dive experiences on earth!
Antarctica is a place like no other – an unexplored paradise covering 14 million square kilometres.It is the most southern, highest, driest and coldest continent on earth and offers one of the richest bio-diverse ecosystems on the planet!
It comes as no surprise that this icy desert lures thousands of travellers each year, all looking for a unique and unforgettable experience.
While there is a lot to see above ground on your Antarctica cruise, the real magic happens below the surface.
Scuba diving in Antarctica takes you into unchartered territory and invites you to immerse yourself in an icy world of immense biological complexity. A favourite activity for the more adventurous and on the bucket list for many seasoned divers, there's no better way to experience the magic that only a handful of people ever will.
This short guide will equip you with some key specifics about Scuba diving in Antarctica. From what you should expect to see, to your equipment and safety, we cover the essentials you will need to know as you take the plunge into one of the world's most mysterious and exciting environments.
Scuba Diving In Antarctica
What can I anticipate to see on my dive?
The diversity in Antarctic waters is incredible. There are no other dive sites like it. From the moment you step into the icy water, you will come across breathtaking ice structures, magical light reflecting from above, an abundance of marine wildlife and a vast wilderness to explore.
While most would assume the water is too cold for any marine life, this could not be further from the truth. Once you dive below the surface, there is a captivating variety of sea-life including:
kelp
sea snails
jellyfish
sea urchins
sea butterflies
starfish
isopods
crabs
anemones
soft coral
You might even get the opportunity to see fur seals, penguins and even the formidable predator of Antarctica- the Leopard seal!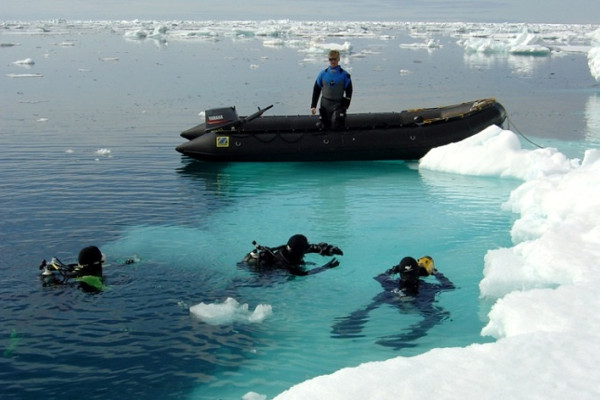 Do I need previous scuba diving experience?
Scuba diving in Antarctica is not for beginners. Inexperienced divers are a danger to both themselves and those around them.
While the dive itself isn't considered 'technical', the unpredictable conditions, extreme temperatures and specific equipment limits this experience to advanced divers only.
To participate in any of the dives, you will need to be a trained and certified scuba diver with an internationally recognised certificate, as well as a completed diver's logbook. Most tour operators will require this information well in advance.
You will also need prior experience in cold-water diving and diving with a dry suit, a recommended minimum of 20 dives.
Get a Cruise Quote!
Antarctica Guide do not sell tours, we simply provide impartial advice. If you would like an exact quote with our recommended specialist click Get a Quote.
Is scuba diving in Antarctica safe?
Diving anywhere has its inherent risks (e.g. currents, equipment malfunction and marine life), and scuba diving in Antarctica is much the same.
As long as you dive responsibly and follow the advice of your instructor you will have a safe and enjoyable experience. However, there are a few extra precautions you will need to take due to the unpredictable landscape of Antarctica.
Ice is a major concern as it is always shifting. Planning entry and exit points can be problematic; thus it is crucial divers familiarise themselves with their surroundings and remain vigilant at all times.
Due to the remote location, there is also no decompression chamber available in the region. Obviously, this presents a concern that divers must take seriously and therefore must refrain from deep dives or any stunt dives.
Full medical assistance can be days away, and only first aid is available onboard the vessels.
Always follow the lead from your professional dive instructor, they are experienced in the region and take extra precaution to ensure you and those around you are safe.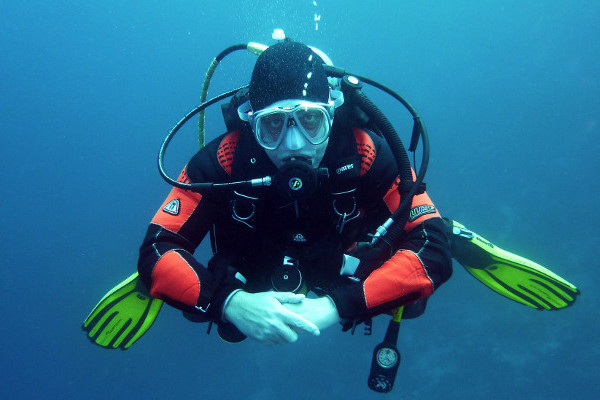 What equipment will I need?
Cold water diving requires an extensive amount of equipment. It is the only protection between you and the harsh environment.
Supplying your own gear will be necessary, as most tour operators only provide tanks, compressors and weights.
Use equipment you are familiar with and that has been tested and serviced regularly. It is also highly recommended that you have at least 4-5 dives with all the equipment you will be taking as this allows you to tweak and address any concerns. Equipment malfunction 60 feet below the ice is the last thing you need!
As with any dive, there is standard equipment you will require. We recommend checking well in advance that all the equipment is fully functioning, fits well under your dry suit and you are comfortable using it:
Mask, snorkel and fins
Submersible pressure gauge
Depth gauge, computer or watch
Compass, knife and torch
Weight belt
However, cold water diving requires extra equipment that is suited to the elements. Please see below for the additional equipment that is needed to make your dive in Antarctica safe and comfortable.
Dry Suit (with a hood)
A dry suit is an absolute essential. No other suit will provide you with the protection necessary for the sub-zero Antarctica water which will be -1°C/ 30°F. Make sure your suit is a good fit, waterproof and you are comfortable using it. If your dry suit does not have a hood attached, you will need to bring one. Ideally, a 7mm neoprene hood with neck and face seal would suffice.
Freeze protected Regulators (2 sets)
Two sets of regulators (1st and 2nd stage) designed specifically for cold water/ ice diving. Standard regulators are not appropriate as they will not function in sub-zero water. Please check if your regulator is environmentally sealed, some can be fitted with a seal kit, while others come pre-sealed. Ensure your regulators are serviced specifically for cold water to prevent free flow. Please check with your tour operator to ensure the regulators you plan on using have the appropriate connections.
Undergarments
Divers in cold water can expect to exert more energy, have a higher air consumption rate and can become fatigued quicker. Ensure you stay warm and wear 2-3 layers of thermal undergarments (depending on your suit). Dry- suit or 7mm wetsuit gloves are also required.
Buoyancy Compensator (with quick release)
An essential piece of equipment which is worn to establish neutral buoyancy underwater (also called a stabilising jacket). Divers who do not have this may not be allowed to participate.
Get a Cruise Quote!
Antarctica Guide do not sell tours, we simply provide impartial advice. If you would like an exact quote with our recommended specialist click Get a Quote.
Final Points to Remember
If you are a seasoned diver, this is one activity you cannot afford to miss. Scuba diving in Antarctica is an experience like no other!
While it can be very easy to get caught up in the magnificent wonderland, it is important to remember that safety is the number one priority. Listen to the advice of your trained dive instructors, and you will have a safe and enjoyable experience.
Start planning your next Antarctica cruise trip to visit the enchanting waters of Antarctic. There's a whole new world beneath the surface just waiting to be explored!
FAQ
If you have any further questions or queries regarding scuba diving in Antarctica then please just leave a comment below or contact us.
Thank you and happy swimming!
Tags: Swimming in Antarctica, Diving in Antarctica, scuba diving Antarctica, Antarctica scuba diving