Weddell Sea Cruise: A True Expedition Voyage
---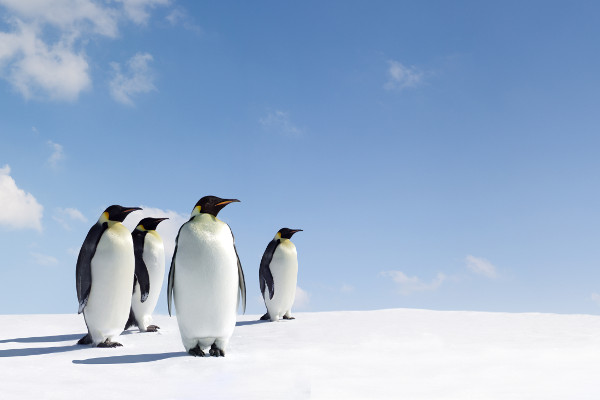 One of the greatest expedition voyages on our planet! The Weddell Sea is a vast expanse of water to the east of the Antarctic Peninsula where few travelers have ventured.
The area is famous for Emperor Penguins and if you're particularly keen on seeing these beautiful birds then the Weddell Sea Cruise is the best option.
Your cruise sets off from the port of Ushuaia before heading out into the notorious Drake Passage. Following the crossing, your ship (most commonly the Ortelius) will head into the Weddell Sea towards Snow Hill where there is a Emperor Penguin rookery 4,000 strong!
However, because of thick pack ice, Snow Hill is generally not reachable (although it does happen) and your ship will get as close as possible before anchoring. From there you will be able to see Emperor penguins entering the water and take several helicopter journeys to see the penguins from above!
After seeing the Emperor penguins your cruise will continue to the other side of the peninsula where you will explore some of the more popular areas including deception Bay and Port Lockroy before heading back to Ushuaia.
Please use the quicklinks below to navigate to certain sections of the page or simply read on!
Get a Cruise Quote, Now!
Antarctica Guide do not sell tours, we simply provide impartial advice. If you would like an exact quote with our recommended specialist click Get a Quote.
Route Map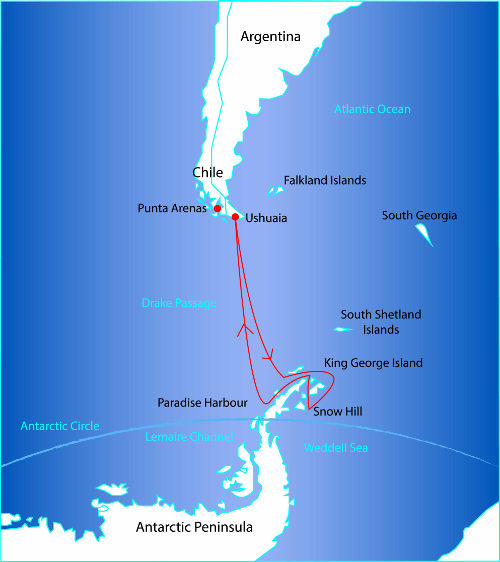 Route Itinerary
Please be aware that all operators have varying itineraries. The itinerary detailed below is simply a typical Weddell Sea cruise itinerary, however, the journey is a long one and weather can have a major impact on itinerary.
DAY 1: ARRIVE IN USHUAIA
Today you arrive in Ushuaia. The city itself is a lovely mix of interesting shops and tasty cafes and restaurants. Make the most of the day and have a little explore of the streets before settling down for a nice dinner.
DAY 2: EMBARKATION DAY
After a morning of relaxation (and more shopping perhaps!), you board your ship in the afternoon. For the remainder of the first day you make your way along the Beagle Channel before entering open water.
DAY 3-4: CROSSING THE DRAKE PASSAGE
The crossing of the Drake Passage will probably be one the most memorable experiences of the whole trip! The passage is notoriously rough and you'll soon find your sea legs! During the two day crossing you'll have a chance to get more acquainted with the crew members and your fellow passengers. Lectures will begin and your guides will point out any wildlife that is spotted along the way.
DAY 5-8: SAILING THE WEDDELL SEA
Your ship will push as far in to the Antarctica Sound as possible in search of emperor penguins. Here you will have the chance to take several helicopter rides to try and find individual emperor penguins. Almost every Weddell Sea Cruise sees emperors!
On top of this you will be greeted with some of the most impressive scenery in Antarctica. The landscape is a stunning mix tabular glaciers, layered sandstones, lava flows, blue hue ice-bergs and huge pack-ice. Not only will you be able to witness thus from the ship, but your operator will often give you the chance to take scenic helicopter rides above the land. Occasionally you will actually be able to land on the glaciers and step foot on an area of Antarctica almost never seen!
Depending on the weather and ice situation, your cruise ship may venture further into the Weddell Sea to visit Vega Island and Devil Island. Vega Island has a large colony of Adélie Penguins and fit hikers can take a walk to the top of the islands peak to witness incredible views.
DAY 8: VISIT HALF MOON ISLAND AND DECEPTION ISLAND
Today you begin by sailing to Half Moon Island where you will see Chinstrap and Gentoo penguins and walk ashore to greet them. In the afternoon you sail to the notorious Deception Island.
The island has a long history of whaling and the remnants of that dark past is scattered across the land in the form of giant whale bones and huge copper colored oil drums. Here you will be able to walk around the bay and, if your brave, have a swim in the so called 'hot springs'.
DAY 9-10: CROSSING THE DRAKE PASSAGE
After cruising the peninsula you will once again begin your crossing of the Drake Passage as you head back to Ushuaia. Look out for as many sea birds as possible and keep a sharp eye out for whales, particularly in the later part of the season.
DAY 11: DISEMBARKATION IN USHUAIA
After eating breakfast your ship will arrive back in port. All good things come to an end, but you will be left with a thousand new memories that will last forever! Wave goodbye to your fellow travelers and cruise staff.
Get a Cruise Quote, Now!
Antarctica Guide do not sell tours, we simply provide impartial advice. If you would like an exact quote with our recommended specialist please complete the form.
Great recommendation, thanks!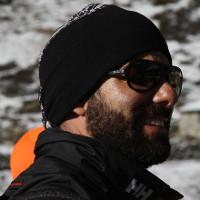 Mark W
USA
How much does this cruise cost?
The Weddell Sea Cruise is offered by operators with an 10-11 day itinerary for around $10,000 – $15,000.
Please research your operator prior to booking and make sure you are aware of exactly what that operator offers. Quality of gear, food, accommodation and lectures will often be reflected in the price. We believe that you get what you pay for. If you want a double room or suite then expect to pay over US$15,000 per person. Whilst there is occasionally the chance to make a last minute booking, the Weddell Sea Cruise is a fairly rare cruise and last minute deals are generally not available. You will generally also have to be in Ushuaia to purchase a last minute deal.
Please see our detailed page on Antarctica cruise costs.
What's usually include?
Please be aware that all Antarctic operators offer slightly varying packages. The list below is what we would expect to be included for the Weddell Sea Cruise – 11 days.
•1 night hotel stay in Ushuaia before departure
•10 breakfasts, 8 lunches, 9 dinners (some operators do not include food)
•9 nights on-board the vessel
•Arrival and departure transfers to and from airport
•Daily zodiac or helicopter excursions once in Antarctica
•Expert on-board lectures
•Ratio of at least 1 expedition member per 10 guests
•Waterproof boots for shore landings
•Expedition parka
What is the best time for this cruise?
The Weddell Sea Cruise generally runs at the start and at the end of the season. Most commonly the Ortelius ship leaves around November and March. The trip is fantastic whatever month you choose, but if you're after certain wildlife then you may want to choose more carefully.
For example, if you're keen on seeing penguin courtship then sailing early may be the best idea. The early season also has the largest icebergs and glaciers as the ice has not had the chance to melt at this stage. Later in the season however has far more whales and you will almost be guaranteed to see a few up close!
Please see our detailed page on when to visit Antarctica.
What gear do I need to take?
Because the cruise is conducted in the shoulder months, weather is quite cold and appropriate clothing is your number one priority. Make sure to wear layers and buy appropriate footwear. This includes high rubber boots for your zodiac shore landings. We also recommend bringing a sturdy camera and tripod.
Please read our full Antarctic packing list.
Do I need travel insurance for this cruise?
Absolutely. Travel insurance is mandatory for all Antarctica cruises. Make sure you do your research and check your policy carefully. Many insurers will not actually cover you when you leave the ship for shore landings, so check this carefully also. Emergency evacuation cover is needed, as is trip cancellation and delays.
Please see our detailed article on Antarctica travel insurance.
What level of fitness do I need for this cruise?
The Weddell Sea Cruise is by no means extreme, however, having a basic level of fitness will make the cruise more enjoyable. Most of the cruise will be spent on board, but you will have the chance to go hiking and take several helicopter rides.
There is no pressure to do these activities though and if you suffer from a bad back or heart problems then sitting something out is absolutely fine. There will always be a doctor on board.
Ships that sail the Weddell Sea Cruise Itinerary
MV Ushuaia
The Ushuaia is one the most respected vessels in the Polar region and well up to the task of the Weddell Sea! Ice-strengthened and originally built for the National Oceanic & Atmospheric Administration, the boat has now been refurbished to accommodate 88 passengers and nearly 50 suites!
Large deck space, open bridge policy, open plan lounge and full media lecture room make this one the most popular vessels.
Ortelius
The Ortelius is an ice-strengthened vessel designed for extreme cruises to the Polar regions. The Ortelius holds 116 passengers and has basic, but comfortable accommodation.
The ship is equipped with two dining rooms, a bar and a lecture theatre room and a good amount of deck space.
Get a Cruise Quote, Now!
Antarctica Guide do not sell tours, we simply provide impartial advice. If you would like an exact quote with our recommended specialist click Get a Quote.
FAQ
If you would like to know more, please leave a comment below and we will endeavor to get back to you within 24 hours! Alternatively, please see our FAQ page here. If you would like to get a cruise quote, please use this form.
Thank you - AntarcticaGuide Team