Camping in Antarctica is without doubt one of the most special activities that can be completed whilst visiting the White continent.
Every year, around 20,000 people step foot onto the ice continent, but only a small number of people embark on an Antarctica cruise camping expedition.
Experiencing first-hand the feelings of the early Antarctic explorers, camping has become ever-more popular as an activity on Antarctica cruises.
This once-in-a-lifetime opportunity truly pushes the boundaries of the more traditional Antarctica cruises. Camping in Antarctica offers a unique and unforgettable experience.
Under the star-spangled night sky and nestled in amongst the Antarctic snow, camping in Antarctica is something that only a handful of people choose to do on their Antarctica trip.
Below, we provide a detailed page on camping in Antarctica. From outlining the procedures for camping in Antarctica to what to expect if you decide to take on this exciting challenge, we attempt to cover all the specifics to make your camping in Antarctica as awesome as possible!
Camping in Antarctica
Where do you camp?
After a potentially rough transit across the Drake Passage, your Antarctica cruise Expedition Leader decide upon an appropriate site to carry out the overnight camp.
Camping in Antarctica can take place at any location which does not disturb breeding wildlife. However, precise location varies in relation to the location of the ship and weather conditions.
Some Antarctica cruises offer multiple nights camping on the ice at different locations, allowing passengers a more extensive camping experience. This does depend on which cruise operator you use though and how many passengers wish to camp in Antarctica.
Some camping locations include the shores of Paradise Bay, along the Neumayer Channel or Neko Harbour.
Your night camping in Antarctica
Dinner is usually served on board your Antarctica cruise ship so make sure to have a hearty meal as no snacks or drinks (except water) are allowed onshore when camping in Antarctica!
Also remember to use the facilities before you disembark as, once again, only portable toilet bags are taken onshore and these can only be used in emergencies.
You travel onto the ice via an inflatable motor boat known as a Zodiac. Several trips may be made between the cruise ship and land in order to transport all the equipment for your night camping in Antarctica.
An experienced guide then chooses a suitable campsite and provides instructions on how to set up the tents and sleeping bags. Though a few tents will be erected, do note that these are usually for emergency gear.
Your night sleeping in Antarctica will be on nothing but a sleeping mat in only a sleeping and bivy bag!
Setting up the camp should take no longer than an hour and you can then settle down to watch the moon rise over the Antarctic ice.
Lying in your sleeping bag, you will hear the crackling of sea ice and the lapping of water onto shore. You may even be lucky enough to hear the blow of a whale!
After a night camping in Antarctica, be prepared to be up bright and early as most camp trips depart back to their cruise ship at 5.30am!
Everyone helps to take down the campsite and then heads back on the Zodiacs to a nice hot shower and breakfast on board.
Who can do it?
Targeted at anyone with an adventurous spirit, camping in Antarctica is available to any Antarctica cruise passengers who want to take part.
You don't need to be a seasoned camper or particularly athletic. You also don't need to know anything about camping as there will be experienced guides to help you.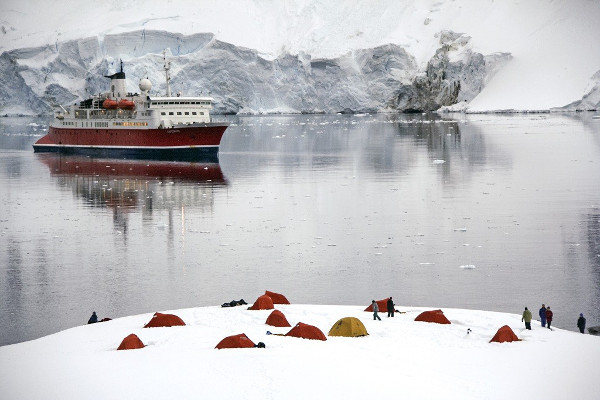 Get a Cruise Quote!
Antarctica Guide do not sell tours, we simply provide impartial advice. If you would like an exact quote with our recommended specialist click Get a Quote.
What to bring
Your Antarctica cruise operators provide you with all the camping gear necessary for a night camping in Antarctica. Though night time temperatures don't usually drop below -3 degrees Celsius, sleeping bags are usually equipped for -12 degrees Celsius.
Foam sleeping mats provide high insulation, designed to keep you warm and comfortable and bivy bags are also provided to keep out the night's chill.
Whilst some cruise operators do provide tents to sleep in, we fully recommend going without them! This way, you get to view the incredible night sky and experience the wilderness of the Antarctic ice.
However, adverse and sometimes unpredictable weather conditions can mean a chilly night camping in Antarctica. Therefore, we recommend bringing along the following gear to make sure you are warm and comfortable overnight.
Dry, thermal underwear An extra fleece Hat, gloves and thick socks A good quality windproof and waterproof parka Sunglasses and sun cream Breathable trousers Thermal under-gloves Water bottle Head torch Any personal medications
Safety whilst camping in Antarctica
As one of the most ecologically sensitive environments on earth, camping in Antarctica means taking precautions.
Everyone camping must follow recommended guidelines to minimize the environmental impact. All good tour operators should also run through IAATO rules and camping regulations before setting off.
The main things to be aware of are that no food, drinks, snacks, fuel or artificial heating equipment are permitted onshore.
Of course, emergency supplies are taken by your cruise operator in case of sudden weather changes but these are reserved for emergency situations only.
Usually there are limits on how many people can go camping in Antarctica at one time. This varies according to your tour operator and there is usually a ratio of one experienced field guide for every 20 passengers.
Your campsite is chosen carefully so as not to disturb any wildlife or breeding activities. All human waste and rubbish is also be brought back to the cruise ship so as not to harm the pristine environment whilst camping in Antarctica.
Communication is also maintained with your cruise ship at all times to ensure the safety of passengers when camping in Antarctica.
Please note that Antarctica cruise operators offering the chance to camp will ultimately be led by weather conditions. Sometimes, camping activities will be cancelled if the weather is not safe.
Get a Cruise Quote!
Antarctica Guide do not sell tours, we simply provide impartial advice. If you would like an exact quote with our recommended specialist click Get a Quote.
FAQ
If you would like to know any more about camping in Antarctica, please just leave a message below and we'll get back to you within 24 hours.
Thank you and happy travels!