Kayaking in Antarctica is without doubt the best way to experience nature up close and personal.
Draped in the shades of white and blue, there is no other place on earth as pristine as Antarctica. With almost no human intervention, nature thrives here in its raw form. The seas of Antarctica are as tempting as its lands and the best way to experience this is on a kayak!
Kayaking in Antarctica is a truly amazing and equally unique experience; something you will remember for the rest of your life. You'll glide through the still ice and experience Antarctica from the perspective of the wildlife itself – totally immersed.
As your guide takes you through the ice-cold waters you'll spot seals lazing on ice flows, whales passing beneath the crystal clear waters and penguins hopping onto nearby icebergs.
To say that kayaking in Antarctica is exciting would be an understatement – it's exhilarating!
Kayaking in Antarctica: Planning your experience
Considering the amount of ships that sail to the White Continent, there are actually only a few expeditions that offer kayaking. This of course makes it more exclusive, however, it does also make it expensive.
Some of the well-known Antarctica ships that offer sea-kayaking on their expeditions are:
Kayaking in Antarctica is generally organized in groups of 10-20 people. The cruise operator will take the team and the kayaks into the calm waters via zodiacs before launching.
Your guide will always remain within a safe distance of the ship at all times. The kayaking experience itself generally lasts two to four hours and is repeated four to eight times during the whole trip.
This amount varies of course depending on your itinerary length. The weather also plays a major role in the execution of the excursions as the waters need to be calm to kayak in.
How much does it cost?
Kayaking in Antarctica comes at a price, however, we believe it's totally worth it. Cruises start from $5000 per person and can go all the way up to $50,000 per person.
Very rarely will sea-kayaking be included in the total cruise cost. Most operators will charge separately on top for the experience. Costs vary considerably but generally start around $950.
The cost includes all equipment and a kayak guide who accompanies the team during each expedition.
What is the difficulty level and who is eligible?
Since the sea is usually calm and the group moves at a slow pace, the activity is not particularly difficult or strenuous. However, the weather can get rough quickly and you will need to be physically fit to try sea-kayaking.
Spaces are limited and all cruise companies demand prior kayaking experience to be eligible to participate in these excursions.
Get a Cruise Quote!
Antarctica Guide do not sell tours, we simply provide impartial advice. If you would like an exact quote with our recommended specialist click Get a Quote.
What to bring?
Almost all gear and equipment is provided by the operator. These include:
• Kayaks (single or double) • Waterproof suits, boots, gloves and life-jackets
We also recommend bringing sunscreen, hat, sunglasses and camera (waterproof if possible).
When is the best time?
The cruise and sea-kayaking season runs from October through to March –  the summer season in Southern Hemisphere.
During this period it is entirely up to when you wish to kayak. Earlier in the season will have far more icebergs whilst later in the season will give you the best opportunity to spot whales.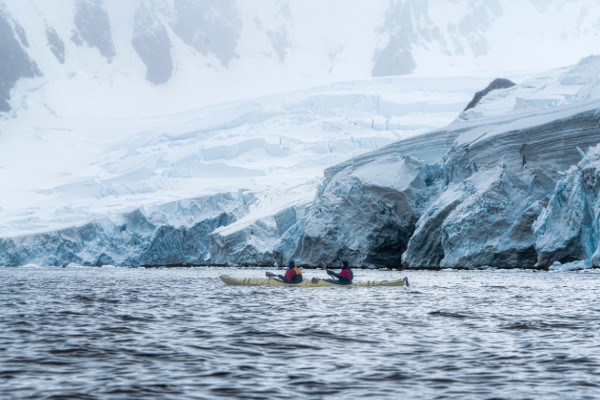 How safe is it?
Very safe. We know of no known incidents whilst kayaking in Antarctica.
All established operators working under IAATO implement full safety measures both on the cruise and on the sea-kayaking excursions.
You will always be accompanied by a qualified and experienced instructor. Whilst on your kayaking excursions a zodiac will remain in the vicinity to the group at all times and can call the ship through the radio in case of any emergencies.
There is no major safety concern, as long as you follow your guide's instructions, go slow with the group, and stay away from the towering icebergs!
Get a Cruise Quote!
Antarctica Guide do not sell tours, we simply provide impartial advice. If you would like an exact quote with our recommended specialist click Get a Quote.
FAQ
If you have any further questions or queries regarding kayaking in Antarctica then please don't hesitate to leave a comment below or contact us.
Thank you and safe travels.