Epic Antarctica: An Unrivalled Adventure
---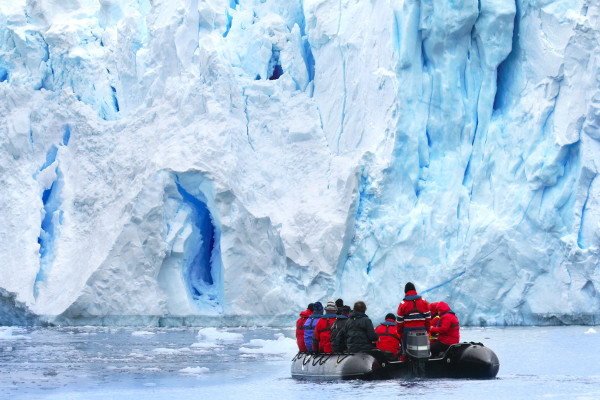 THIS ITINERARY IS CURRENTLY NOT IN OPERATION AS OF 2019:
One of the most recent additions to the Antarctica cruise scene is the Epic Antarctica cruise.
Arguably the most comprehensive itinerary out there, the cruise brings together two existing trips and combines them into one extreme adventure.
Over a total of 22 days, the Epic Antarctica cruise spends 16 of them exploring the Antarctic Peninsula – unheard of in cruise terms! From the Shetland Islands, to Weddell Sea to the Falkland Islands, this journey will consist of a staggering 30 trips onto the ice, definitely making it an unforgettable experience.
Offering a unique opportunity to view Antarctica's stunning landscape, rich history and extraordinary wildlife diversity, the Epic Antarctica cruise is an incredible journey. Amidst the ice floes, you will search for whales, photograph the amazing vistas and have the chance to experience the White Continent as it's never been experienced before.
Exploring alongside Antarctic experts, including marine biologists, historians and adventure guides, the Epic Antarctica cruise will provide a complete and detailed tour of Antarctica. Designed for the adventurous, the Epic Antarctica cruise offers a true Antarctic experience and is the most comprehensive trip around.
Please note here that the Epic Antarctica cruise is occasionally called another name such as 'Peninsula in depth with circle crossing' or 'East and West Antarctica' etc. You must read the itineraries carefully before booking to avoid disappointment.
Please you the quicklinks below to navigate to sections on the page, or simply read on.
Get a Cruise Quote, Now!
Antarctica Guide do not sell tours, we simply provide impartial advice. If you would like an exact quote with our recommended specialist click Get a Quote.
Route Map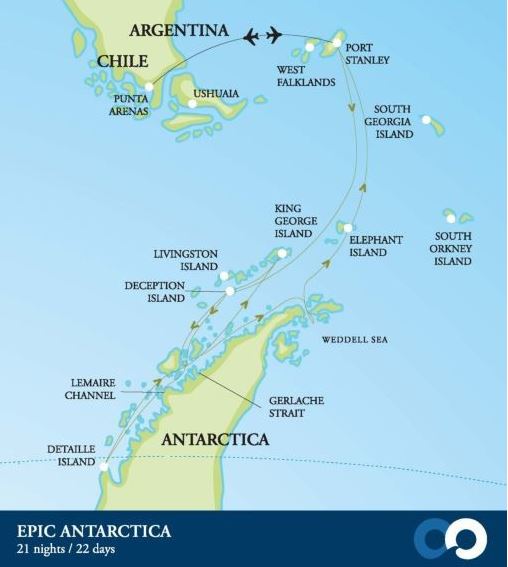 Route Itinerary
Please remember here that all cruises have slightly differing itineraries. The itinerary below is the standard for most operators in Antarctica who offer the Epic Antarctica cruise. Also note that weather is often a major factor when it comes to sailing in Antarctica and not all voyages will stick rigidly to a set itinerary.
DAY 1: PUNTA ARENAS, CHILE / PORT STANLEY, FALKLAND ISLANDS
The Epic Antarctica cruise begins in Puntas Arenas where you will board a flight to take you to the Falkland Islands. Landing in Stanley after a short, hour and a half journey, you will be permitted to wander around the town before embarking on the ship.
Home to 2000 residents, Stanley is a charming town with brightly-coloured houses and a rustic feel, a lovely destination from which to begin your epic cruise! After your brief stop here, you will board the ship and unpack in your cabins before having a meal in the evening.
DAY 2 – 3: AT SEA
Taking a southerly course towards Antarctica, your first few days on board will be a great chance to find your sea legs and test out your photography skills. The South Atlantic is host to an abundance of marine wildlife and sea birds, with albatrosses and giant petrels frequently flocking over the waters.
With a photography expert on hand, you will be able to capture these amazing birds in flight and can practice your camera technique. These early days will be filled with series of presentations and lectures about Antarctica's wildlife, environment and history, getting you ready for when you reach the ice.
DAY 4 – 5: KING GEORGE ISLAND AND ANTARCTIC PENINSULA
On day 4, your Epic Antarctica cruise will reach the north point of King George Island. Here, you may have the chance to disembark depending on weather conditions. Two potential landing sites are brilliant for seeing Adelie and Gentoo penguins, so be sure to have your cameras at the ready! Giant petrels and kelp gulls are also common nesters.
In the afternoon, your Epic Antarctica cruise will continue south to the Antarctic Peninsula. From this point onwards, vast icebergs will appear and, by morning, the huge mountain peaks of the White Continent will come into view along the horizon. Wilhelmina Bay is a common landing point but you may continue into the Errera Channel to Cuverville Island. This is a fantastic landing point for sea kayaking.
​DAY 6 – 8: ANTARCTIC CIRCLE / GERLACHE COASTLINE
Getting ever-closer to the Antarctic Circle, your Epic Antarctica cruise will take you amongst some beautiful scenery as your cruise navigates further south. Jaw-dropping icebergs and incredible blue waters will surround you and day 6 and 7 offer a good chance to take in the splendour of the Antarctic scenery.
A common landing point is Detaille Island, where you can explore the abandoned science hut from the 1950s and walk in the footsteps of Antarctica's early explorers. Turning back at this stage, your Epic Antarctica cruise will then take you north to discover the dramatic coastline of the Antarctic Peninsula.
Heading onto the ice, you will hike across Winter Island and might have the chance to camp overnight if the weather conditions are ideal. Under the star-spangled sky and wrapped up on top of the ice, this will definitely be an unforgettable night!
Next stop will be Petermann Island which is home to a penguin rookery for Antarctica's smallest penguins -the Adelie. Views of Mount Shackleton and Mount Scott are astounding and these peaks mark the entrance to the Lemaire Channel. Pleneau Island is also a good landing spot with high winds and waves forming beautifully sculpted icebergs just offshore. For many photographers, a zodiac cruise at this spot will be a definite highlight!
​DAY 9 – 10: ANTARCTIC PENINSULA AND SOUTH SHETLAND ISLANDS
Day 9 will see you cruising towards Paradise Harbour where there are really good hiking opportunities with panoramic views. For those more interested in water activities, you can also sea kayak here within the crystal blue waters.
By the morning of day 10, your Epic Antarctica cruise will have reached the South Shetland Islands. Whalers Bay at Deception Island is a dramatic place and you will be able to explore the old whaling station on foot.
DAY 11: KING GEORGE ISLAND
Anchoring just off King George Island, day 11 will see many passengers disembarking as they set off on their flight back to South America. You can choose to stay and relax on board but may be able to go onshore once again. New guests will board the ship and the second part of your Epic ANtarctica cruise will get underway.
DAY 12 – 14: ANTARCTIC PENINSULA
The following three days will be spent exploring the varied Gerlache coastline and disembarking at a range of landing sites. Cruises could include Port Charcot, Andvord Bar or Orne Harbour. Danco Island has excellent views of the whole region if you choose to hike to the domed summit. Pods of humpback whales are commonly sighted in the area and you will get the chance to cruise around this stretch of land on a zodiac.
​DAY 15: SOUTH SHETLAND ISLANDS, ANTARCTICA
Just over half way on your Epic Antarctica cruise, the next stage is heading towards the Antarctic Sound which is the entrance into the Weddell Sea. The South Shetland Islands will lie to your left and these waters have some great sites to see. Half Moon Island is one of them, where a sizeable chinstrap penguin colony live. Yankee Harbour hosts a large, pebbled beach and here you may even be able to spot some Weddell seals. One of the best sites, however, is 'Neptune's Bellows' where your Epic Antarctica cruise permits you to explore inside a submerged volcano by ship or zodiac.
DAY 16 – 17: ANTARCTIC SOUND AND THE WEDDELL SEA
The Antarctic Sound separates Joinville Island from the most northern point of the Antarctic Peninsula and it is here that you can view the vast Antarctic icecap. This is a stunning site, revealing the sheer size of the White Continent and it's eerie beauty. Icebergs and sea ice increase as you cruise further into the Weddell Sea as a result of the icebergs breaking away from the ice shelves and drifting in the strong currents.
In the light of evening, this startling landscape offers fantastic photo opportunities, capturing the remoteness of Antarctica rarely experienced on more standard cruises. Navigation in this area may also become tricky as the ice becomes more frequent.
DAY 18: ELEPHANT ISLAND, ANTARCTICA
Point Lookout is located on the southern tip of Elephant Island and is the habitat of a large chinstrap penguin colony. This is also the breeding area for macaroni penguins, a very rare sight. Elephant seals and Antarctic fur seals can also line the beaches, so this island is a great chance to see some wildlife on your Epic Antarctica journey.
If weather conditions are good, you can visit Point Wild on the island. This is a significant historical spot where Shackleton and his men camped beneath upturned life boats before five men set off on a rescue mission to South Georgia.
​DAY 19 – 20: AT SEA
Sailing north once more, days 19 and 20 will be a chance to reflect on your Weddell Sea experiences and speak to polar experts about your cruise. Lively discussions and presentations will be a great way to learn more about points of interest and consolidate your Antarctic knowledge so far.
DAY 21: WEST POINT / SAUNDERS ISLAND
During the night time of day 20, your Epic Antarctica cruise ship will arrive at the Falkland Islands. Here, you can explore both West Point Island and Saunders Island, known for rockhopper penguins and nesting albatrosses. You can observe these impressive birds close-up when nesting and this is certainly a rare privilege reserved for Epic Antarctica cruise passengers. Saunders Island is really diverse in wildlife and along the sandy beaches, you may be lucky enough to encounter four penguin species!
DAY 22: PORT STANLEY, FALKLAND ISLANDS
Your final day will take you back to the port of Stanley, where you can reflect on your Epic Antarctica cruise before taking a flight back to Puntas Arenas.
Get a Cruise Quote, Now!
Antarctica Guide do not sell tours, we simply provide impartial advice. If you would like an exact quote with our recommended specialist please complete the form.
Great recommendation, thanks!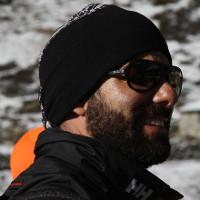 Mark W
USA
How much does this cruise cost?
Because of its length, the Epic Antarctica Cruise is not a cheap option. However, like most things – you pay for what you get.
This is probably the most comprehensive itinerary ever offered and the price refelcts this. often one of the less expensive options and you certainly get a great deal of bang for your buck. Most operators offer the Epic Antarctica cruise on a 22 day itinerary for around US$15,000. However, if you wish to have a suite or accommodation on the upper deck, you should expect to pay upwards of US$20,000.
There are tons of operators out there and some are definitely better than others. Saying this, only a select few operators offer the Epic Antarctica itinerary and they're all very good. Therefore, you'll need to do your research as to what ship you wish to take your journey on and what accommodation to choose.
The three ships that offer this itinerary are listed towards the bottom of the page. If you want the cheapest option possible then you could potentially try purchasing a last minute ticket. However, this is inhibiting in terms of you have no idea if you'll actually get on the ship! You'll also have to be waiting in the actual city to grab a last minute ticket. This is not a luxury we can all afford.
Please see our detailed page on Antarctica cruise costs.
For more information on the different types of vessels available, please see our ships page.
What's usually include?
Please note here that all cruises will offer slightly different packages. The list below is what we would expect from a standard Antarctica Circle Cruise of 14 days.
•1 night hotel stay in Ushuaia before departure
•20 nights on-board the ship
•21 breakfasts, 19 lunches, 18 dinners (some operators will not include food)
•Arrival and departure transfers to and from airport
•Daily zodiac excursions once in Antarctica and Weddell Sea
•Waterproof boots for shore landings
•Expedition parka
•Optional activities offered at extra cost – kayaking, hiking etc.
•Expert on-board lectures
•Ratio of at least 1 expedition member per 10 guests
What is the best time for this cruise?
Because of the extreme nature of the Epic Antarctica cruise, it can only be completed in high summer season when the ice is at its least. Therefore, cruises run from late December through to mid-February.
The high season is Antarctica's warmest period and you'll get to see busy parents feeding their crying chicks whilst seal pups play on the beach in front of you. Days are at their longest here and photographers will be in their elements as the night time light produces a lovely subtle light for photographing wildlife.
As January turns into February you'll have an even better chance at spotting whales as they descend upon the continent later in the season. Please see our detailed page on when to visit Antarctica.
What gear do I need to take?
Cold weather gear is the main concern for your Epic Antarctic voyage. Whilst you will be sailing in the warmest period, temperatures still get very cold, especially as you push further south. Because of this, you'll need to bring some proper thermal gear. This includes, parka, gloves, beanie, thermal under layers and thermal trousers.
The other major piece of gear is of course your camera! Most cruise goers can't wait to start photographing the stunning landscape and wildlife, however, you'll need certain cold weather gear for your camera to make it function properly. This includes several dry bags and filters! For more information on Antarctica photography please click here.
Please read our full Antarctic packing list.
Do I need travel insurance for this cruise?
Yes. Travel insurance is mandatory for all Antarctica cruises. Your cruise operator will not allow you on board without proof of adequate travel insurance. Please read your policy carefully as many policies state that you are not actually covered when you leave the ship to go ashore! Also check how much you are covered for when it comes to emergency evacuation etc. as the prices for evacuation in Antarctica are much higher than normal.
Please see our detailed article on Antarctica travel insurance.
What level of fitness do I need for this cruise?
The Epic Antarctica Cruise does not require any serious fitness levels. Although there are numerous landings and opportunities to walk ashore, these can be as long or short as you wish.
Your guide will never push you to go further or longer than you wish. Generally you will only be allowed to stay around the bay area, therefore, even if you would like to hike off for hours this is generally not an option.
Life on board the ship requires no fitness and you can take your time with any activity. Kayaking is the only activity offered that required good fitness levels and a basic knowledge of kayaking.
Ships that sail the Epic Antarctica Itinerary
Ocean Endeavour
One of the larger expedition ships in Antarctica, the Ocean Endeavour can take up to 199 passengers. perfectly equipped for polar sailing and passenger comfort, the Endeavour comes with a full ice-strengthened hull, large sundeck, spacious restaurant and several large lounges!
The sauna, gym, juice bar and many zodiacs make the Endeavour one of our favorites.
Get a Cruise Quote, Now!
Antarctica Guide do not sell tours, we simply provide impartial advice. If you would like an exact quote with our recommended specialist click Get a Quote.
FAQ
If you would like to know more, please leave a comment below and we will endeavor to get back to you within 24 hours! Alternatively, please see our FAQ page here. If you would like to get a cruise quote, please use this form.
Thank you - AntarcticaGuide Team