Antarctica Basecamp Cruise: For The Adventure Lovers
---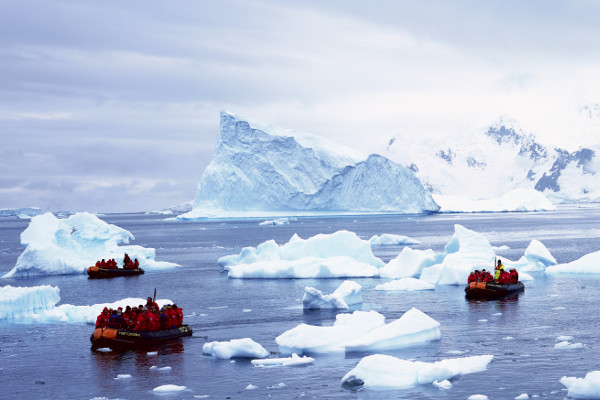 The Antarctica Peninsula Basecamp Cruise is the ideal option for people who want to do a wide array of activities!
The cruise itself generally run over 11 or 12 days and takes you to the Antarctic Peninsula where you not only visit wildlife-rich sites, but you also take part in a variety of activities including kayaking, camping, snowshoeing, hiking and photography workshops.
Unlike normal Antarctic cruises, all activities on the Antarctica Peninsula Basecamp Cruise are included in the price. This means you get great value for your money as most cruises charge in excess of US$500 for each optional activity.
Like most Antarctica cruises, your expedition will begin by crossing the Drake Passage for several days. Although the passage is notoriously rough, the crossing is often seen as one of the highlights of the trip. People who suffer from severe sea sickness should probably consider the Antarctica Express Cruise instead.
Once in Antarctica you'll see penguin rookeries, seal colonies and dazzling icebergs that look like they have been sculptured by hand! Your cruise ship will stay in one area for a number of days to allow you time for all of your unforgettable activities.
Along your cruise you will also be given expert lectures from your guides on the region's fauna, history and geography.
The Basecamp Cruise is the perfect option for first timers or for people with a love of adventure and activities.
Get a Cruise Quote, Now!
Antarctica Guide do not sell tours, we simply provide impartial advice. If you would like an exact quote with our recommended specialist click Get a Quote.
Antarctica Basecamp Cruise
Route Map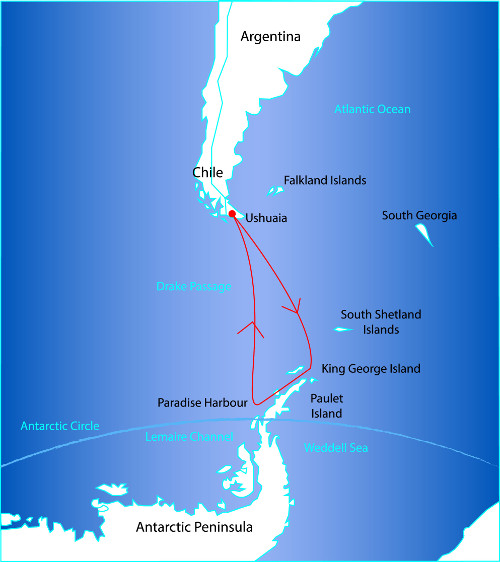 Route Itinerary
Please note that all operators have slightly different itineraries. The one detailed below is the typical itinerary that most operators adhere to. Please also remember that operators must sail to the weather and that exact landings and activities cannot be guaranteed in advance.
DAY 1: ARRIVE IN USHUAIA
Today you arrive in South America's souther most city – Ushuaia. Make sure to check out all the boutique shops and cafes that are dotted throughout the city.
DAY 2: EMBARKATION DAY
After a leisurely breakfast and lunch will board your Antarctica ship in the afternoon. After boarding your ship will make its way down the famous Beagle Channel, named after Darwin's sown ship.
DAY 3-4: CROSSING THE DRAKE PASSAGE
The Drake Passage is often one of the most exciting moments of your cruise. Famously rough, the Drake Passage is often seen as a rite-of-passage for Antarctic travelers. The Drake Passage can certainly be calm though and the passage gives clients and crew the perfect chance to meet each other and socialize. Your crew will also brief you on safety precautions as you make your way across.
DAY 5-9: ANTARCTICA BASECAMP
This is what you have been waiting for! Day 5 we enter the Antarctic Peninsula passing the Melchior islands and the Schollaert Channel between Anvers and Brabant Island. Your cruise ship will sail through the Neumayer Channel after which your ship will make berth for basecamp! The still and protected waters Wiencke Island will be your home for the next few days as you get started on your activities.
The alpine environment around you is ideal for hiking and climbing forays, photography shoots, zodiac trips, kayaking and snowshoeing expeditions. If you want a real challenge then have a go reaching the summit of some of the local hills that offer stunning views across the region.
With weather permitting your cruise will sail through the spectacular Lemaire Channel to Booth Island, Petermann and Pléneau Island where there is good sized colony of Adélie Penguins and Blue-eyed Shags. The Lemaire Channel is also one of the favorite spots for Humpback Whales and Minke Whales.
Your ship will also anchor near Goudier Island where the British research station and post office at Port Lockroy are located. If your cruise has the time, you may also be offered the chance to land on Jougla Point where you will have the chance to get up close to some Gentoo penguins! As you sail through these areas make sure to keep a sharp eye out at all times for whales and leopard and crabeater seals.
​DAY 10-11: CROSSING THE DRAKE PASSAGE
DAY 12: DISEMBARKATION IN USHUAIA
All good things must come to an end. You will arrive early back in port so that you can take any connecting flights or transportation onward.
Get a Cruise Quote, Now!
Antarctica Guide do not sell tours, we simply provide impartial advice. If you would like an exact quote with our recommended specialist please complete the form.
Great recommendation, thanks!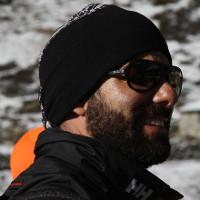 Mark W
USA
Antarctica Basecamp Cruise FAQ
How much does this cruise cost?
The Antarctica Peninsula Basecamp Cruise is generally one of the cheaper Antarctica cruise options available. Most prices start around the $7,000 mark and head upwards from there. If you want a double room or suite on your cruise then expect to pay upwards of US$10,000.
We always recommend reading as many reviews as possible and do your research. Whilst some agencies will charge less than others, you need to be careful they are including all of the above listed activities. Also take into account the quality of the ship, the food and the gear on offer. As with most things, you get what you pay for.
You often hear about cheap 'last minute cruises', however, these are not common and you generally need to be in Ushuaia waiting for these deals! That fact alone stops most people. For more information, see our page on last minute cruises.
Please see our detailed page on Antarctica cruise costs.
What activites are included?
Camping:
Camping is one of the most memorable things you can do in Antarctica. As we say, once you have slept on ice you can sleep on anything! Camping on the ice really allows you to connect to the surrounding wilderness. You will help with erecting and dismantling your tent and all gear will be provided by your operator. Please note that camping is subject to weather conditions and environmental laws. For more information on camping in Antarctica, please see our camping in Antarctica page.
Kayaking:
Like most things in Antarctica, kayaking is subject to weather and ice conditions. A basic level of kayaking experience is required to take part and a good level of fitness is essential. Please book early as spaces will be limited.
Hiking/snowshoeing:
Hiking around the Antarctic landscape with a guide is the perfect activity to enhance your knowledge of the White Continent. You will head off in groups and discover some of the best spots for landscape shits and get a glimpse into the staggering size of the Antarctic interior! If you like a bit of fun, make sure to give snowshoeing a go and see how you cover the ground far more easily.
Mountaineering:
This is the most strenuous activity offered on the basecamp cruise and basic mountaineering skills are desirable. Ideal for people who want a challenge and for people looking to experience something entirely different. The reward is the amazing views you receive when you reach the top. You will walk/climb in a roped team under the supervision of a professional mountaineering guide. A good level of fitness is required. Please book this activity early as spaces are limited. Mountaineering gear will be provided, this includes ice axes, ropes, carabiners, harnesses, helmets and crampons. However, participants are asked to bring mountaineering boots that can be used with crampons.
Photo Workshop:
The photography workshop is available to beginners and advanced photographers. You will be under the supervision of an on-board photography expert who will take you through shooting in the white landscape. Space is limited as only 20 people can attend each shore landing workshop. Participants will need to bring their own camera gear. No previous experience with a camera is required.
What is the best time for this cruise?
The Antarctica Peninsula Basecamp Cruise runs throughout the continent's summer months from early November through to March. No matter the period you sail, your cruise will be unforgettable. Your activities will be organised no matte the season, however, the wildlife you want to see will very much affect when you should sail. For instance, if you're keen to spot whales then you should sail later in the season when these enormous creatures are frequently seen. Earlier in the season though is ideal for icebergs and glaciers as the snow and ice has had less time to melt.
On the other hand, the high season is the warmest period and penguin chicks hatch in great numbers during this period. Temperatures can actually exceed 10 degrees Celsius during the high season of December and January!
Please see our detailed page on when to visit Antarctica.
What gear do I need to take?
Cold weather gear is vitally important on your Basecamp Cruise as temperatures will often be below freezing. Recommended clothing includes gloves, parka, beanie, cold weather boots and wool layers. You will also need appropriate mountaineering clothes and boots.
Camera gear is the other big essential. Cold weather affects your camera in ways you cannot foresee. Make sure to bring lens filters and tripods. Please see our Antarctica photography tips page for more detailed information.
Please read our full Antarctic packing list.
Do I need travel insurance for this cruise?
Absolutely. Travel insurance is mandatory for all Antarctica cruises. You will need to look closely at the insurance policy offered to you as many insurers don't actually cover you whilst you are on-shore! You also need proper emergency evacuation cover.
Please see our detailed article on Antarctica travel insurance.
What level of fitness do I need for this cruise?
The Antarctica Basecamp Cruise is based around activities and therefore, the fitter you are, the more enjoyable you will probably find it. Whilst no extreme fitness levels are required, there will be some long hikes which can be strenuous. Saying that, there is no pressure whatsoever to actually do every activity and if you wanted to sit something out then that's fine. Kayaking requires a basic level of fitness, as does snowshoeing.
We recommend this cruise for people who are fairly fit and want an active cruise that will leave you tired at nights!
Ships that sail the Antarctica Basecamp Cruise Itinerary
Ortelius
The Ortelius is an ice-strengthened vessel designed for extreme cruises to the Polar regions. The Ortelius holds 116 passengers and has basic, but comfortable accommodation.
The ship is equipped with two dining rooms, a bar and a lecture theatre room and a good amount of deck space.
Plancius
One of the larger research vessels, the Plancius can take up to 116 passengers and is fully ice-strengthened for those tough Polar regions! The ship has a comfortable feel and there is loads of deck space to wander around. The bar has large, panoramic views and the observation lounge also doubles as a presentation room.
A basic, but tough and cozy ship with great views.
Get a Cruise Quote, Now!
Antarctica Guide do not sell tours, we simply provide impartial advice. If you would like an exact quote with our recommended specialist click Get a Quote.
FAQ
If you would like to know more, please leave a comment below and we will endeavor to get back to you within 24 hours! Alternatively, please see our FAQ page here. If you would like to get a cruise quote, please use this form.
Thank you - AntarcticaGuide Team