Antarctica Express Cruise: Get The Most Out Of Your Time
---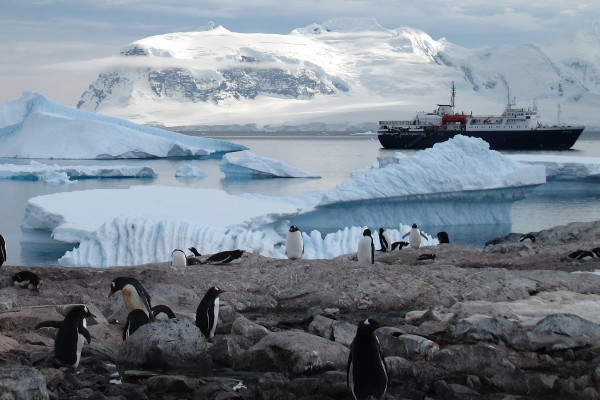 The Antarctica Express Cruise is the perfect option for people who want to maximize their time on the White Continent.
It's an ideal option for people who don't quite have enough time on their hands for a full blow Antarctic cruise. The express option is also the cruise of choice for people who suffer from severe sea sickness as it avoids the notoriously rough Drake Passage. Whilst the Drake crossing is an experience in itself, weather is unpredictable and the boat will often be swaying considerably.
Don't think you're missing out because of this. The Antarctica Express Cruise literallytakes you into the heart of the Antarctic Peninsula and spends just as long on the peninsula as the standard Antarctic cruise. Not only this but you get some incredible aerial views of the area as you fly in to the King George Island airstrip.
Once landed you get to explore the island before boarding your cruise ship. Waters around the peninsula are noticeably calmer and you'll be unlucky to experience any severe boat movement. From then on in its just stunning ice-bergs, long open ice flats and full host of fabulous wildlife.
Have your camera ready for gentoo, adelie and chinstrap penguins rookeries, not to mention the millions of seabirds that inhabit the rocky shorelines! Look out for shoots of ocean spray as you stand on deck, chances are you will be looking at a whale!
After a few days exploring you will return to King George Island for your charter flight back to Punta Arenas. All up the Antarctica Express Cruise can be completed in just over a week – perfect for the modern individual with less time!
To enquire about visiting Antarctica, please use this form.
Get a Cruise Quote, Now!
Antarctica Guide do not sell tours, we simply provide impartial advice. If you would like an exact quote with our recommended specialist click Get a Quote.
Antarctica Express Cruise
Route Map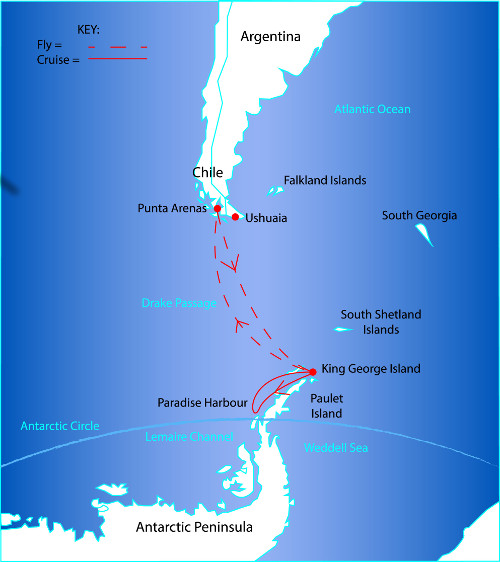 Route Itinerary
The itinerary below is a suggested itinerary only. All Antarctic operators have slightly different options and the one below follows the general layout that seems to prevail across most operators. Also, please note that weather often restricts cruises in visiting certain sections along the peninsula – the weather waits for no one sadly!
DAY 1: ARRIVE IN PUNTA ARENAS, CHILE
You arrive in the thriving city of Punts Arenas, Patagonia's most populated city. Punta Arenas is packed with museums and lovely shops and restaurants. If you arrive early you will have time to explore the town. In the evening a representative of your chosen operator will meet you to discuss the details of the trip and welcome you to Chile.
​DAY 2: EMBARKATION DAY
Today you board your charter flight from Punta Arenas to King George Island. The flight will see you crossing the notorious Drake Passage, a crossing that usually takes two or more days for a cruise, but for you it will take just a few hours. As you fly closer to King George Island you'll get spectacular views of the wild landscape below.
After landing you will have some time to explore the island on foot before taking a zodiac out to your cruise ship where you will familiarize yourself with the boat, its crew and the safety procedures.
​DAY 3-6: SOUTH SHETLAND ISLANDS AND THE ANTARCTIC PENINSULA
Now it's time to explore, so get ready with your binoculars and camera gear. The White Continent is unlike any other landscape you'll ever witness. Its evocative, alive with wildlife and totally unforgettable. The white land is difficult to describe and must be viewed in person to fully appreciate its wonders.
The crew will constantly be on the lookout for wildlife, including whales, seals, penguins and birds. If you're luck a few of the species will be curious and come up right next to the ship. There is nothing on earth quite like feeling the spray from a whale's blow hole.
The highlight of the trip will be the shore landings. Each day you will take several zodiac excursions to explore the land itself. Here you have a chance to explore the hills and take close up shots of the wildlife that inhabit the beaches. Each landing will allow you to view something new and you'll soon be an expert on differentiating all the Antarctica species.
Some zodiac excursions will not land at all, but go in search of whales or sail between picturesque ice-bergs. If you are the adventurous type then most operators will also offer the opportunity to do some activities such as kayaking, scuba diving, snow-shoeing and camping. However, these will all come at an extra cost.
Your expedition team will help you along the way and give you lectures on everything Antarctic, including biology, history and glaciology!
DAY 7: RETURN FLIGHT TO PUNTA ARENAS
After exploring the peninsula for a week it is time to once again board your flight. After the crossing you'll be transferred to your hotel where you will have one last evening to relax and unwind before your return journey the following day.
DAY 8: DEPART PUNTA ARENAS
Today it is time to say goodbye to your epic adventure. You will be transferred to the airport where you will take your onward flight.
Trip Variations
Crossing the Circle Express Cruise
Like the standard Express cruise, this itinerary allows you to fly each way to avoid the rough Drake Passage. However, this itinerary not only explores the peninsula but also ventures further south to cross the Antarctic Circle! See the full itinerary for the Antarctic Circle Cruise.
Antarctica Fly South – Cruise North Tour
This is the ideal option for people who are short on time but still want to experience the Drake Crossing! The cruise is almost identical to that of the express cruise except that you fly one way. See the full itinerary for the fly-cruise.
Get a Cruise Quote, Now!
Antarctica Guide do not sell tours, we simply provide impartial advice. If you would like an exact quote with our recommended specialist please complete the form.
Great recommendation, thanks!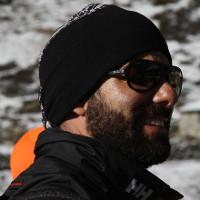 Mark W
USA
Antarctica Express Cruise FAQ
How much does this cruise cost?
The Antarctica Express Cruise is only offered by a select few operators and will cost around US$8,000 – $9,000. However, if you wish to have accommodation on the upper deck or in a suite you should expect to pay upwards of US$12,000.
Please read each companies website in detail and email them to ask any questions. Research is critical to make sure you have the best possible experience. Having traveled with many operators, we can tell you that you generally get what you pay for. We take the view that if you're spending the money anyway, you might as well choose one of the best operators as your experience will certainly be better for it.
In terms of booking last minute trips at a lower cost, this just really isn't an option for the express cruise as charter flights are almost always full up. If you are determined to do this then you will have to spend a great deal of time waiting in Punta Arenas with no guarantee that you will ever get on. Most people don't have the time or patience to do this.
Please see our detailed page on Antarctica cruise costs.
What's usually include?
The list below is based upon what we have experienced on our many cruises. However, each cruise in question has offered a slightly different package and it is up to you before hand to find out exactly what your operator provides.
•1 night hotel stay in Ushuaia before departure
•Arrival and departure transfers to and from airport
•5 nights on-board the vessel
•Daily zodiac excursions once on-board
•5 breakfasts, 5 lunches, 5 dinners (some operators do not include food)
•Expert on-board lectures
•Waterproof boots for shore landings
•Expedition parka
•Optional extra activities offered for additional cost – kayaking, hiking etc.
•Ratio of at least 1 expedition member per 10 guests
What is the best time for this cruise?
The Antarctica Express Cruise runs during Antarctica's summer months from early November to Late March. Whenever you decide to take the cruise, you won't be disappointed as the peninsula is quite simply spectacular no matter the period you visit. However, depending on when you visit, you'll be able to view different things.
For example, if you visit early in the season the smaller ice-bergs will not have melted and you'll get a much more in depth experience in regards to ice-sheets and ice-berg sculptures. The early season also provides tourists with the chance to see penguins and seabird courtship rituals as mating season begins.
Towards the middle of the season you'll be able to see chicks hatching and parents scrambling back and forth to provide food. This is also the warmest period in Antarctica and perfect for people who feel the chill slightly more than others. The late part of the season is the ideal opportunity to spot whales. Often quite curious characters, they'll come right up next to the boat, sometimes whole pods!
Please see our detailed page on when to visit Antarctica.
What gear do I need to take?
Antarctica weather is famously cold and, although the summer months can actually get above 10 degrees Celsius on the peninsula, the nights are still chilly. You'll therefor need some cold weather gear including base layers, gloves, fleece and warm jacket. Your operator should provide you with an expedition parka, however this is not always the case.
The other gear consideration is camera equipment. Antarctica is not actually the easiest place to shoot, and you'll need some specialist items such as weather proof zip bags to store your gear in. Please our Antarctica photography tips page for more detailed information.
Please read our full Antarctic packing list.
Do I need travel insurance for this cruise?
Absolutely. All Antarctica operators require you to have travel insurance before you board your ship. Make sure you examine your policy closely though as some policies do not actually cover you once you leave the ship for shore landings etc. Also make sure the policy has proper evacuation cover as rescuing people in Antarctica is no cheap thing!
Please see our detailed article on Antarctica travel insurance.
What level of fitness do I need for this cruise?
The Antarctica Express Cruise require very little fitness. Whilst there will be many shore landings, you will be able to sit down at any period and, if you feel the need, return to your ship. If you feel up to it, you'll have the option to go hiking up in the hills behind the beaches.
A sense of adventure is far more important than any real fitness levels for the express cruise. All ships are required to keep a doctor on-board, so if you ever feel like you are severely lacking energy, please seek medical attention.
Ships that sail the Antarctica Express Cruise Itinerary
Hebridean Sky
In June 2016, the 116 passenger ship underwent a multi-million dollar restoration project to bring the vessel into the modern age – and it worked.
The Hebridean Sky now boasts state of the art stabilization, fuel efficiency and communications system. The ship is ideal for people looking for a feel of camaraderie, similar perhaps to a yacht experience.
Island Sky
One of the smallest expedition ships in Antarctica, the Island Sky is the perfect vessel for wildlife watching. Equipped with 11 zodiacs and excellent deck space, you'll never miss a thing.
The interior is elegant and the facilities are excellent. All cabins are outward facing and come with private en suite bathrooms.
Ocean Adventurer
One of the larger expedition ships in Antarctica, the Ocean Endeavour can take up to 199 passengers. perfectly equipped for polar sailing and passenger comfort, the Endeavour comes with a full ice-strengthened hull, large sundeck, spacious restaurant and several large lounges!
The sauna, gym, juice bar and many zodiacs make the Endeavour one of our favorites.
Ocean Nova
One of the smaller vessels out there, the Ocean Nova carries only 48 passengers. This gives the ship are very cozy and nice camaraderie feel to it. The Ocean Nova offers outside cabins, spacious dining room, a presentation room, nice bar, gym and a comfortable library. The forward facing lounge is enclosed in glass for stunning forward views.
Click here for more detailed information on the Ocean Nova.
Get a Cruise Quote, Now!
Antarctica Guide do not sell tours, we simply provide impartial advice. If you would like an exact quote with our recommended specialist click Get a Quote.
FAQ
If you would like to know more, please leave a comment below and we will endeavor to get back to you within 24 hours! Alternatively, please see our FAQ page here. If you would like to get a cruise quote, please use this form.
Thank you - AntarcticaGuide Team