Antarctica Fly South – Cruise North Tour
---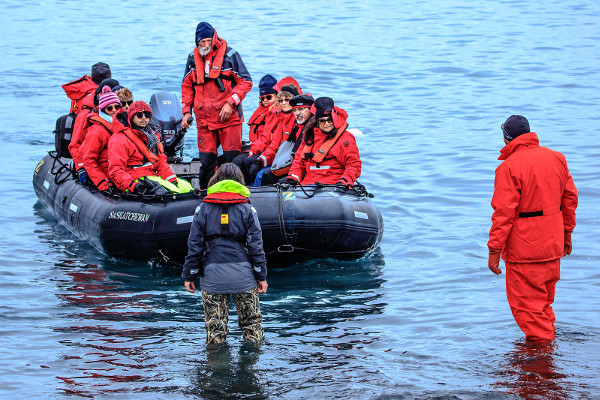 The Antarctica Fly south – Cruise North Tour is the ideal option for people with slightly less timeon their hands but who still want to experience the infamous Drake crossing!
The tour is also perfect for people who want to not only experience the Drake Passage, but also want to view the spectacular landscape of Antarctica from above.
There is nothing quite like flying into the South Shetland Islands and viewing the White Continent from an aerial perspective. The views will give you a whole different perspective to the land and you'll be able to appreciate the immensity and wild landscape in a way that cruise goers cannot.
After landing your adventure begins in earnest as you are given a chance to explore King George Island before taking a zodiac to your cruise ship. The next few days will be some of the most unforgettable you will ever experience.
Your operator will take you down the Antarctic Peninsula, stopping at some of the main points of interest and allowing you to explore some of the most wildlife-rich beaches and harbours. You will also take daily zodiac trips in which you visit some of the harder to reach places and go in search of whales and lounging seals.
After exploring the peninsula in depth and receiving numerous fascinating lectures on the surrounding environment, your cruise ship will begin its journey back to port in Ushuaia. Here you will experience the notorious Drake crossing first hand!
Pray for calm weather as the crossing is often very rough and sleeping can sometimes prove a little tricky. Keep your eyes peeled for seabirds and whales and take in the last bouts of fresh sea air before arriving at your final destination.
Get a Cruise Quote, Now!
Antarctica Guide do not sell tours, we simply provide impartial advice. If you would like an exact quote with our recommended specialist click Get a Quote.
Antarctica Fly South – Cruise North Tour
Route Map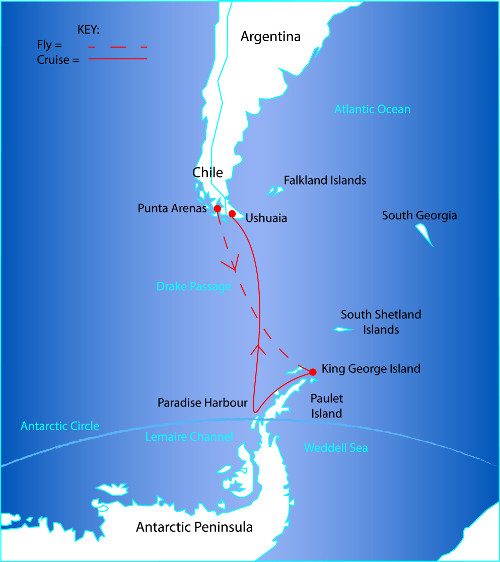 Route Itinerary
Please remember here that the itinerary provided below is simply an example and that all operators offer slightly varying packages. Also note that weather plays a major part on your cruise and some destinations/ports/harbors may be changed along the route depending on sea conditions.
DAY 1: ARRIVE IN PUNTA ARENAS
Today you arrive in Punta Arenas, Patagonia's most populated city. If you arrive early you'll have time to explore the wonderful city ans take in some the fabulous cafes, shops and museums before meeting your operator in the evening. You will have dinner with your operator and fellow passengers as you all eagerly discuss the adventure ahead!
DAY 2: EMBARKATION DAY
Today you board your charter flight and head out across the Drake Passage. The passage takes just over 3 hours compared to the 48 hours it takes by boat. As you begin your descent into King George Island the true vastness of the continent will start to reveal itself and you'll get some incredible aerial views of the South Shetland Islands below. When you land you'll have some time to explore the island before you take a zodiac onto your waiting cruise ship.
​DAY 3-6: SOUTH SHETLAND ISLANDS AND ANTARCTICA PENINSULA
Today your adventure begins in earnest. It will be like entering another planet – a world of rugged glaciers, rock strew beaches and shimmering mountains. Your cruise will take you into the nutrient rich areas to watch pods of whales and visit large ice floes where penguins will be frolicking. You'll also spot a seal or two!
This is just the beginning. From your first day in Antarctica your operator will organise shore landings in which you'll have the chance to get close and personal with some of natures most charismatic individuals, such as thew Gentoo and chinstrap penguins. If you're feeling up to it, take a hike on the ice-covered mountains that stretch along the peninsula.
Another highlight is the sea-based zodiac trips that allow you to see some of the most beautiful ice-bergs on earth at touching distance. There is no proper way to describe the beauty of a blue-hued iceberg that looks as if it has been sculptured by professional hands. Your guides will always be on hand to explain any questions you may have and give daily lectures on the local environment such as the biology and history of Antarctica.
Weather and sea conditions will determine where you can land, however, in Antarctica it almost makes no difference as every location is unlike anywhere on earth!
DAY 7-8: CROSSING THE DRAKE PASSAGE
Today you begin your journey to the port city of Ushuaia. The Drake Passage generally takes several day to cross and you should pray for calm water as the passage is notoriously rough! This will be your last chance to take in the fresh Antarctic air and spot some more whales. Your Antarctic lectures will continue as you cross the passage and you'll continue to marvel at the wildlife-rich waters.
DAY 9: DISEMBARKATION IN USHUAIA – OVERNIGHT STAY
Today you will arrive in port early just after breakfast. From here your operator will transfer you to your hotel where you will stay for one night. Once you find your land legs again, you will have the perfect opportunity to explore the vibrant city of Ushuaia and experience some its boutique shops and cafes.
DAY 10: DEPART USHUAIA
All good things must come to an end. Today your operator will transfer you to the airport where you will take your onward flight.
Trip Variations
Antarctica Cruise South – Fly North Tour
Almost identical to the standard itinerary, this cruise simply allows you to fly back to Punta Arenas instead of flying out. This option is often not as popular though as the Drake Crossing is far easier once you have achieved your sea legs!
Antarctica via Falklands and South Georgia – Fly/sail cruise
This is another fantastic option as you take in not only the Antarctic Peninsula, but the wildlife-rich islands of South Georgia and the Falklands! You will have the option to fly either way – north or south. The cruise is much longer however, and the price will reflect this.
Antarctica Express Cruise
This express option allows travelers to fly both ways. You will still visit the same sites a long the peninsula, but your cruise will be shorter as you avoid the 2 day crossing both ways. Perfect option for people short on time of for people who suffer from severe sea sickness. See the full Antarctic express itinerary.
Get a Cruise Quote, Now!
Antarctica Guide do not sell tours, we simply provide impartial advice. If you would like an exact quote with our recommended specialist please complete the form.
Great recommendation, thanks!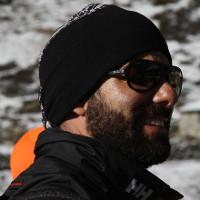 Mark W
USA
Antarctica Fly South – Cruise North Tour FAQ
How much does this cruise cost?
The Antarctica Fly South – Cruise North Tour generally costs between US$10,000 – $12,000, however, for upper deck or suite rooms you should expect to pay upwards of US$13,000.
Costs in Antarctica are high die to the remoteness of the region and cruise ship prices reflect this. Always make sure to read reviews and do your research before choosing your operator of choice. When it comes to Antarctica cruises, we are of the opinion that you get what you pay for. Remember that this is once in a lifetime experience and probably not the best time to simply pick an operator on price alone – although this should certainly be one factor.
Many forums, discussion boards and travel bloggers discuss the notion of securing last minute cruise deals for cheaper prices. Whilst this is certainly nothing to sniff at, it is far more difficult than people realize. For one thing, you generally need to be in Ushuaia to secure these last minute bargains. Secondly, you have no idea when you will get a ticket (if ever) and you may be waiting for quite some time. Most people do not have the option to do this.
Please see our detailed page on Antarctica cruise costs.
What's usually include?
Please note that the below list is what we believe should be included by operators on the Antarctica Fly south – Cruise North Tour. However, all operators do not have the exact same packages and we advise reading operators websites very clearly before booking so you do not experience any unexpected shocks.
•2 night hotel stay in Ushuaia before departure
•8 nights on-board the vessel
•Daily zodiac excursions once in Antarctica
•Arrival and departure transfers to and from airport
•Expert on-board lectures
•8 breakfasts, 8 lunches, 8 dinners (some operators do not include food)
•Waterproof boots for shore landings
•Expedition parka
•Ratio of at least 1 expedition member per 10 guests
•Optional extra activities offered for additional cost – kayaking, hiking etc.
What is the best time for this cruise?
The Antarctica Fly South – Cruise North Tour is run during Antarctica's summer months from early November through to late March. Any Antarctica cruise during any period is fantastic, however, if you do your research you'll find that some periods offer different things to see.
For example, if you decide to cruise during the early part of the season you'll see far more ice-bergs and giant ice sculptures because they haven't had the chance to melt yet. During the early season you'll also be able to see courtship rituals between penguins and seabirds and view the frantic parents battling it out for territory.
If you go during the high season around December/January, not only will it be the warmest period (often above 10 degrees Celsius), but you will see all the chicks hatching and males and females racing back and forth to secure food for their young.
Later in the season is the ideal time to see whales. You're basically guaranteed to see large pods of these amazing creatures as they glide through the sea seeking out the most nutrient rich waters in order to feed their calves.
Please see our detailed page on when to visit Antarctica.
What gear do I need to take?
Cold weather gear is the main consideration when visiting the Antarctic. Your operator should provide you within a nice warm parka, however, this is not always the case and you will have to check with your chosen operator before-hand. You should bring several base layers, warm gloves, beanie, cold weather boots, wool fleece and thermal socks.
The other consideration for your Antarctica cruise is of course camera gear. You'll no doubt have your own, however, you will need to bring some unique gear such as weather proof zip-bags to seal you gear in. Please see our Antarctica Photography Tips page to get more details.
Please read our full Antarctic packing list.
Do I need travel insurance for this cruise?
Absolutely. Travel insurance is mandatory on all Antarctic cruises. Make sure you read your policy closely as many insurers will not actually insure you when you leave the ship for shore landings. Also pay close attention to the emergency evacuation and repatriation sections as rescue in Antarctic waters is not cheap.
Please see our detailed article on Antarctica travel insurance.
What level of fitness do I need for this cruise?
The Antarctica Fly South – Cruise North Tour requires very little fitness. However, with a basic level of fitness you will be able to enjoy the shore landing more as you can take hikes up in the surrounding mountains and hills.
Also kayaking and snow-shoeing is often available and will require a certain level of fitness. However, all of the above is optional and if you struggle with energy then you are always welcome to stop at any point and rest. You will also have the option to simply remain on-board your ship and enjoy the wonderful views.
We always say that a strong sense of curiosity is far more important than any real fitness level!
Ships that sail the Antarctica Fly South – Cruise North Tour Itinerary
Ocean Adventurer
One of the larger expedition ships in Antarctica, the Ocean Endeavour can take up to 199 passengers. perfectly equipped for polar sailing and passenger comfort, the Endeavour comes with a full ice-strengthened hull, large sundeck, spacious restaurant and several large lounges!
The sauna, gym, juice bar and many zodiacs make the Endeavour one of our favorites.
Get a Cruise Quote, Now!
Antarctica Guide do not sell tours, we simply provide impartial advice. If you would like an exact quote with our recommended specialist click Get a Quote.
FAQ
If you would like to know more, please leave a comment below and we will endeavor to get back to you within 24 hours! Alternatively, please see our FAQ page here. If you would like to get a cruise quote, please use this form.
Thank you - AntarcticaGuide Team