Tourism in Antarctica has risen dramatically over the past decade.
Initially discovered and visited for research purposes and the whaling industry, the white continent is now a popular tourist destination.
This page provides a wealth of information on tourism in Antarctica and the changes over time that the Antarctica tourism industry has witnessed.
The rise of tourism in Antarctica
Beginning in the late 1950s, tourism in Antarctica supposedly began when 500 passengers paid to be taken to the South Shetland Islands.
This idea of expedition cruises with an educational purpose was continued when Lars-Eric Lindblad then guided a traveller's expedition to Antarctica in 1966.
Sea tourism in Antarctica was the predominant way to see the Antarctic Peninsula throughout the 1960s. Infact, Lindblad arguably began the expedition cruise industry when he built the world's first expedition ship in 1969.
It wasn't until the 1970s that sightseeing air flights began from Australia and New Zealand.
Prior to the beginnings of tourism in Antarctica, visits to the continent were limited to early explorers and the seal and whaling industry.
Seals were hunted from the early 1800s, with the fur seal almost wiped out by 1830. Whaling began in 1904 with the construction of the whaling station at Grytviken, South Georgia. In 1986, the International Whaling Commission suspended all commercial whaling.
Tourism in Antarctica was initially driven by the mystery surrounding Antarctica's landscape. Antarctica's wilderness, extreme climate and isolation from the rest of the world all contribute to its increased popularity over the years.
From 1999-2000, an estimated 15,000 visitors travelled to Antarctica on sea cruises. From 2009-2010, this figure has more than doubled, with tourism in Antarctica rising to 37,000 people.
IAATO and landing in Antarctica
In 1991, seven Antarctica tour operators came together as a single organisation – the International Association of Antarctica Tour Operators (IAATO). This group promoted and practiced environmentally-responsible tourism in Antarctica.
Even today, with over 100 member-organisations across the world, they develop standards and practices to better protect the Antarctica environment.
Since IAATO was formed, records of tour itineraries have been kept. These show that 200 sites have been visited in the Antarctic Peninsula region since 1989. These records indicate that tourism in Antarctica is concentrated in less than 35 of these sites.
No country owns Antarctica and the Antarctic Treaty was signed in 1961 in order to protect the environment and to promote scientific cooperation in Antarctica. As such, tourism in Antarctica does not require a visa but does require permission.
Tour operators usually obtain this if you are travelling on a cruise.
Sea cruises
Most of the sea cruises for tourism in Antarctica depart from Ushuaia in Argentina. This type of cruise usually lasts between 10 and 21 days and the majority of tours to Antarctica nowadays are on a cruise ship.
Today, there are a whole host of itineraries which travelers can choose from. Due to the rapid increase in tourism in Antarctica, the demand for more unique Antarctica trips is high.
Stepping onto the white continent, kayaking and even camping on the ice are just some of the activities that are now available.
Tourism in Antarctica is ongoing between November and March each year. This is the summer season when temperatures are higher and sea ice melts enough to allow access to cruise ships.
Tourism in Antarctica focuses around the diverse wildlife, the stunning icescapes and Antarctica's rich history.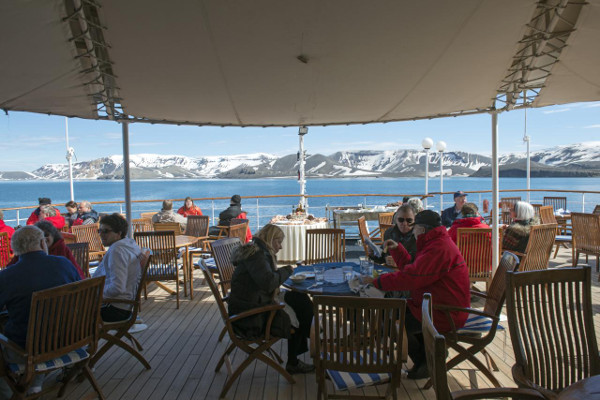 Scenic flights
However, cruise ships are not the only way of seeing the Antarctic Peninsula. Tours of the continent are increasingly done by scenic flights and you can also land on some parts of Antarctica and take a cruise ship from there.
Scenic flights from Australia began in 1977. These fly over the continent without stopping and land back at the departure airport. These flights take around 14 hours, with 4 hours flying over Antarctica. Antarctica Flights, Qantas and Air New Zealand all offer this sightseeing tour of Antarctica.
Evolving over the last decade, some itineraries now also offer the option to fly to Antarctica. Landing on King George Island, these fly-cruises are catered for tourists who have less time on their hands, or for those who badly suffer from sea sickness.
From King George Island, passengers can then take a cruise around the Antarctic Peninsula and then fly back.
Conclusion
As is evident, the scope and range of tourism in Antarctica has dramatically changed over the course of 60 years. From the initial sea cruises to modern fly-cruise options, the industry of tourism in Antarctica has certainly developed.
With the introduction of IAATO, there are now many regulations surrounding tourism in Antarctica. It is clear that standards and practices are being regularly updated to ensure the environmental impacts of tourism in Antarctica are minimized.
As tourism steadily increases in the white continent, it's ecological impacts are monitored with the hope to preserve this dramatic wilderness well into the future.
FAQ
If you have any further questions or queries regarding tourism in Antarctica, please just leave a message below and we'll get back to you within 24 hours.
Thank you and happy travelling!