Christmas in Antarctica
Are your Christmas dinners starting to get stale? It might be time to try something different. Christmas in Antarctica is a completely unique and memorable experience.
What could be more different than spending Christmas the penguins? While Antarctica might not be the first place that springs to mind for a Christmas break, it'll definitely be one to remember.
Kayak between gigantic icebergs, camp out under the stars and relax onboard with family and your new-found friends.
It may be far from your traditional Christmas, but it's sure to be one of your most memorable. After all, there are not too many places where you can have a white Christmas mixed with a southern-hemisphere summer!
1. It's a once-in-a-lifetime family holiday
Sure, visiting your relatives interstate is exciting. But if you're looking for a truly unforgettable family adventure, then skip the lines at Disneyland and head south to Antarctica.
Most cruises start by setting sail in Ushuaia, Argentina's most southern destination, and rightly crowned the 'End of the World'. Make sure you plan for a few days in this captivating city that boasts breathtaking views of the mountains, sea and forests simultaneously.
After crossing Drake's Passage, you'll arrive into a magical icy wilderness with colonies of penguins, pods of whales and gigantic icebergs to greet you.
Antarctica is a once-in-a-lifetime family holiday and one that will be the envy of all your friends and relatives. Make sure you take plenty of photos as you'll need them as proof you spent Christmas with the penguins!
Get a Cruise Quote!
Antarctica Guide do not sell tours, we simply provide impartial advice. If you would like an exact quote with our recommended specialist click Get a Quote.
2. Christmas is one of the best times of the year to visit Antarctica
If you're planning a trip to Antarctica, it's important to do your research and know the type of experience you want to have.
Christmas coincides quite nicely with the start of summer and is also the time when Antarctica's wildlife is most active. Penguins are shuttling ashore along the Antarctic peninsula to feed their chicks, Weddell and Crabeater seals are patrolling the bays and Humpback whales are starting to feed.
There are also several rarely visited historic locations such as the Shackleton and Scott huts, that become accessible to tourists as the sea ice surrounding East Antarctica breaks up.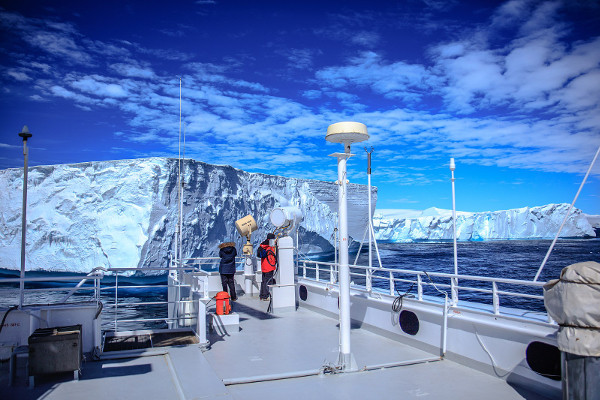 3. A guaranteed white Christmas
Have you been dreaming of a white Christmas, but are let down every year?
Antarctica is one of the only few places in the world where you will be guaranteed the magical white Christmas you've always dreamed of.
Waking up on Christmas morning, you'll be greeted with picturesque landscapes, thousands of chirpy penguins and a merry crew.
With a delicious dinner awaiting after a big day of exploring, it'll be sure to go down as a festive holiday for the history books. Just don't forget your Christmas sweater!
4. More sun, more fun!
Did you know there's an average of 18-20 hours of sunlight each day during December?
Imagine what you can do with all those extra hours! Tour operators know, and they make the most of the extended daylight by conducting considerably more shore landings.
The longer days also bring welcomed warmth, with temperatures hovering above freezing, creating ideal conditions for outdoor activities such as kayaking, camping, and walking expeditions.
December is also renowned for immaculate snow conditions, the largest and finest icebergs, and blooming wildflowers. It's no wonder photographers favour this time of year to travel!
5. Enjoy a stress-free Christmas
Christmas is meant to be the most wonderful time of the year, but for many this also means it's the most stressful.
Why not cut the crazy out of Christmas by fleeing south to an icy Antarctica, where all your worries will melt away?
From the moment you board, you'll be able to sit back, relax and enjoy the awe-inspiring scenery as your expedition staff take care of all the necessities. Quite literally turn your back on the kitchen this Christmas, with every delicious meal prepared and served against the backdrop of floating glaciers and rugged mountain peaks.
Your only stress will be choosing which of the amazing activities you want to participate in. And don't bother packing your prized Christmas decorations, the crew will have the ship decked from the bow to the stern so you won't miss out on any festive cheer!
While this Christmas may be out of reach for most, start planning for next year to ensure you can celebrate a once-in-a-lifetime family Christmas in Antarctica.
Get a Cruise Quote!
Antarctica Guide do not sell tours, we simply provide impartial advice. If you would like an exact quote with our recommended specialist click Get a Quote.
FAQ
If you have any further questions or queries regarding why you should plan a trip to Antarctica for Christmas then please get in contact or leave a comment below.
Thank you and happy travels.
Tags: 5 Reasons Why You Should Plan a Trip to Antarctica for Christmas, Antarctica Christmas, Christmas in Antartica