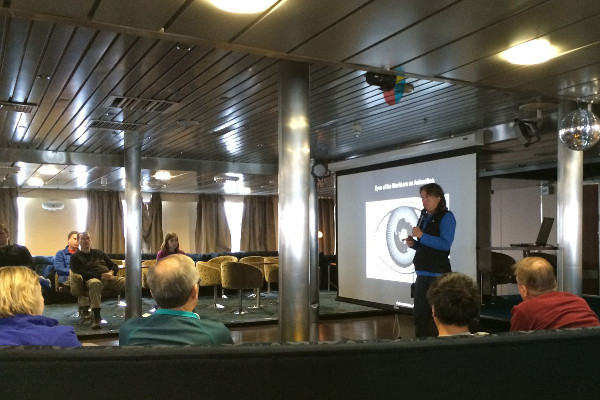 Entertainment Onboard your Antarctica Cruise: What To Expect
January 20th, 2018 / Burnham Arlidge
---
Because you'll be spending so much time at sea, it' is important to understand and research the entertainment onboard your Antarctica Cruise.
Are you planning a trip to Antarctica? Expect long days full of exploring and activities.
However, the journey to the world's most remote destination takes time, and even when you arrive, there will be many hours spent onboard the ship.
Entertainment options will differ depending on the type of Antarctica itinerary you choose, as each type of ship (see our page here on all types of ships that sail to Antarctica) is equipped with different facilities and each offers travellers a unique experience.
From specialist lectures to yoga, below are some of the top entertainment options that can help you pass the time until your next shore landing.
Entertainment Onboard your Antarctica Cruise
Educational Lectures
Looking to learn more about the world's most isolated continent?
Depending on your cruise, you can expect a variety of educational lectures from research experts covering many different topics including history, geology, photography, marine wildlife and much more.
On most cruises, shore landings are accompanied by a series of lectures to help you make the most of your time on land.
Smaller research vessels have limited entertainment options (you are there for the experience after all), so expect a healthy dose of specialist lectures provided by experts.
These will often be included during the evenings after dinner, during sea days and at various other free times during your trip.
Ships will often have a dedicated lecture room equipped with video and audio, so make sure you tune in and learn something new!
Quiet Time in the Library
If you need some quiet time to yourself, most cruise ships are equipped with a library and a range of spaces to spend an evening relaxing.
Curl up with a good book and unwind from a big day of exploring.
Nearly all cruise ships have some form of a library, except some of the smaller research vessels.
Luxury cruise ships have a much wider range of books (some even include wireless internet) to keep you occupied for hours on end.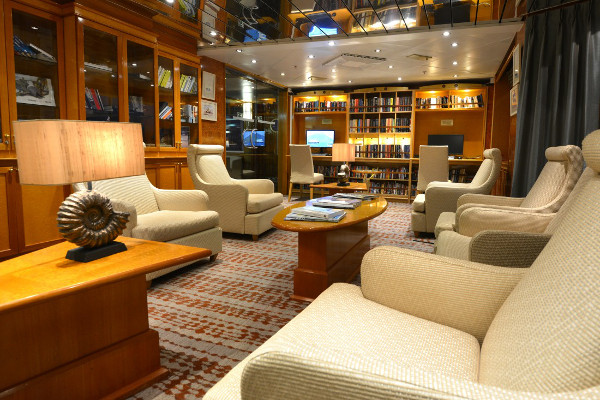 Gym/ Fitness Centres
Need your fitness fix while at sea?
All luxury and expedition cruise ships feature a gym to ensure you can keep up with your training.
Some research vessels have fitness centres, although be sure to double check with your tour operator on specifics before booking.
While facilities may be limited, guests can expect treadmills, rowing machines and a weight lifting machine.
A number of ships, including the Akademik Loffe, even offers guests a wellness program, including yoga instruction (select departures only).
Get a Cruise Quote!
Antarctica Guide do not sell tours, we simply provide impartial advice. If you would like an exact quote with our recommended specialist click Get a Quote.
Dining Options
Dinner is an excellent opportunity for travellers to mingle, and nothing compares to sitting down to a delicious meal and swapping stories with your new friends after a big day out exploring!
While every cruise ship has a dining room, the options do vary between vessel types.
Larger Antarctica cruise ships can often have two to three different restaurant options, with the dining room potentially turning into a dance floor later in the evening.
Expect three to four courses with a starter soup/ salad, main (with vegetarian option) and dessert with tea or coffee.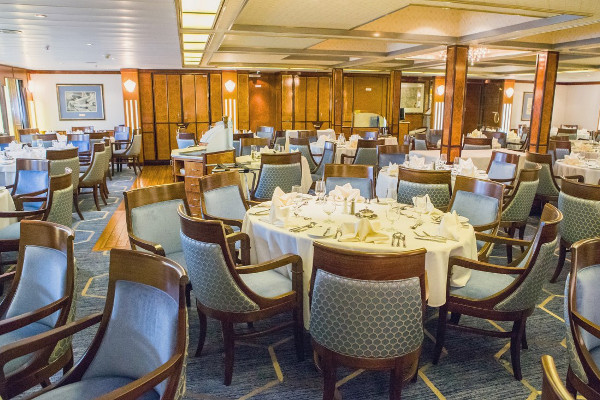 Evenings in the Bar/ Lounge
Once dinner has wrapped up, it's time to retreat to the bar and continue the festivities.
The sun rarely sets, which means you can make the most of your day (and your photography), even sightseeing with a drink from the bar!
All cruise ships will have some form of bar/ lounge, however, expect more comfort and larger facilities on the luxury and expedition cruise ships.
There may also be organised events such as music nights, games, trivia and storytelling, although this will vary ship to ship.
Looking for more?
Wondering what other facilities and entertainment options your cruise ship may have?
See our article here on 'What to Expect Onboard Your Antarctica Cruise Ship' to understand the type of services each cruise category entails.
If in doubt, be sure to get in touch with our Antarctica Cruise Specialists.
FAQ
If you have any further questions or queries regarding entertainment onboard your Antarctica cruise, please just leave a reply below.
Thank you and happy travels!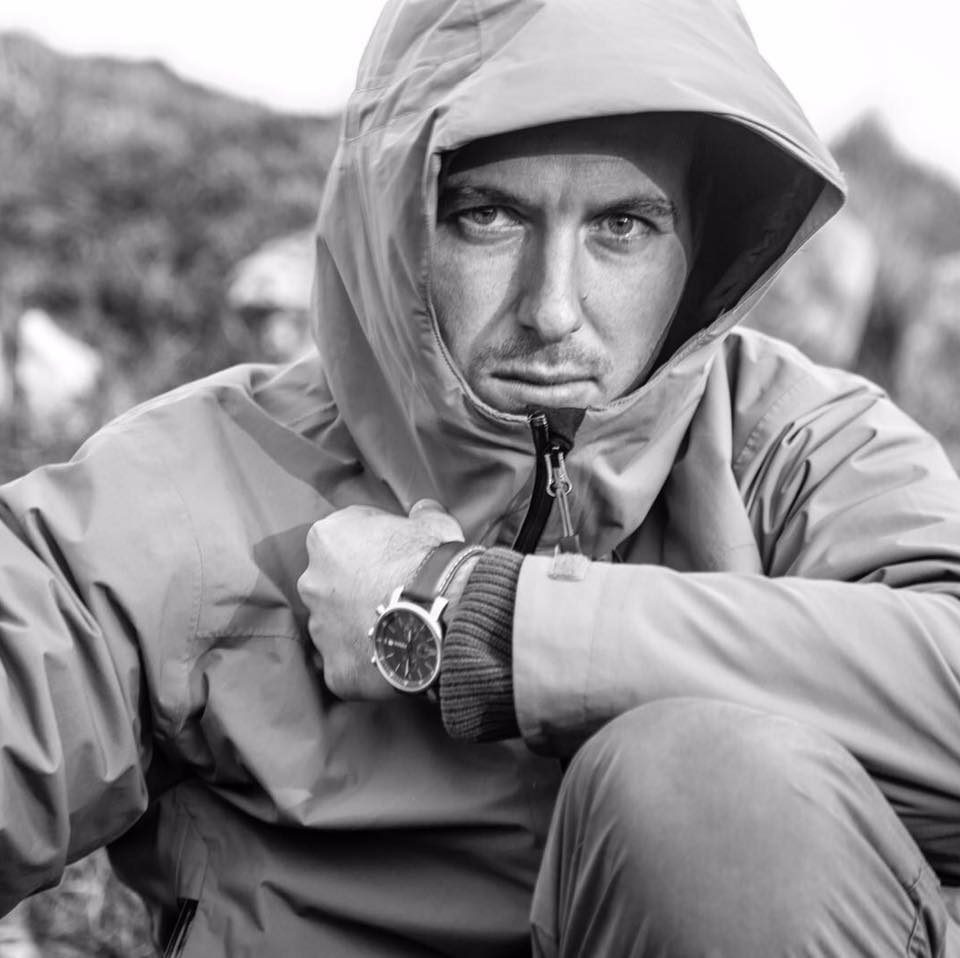 About the Author
Burnham Arlidge
Burnham started his career as a professional tennis player before retiring due to injury. Since then Burnham has thrown himself into adventure travel. He has visited some of the most iconic and obscure parts of the planet - his most memorable experience is Antarctica!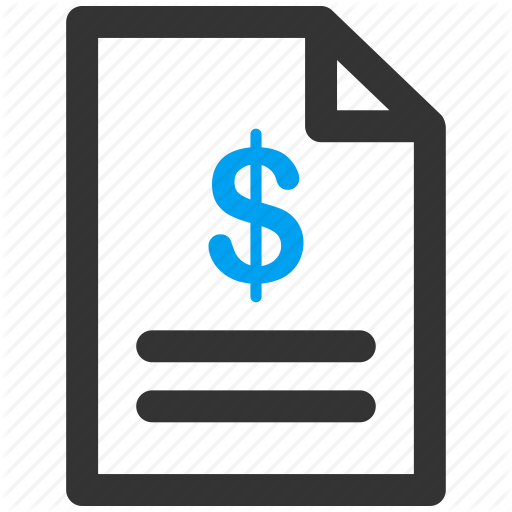 Get a cruise quote to your inbox, today!
Receive a price competitive quote from our trusted Antarctica cruise agent.
Get a Cruise Quote, Now!
Related Posts
Leave a Comment: