Journeying to the White Continent is an absolute must for bird lovers given the exceptional variety of species on offer.
As many bird lovers or 'twitchers' will know, much of the Antarctic and sub-Antarctic is a birder's paradise. Both the Falkland Islands and South Georgia for example are teeming in bird life and shouldn't be missed.
To help you get the most out of your bird watching experience in Antarctica, we have written the guide of top tips, including what birds to see, where to see them, and what equipment is best to bring.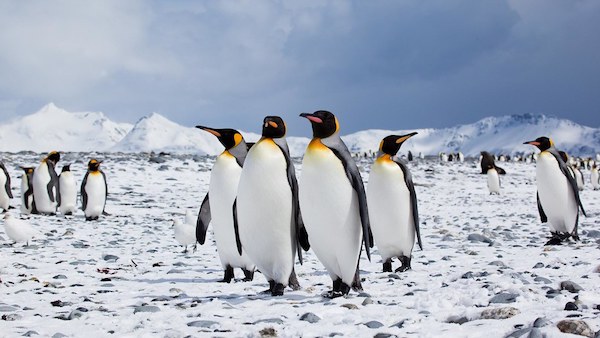 What birds can you see in Antarctica?
There are a huge variety of birds that inhabit Antarctica and the sub-Antarctic region. Some migrate to Antarctica at different types of year, whilst other are permanent residents all year-round.
The first species that everyone thinks of in connection with Antarctica is penguins. There is very good reason for this. 7 out of the 18 species of penguin in the world reside in Antarctica. Not only do they reside here, but they reside in huge numbers.
Guests on any standard Antarctica cruise are guaranteed to see penguins, especially Gentoo and Adelie penguins along the Antarctic Peninsula. Gentoo's can be defined by their bright orange bill and crescent white patch on their heads, whilst Adelie penguins can be identified by their completely black heads. Both species are quite loud and boisterous and good fun to watch and photograph.
A favourite among many bird watchers however is the King penguin. These beautiful birds are the second largest in the world and their bright orange and yellow plumage makes them stand out against the start Antarctic backdrop. Most King penguins can be found on South Georgia Island where many of the their colonies number in the hundreds of thousands. These charismatic birds are not afraid of humans and you'll get many close-range images. You can see these birds at any time during summer on an Antarctic and South Georgia itinerary, but it is worth noting that the fluffy brown chicks are most common in January.
The Emperor penguin is the largest of the penguin species and on many bird lovers bucket list. Sadly though, these elusive creatures can only be found in the interior of Antarctica. Whilst there are tours that reach the interior in search of Emperor penguins, they do not come cheap.
Penguins aside, bird watchers have a myriad of other species to see in Antarctica. Chief among these is the albatross, possessing the largest wingspan of any bird species on the planet. The wandering albatross is a common site when crossing the Drake Passage, as is the Black-browed albatross. For the best chance to see these birds on land you'll need to visit South Georgia Island.
Petrels and skuas are also common in Antarctica and can be spotted in numerous landing sites, so always keep your eyes peeled. Sheathbills will often land on your ship whilst you are at sea which will give you a great opportunity to get up close to these white birds. The Blue-eyed Shag, or 'Imperial shag' is another favourite among bird watchers and can be found on South Georgia Island.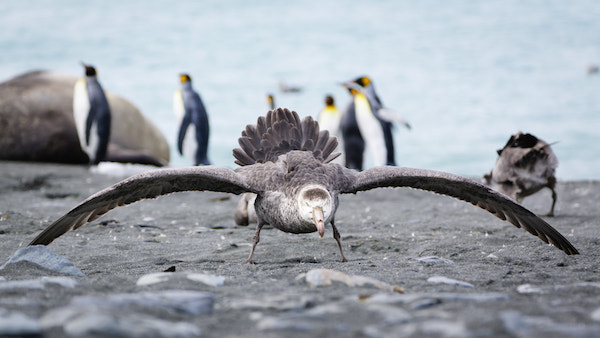 Top tips for bird watching in Antarctica
Image stabilisation binoculars
When it comes to binoculars, always try to bring a pair of binoculars with inbuilt image stabilisation. Yes, they do cost more, but given that you'll often be on a moving ship or zodiac, they are invaluable for keeping your image steady so you can simply enjoy watching the birds.
Wide-angle lens
Most bird photographers will always use telephoto lenses to capture gorgeous pictures. However, the wildlife in Antarctica is not afraid of humans and often come very close. This means that a wide-angle lens often proves to be the better choice, especially when it comes to photographing penguins. A wide-angle lens also allows you to demonstrate scale in your photos and gives viewers a sense of the landscape that the birds inhabit.
Monopod
If you have a big telephoto lens, the cha res are its going ti be heavy. It is definitely worth thinking about purchasing a monopod. Lighter than a tripod and more manoeuvrable, a monopod is a great way of taking the weight from your arms when photographing wildlife for long periods of time.
Speak to an advisor
Always make sure you speak to an Antarctic specialist prior to booking. If you really want to photograph king penguins and book a standard cruise to the Antarctic Peninsula, you are going to be disappointed. A specialist will help you understand your options and make sure that you book the right trip for the type of birds you want to see.
Wear insulated gloves
Whether you are photographing birds, or just watching them through binoculars, your hand are going to get cold in the freezing environment. We recommend wearing thin insulaion gloves that have grippy fingers which will alow you to use your equipment with ease.