Not only are emperor penguins the largest of the penguin species, but they are arguably the most interesting.
Emperor penguins are the only penguin species to stay out on the open ice during winter, often enduring hurricane-strength winds and freezing temperatures as low as -60 degrees celsius.
Unlike most species, emperor penguins are monogamous and the males do their equal share of raising the chicks. Huddled together through the long, dark winters, the male emperor penguins work together to keep the newly laid eggs warm whilst the mothers hunt for food at sea. Their strong sense of community literally keeps them alive.
Their impressive size and colour makes them extremely popular and many a traveller has spent a lot of time and money searching for these elusive birds.
So, where is the best place to see emperor penguins in Antarctica?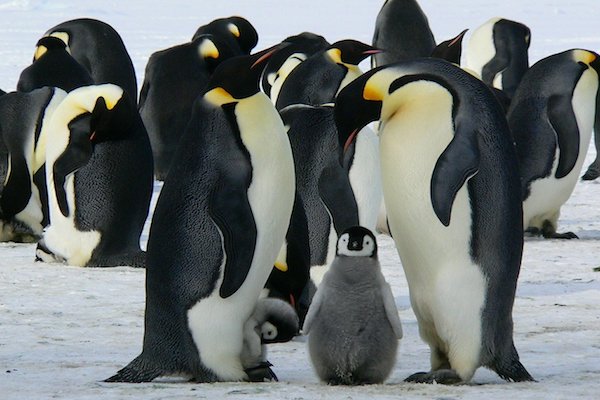 Snow Hill Island
Snow Hill Island is probably the most popular destination for people wanting to see emperor penguins. Located in the Weddell Sea, Snow Hill Island lies just off the east coast of the Antarctic Peninsula and is home to a colony of 8,000 emperor penguins.
Only a small number of ships make the journey to this inhospitable island each summer, with most operators favouring November due the ice conditions. This is also the best time to witness the newly-hatched penguin chicks in their cute and fluffy state.
Given its remote and ice-choked location, only the toughest of polar ice-breaker vessels can reach this area. Even with the icebreaker ships, you'll not be able to reach the island directly, instead you'll have to take a helicopter to the island and then hike on foot to the colony.
The Weddell Sea voyages generally start from around US$12,000 per person and take 10 days. Due to the unpredictable sea conditions and weather of Antarctica, there is only a 50/50 chance that you will see any emperor penguins on these voyages.
Whilst a 50/50 chance does not sound ideal when you are spending thousands of dollars, the other options we discuss below are significantly more expensive. Snow Hill is by far the most cost-effective way to see emperor penguins in the wild.
Even if you do not see emperor penguins on your voyage, the Weddell Sea region is a spectacular part of the world and you'll see numerous other penguin and whale species on your trip.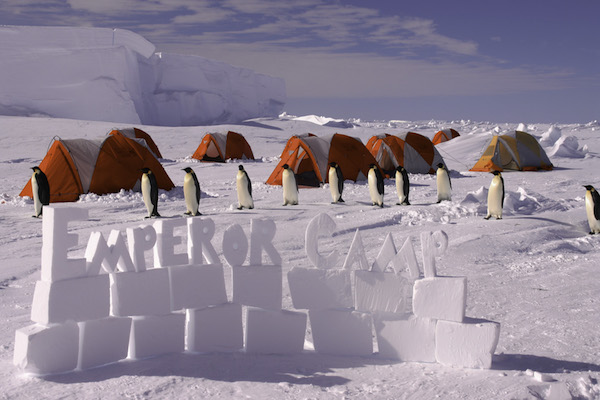 Gould Bay
The second option to see Emperor penguins in the wild is to journey to Gould Bay. Situated on frozen sea ice, Gould Bay is located in the Weddell Sea, just in front of the Ronne Ice Shelf. Gould Bay is the only Antarctic tourist camp pitched on sea ice and is, without doubt, one of the most remote camps on the planet.
The trip is run by Antarctica Logistics and Expeditions who operate a small base at Union Glacier where guests first arrive by charted flight. From Union Glacier, guest are flown to Gould Bay Camp over 420 miles away.
The camp is set up just over a mile from the emperor penguin colony and is made up of numerous small tents and very little else. A flagged route marks the way between the camp and emperor penguin colony and guests have to make do with the 'field toilets', lack of showers, and basic amenities. The food though is first class and you can expect good-sized meals each day, along with tea, coffee, beer, and wine.
Each day is focused on viewing the emperor penguins and getting as safely close as possible to these beautiful creatures. Meal times are not fixed so that guests can photograph the penguins during the best light and weather. The knowledgeable guides will provide you with all the information you need regarding these amazing birds.
Because you'll be sleeping in tents, there is every chance that you may come in close contact with other species of penguins and seals. Penguins frequently enter the camp and it's a truly species experience being so close to the wildlife.
Gould Bay trips take 9 days and prices start from US$48,950 per person. Guess need to be prepared for changing and cold weather conditions. There will also be moderate hiking each day across snow and ice.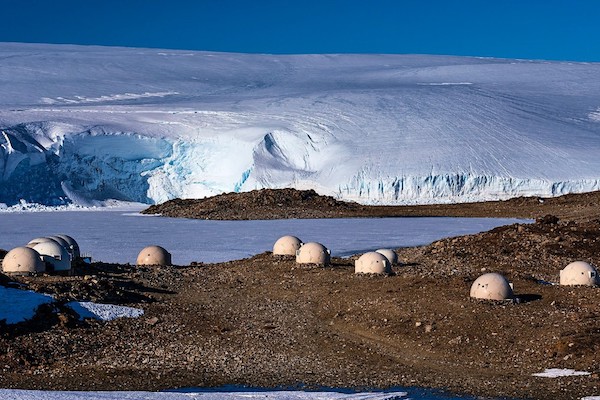 Atka Bay
The Atka Bay trip run by White Desert is probably the most epic way to see emperor penguins in Antarctica. You travel from Cape Town to Wichaway Camp via a luxury private jet where you make camp for 6 days. The camp is located next to a 200-foot ice cliff and is compromised of 7 luxurious en-suite pods that employ aerospace technology and are heated from within.
Each day guests explore the surrounding area and can do activities such as hiking and exploring local ice tunnels. One full day is spent flying to Atka Bay where guests can see a large emperor penguin colony up close. You will also get the chance to fly over the colony for unrivalled aerial views.
Prices start from US$65,000 per person and this includes the private jet transfer to and from Cape Town to Antarctica. Trips depart in the spring time when the chicks are looking their best. For the more adventurous guests, there is also the option to try ice-climbing and abseiling.