For many, visiting Antarctica is the ultimate adventure. Preparing for the adventure is key. Therefore, knowing what to expect onboard your Antarctica cruise ship will help you get the most out of your trip.
Exploring uncharted territory on foot, standing metres away from an Emperor Penguin and kayaking between enormous icebergs, it's safe to say visiting Antarctica is an experience like no other.
While you often hear about the amazing activities that take place during landings, it's important to keep in mind that you will be spending the majority of your time onboard.
Therefore, choosing the right cruise ship with the best onboard entertainment and offshore attractions for your budget and priorities is crucial to your overall experience.
To help you on your way, we have written a quick guide on what to expect onboard your Antarctica cruise ship.
What to Expect Onboard Your Antarctica Cruise Ship
In 2017/18, almost 30 different cruise ships will sail to Antarctica, each with varying levels of comfort and entertainment. Please see our full list of ships.
Having so many options can be overwhelming, so we've broken this down into three distinct categories to help you understand what to expect onboard.
Luxury Antarctic Cruise Ships
Luxury Antarctica Cruise Ships offer the ultimate onboard experience, prioritising comfort over price.
Expect spacious sun-filled decks, several restaurants and boutiques shops, as well as fitness and wellness centres, complete with spas, plunge pools and saunas.
Accommodation will be nothing short of a luxury suite boasting elegant lounges, spacious bathrooms and oversized beds.
Five-Star amenities can include a private butler service, 24-hour in-suite dining, complementary mini bar and your own veranda. After a full day of exploring you can even take comfort in riding the elevator straight to your suite.
Some luxury cruise ships even boast their own helicopter or submarine, providing guests with exclusive access to Antarctica's most spectacular and secluded locations.
Luxury cruise ships are large, carrying between 200 and 500 passengers. Bear in mind that only 100 people can be ashore at one time, which can have limited opportunities and may result in fewer landings.
Research Vessels: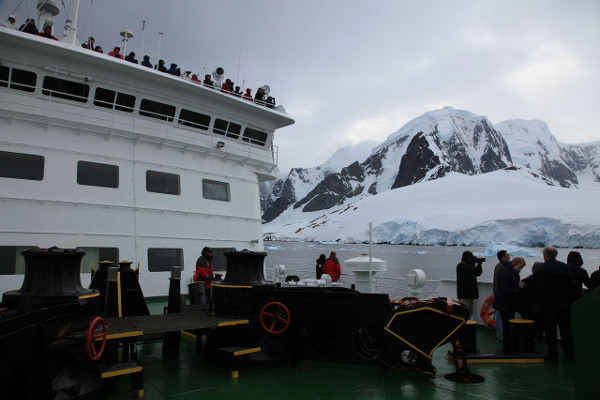 Research vessels are obviously less expensive and offer fewer onboard comforts.
However, if you are looking to maximise onshore time while keeping costs down, this is the best option for you.
Research vessels are generally smaller and carry fewer passengers, between 50-100, which means more landings and shorter queue times.
As a result, you will have greater opportunity to see wildlife, take photos and squeeze in more offshore activities.
Onboard facilities are usually limited to a dining room, library, lounge, bar and lecture room.
However, some modern research vessels offer greater comforts, including a state-of-the-art lecture theatre and wellness centre, complete with a gym, massage therapist, sauna, hot-water spa and refreshing salt water plunge pool.
This particular ship also offers yoga classes and daily meditation.
Get a Cruise Quote!
Antarctica Guide do not sell tours, we simply provide impartial advice. If you would like an exact quote with our recommended specialist click Get a Quote.
Expedition-Style Ships:
Expedition ships offer a middle ground. Smaller than luxury cruise ships, and carrying fewer than 100 passengers, expedition ships are designed to maximise time on onshore as all guests disembark at one time.
A flexible approach and highly qualified team also mean the crew can react quickly to local circumstances, such as a pod of feeding whales.
However, unlike most research vessels, facilities and onboard entertainment are not compromised. You can still expect ample deck space, a variety of facilities and optional onboard activities.
Although not as lavish and elegant as luxury Antarctica cruise ships, expedition ships are a financially more realistic option for many travellers, who still want high-quality dining options and onboard entertainment.
You can expect a complete wellness centre, stocked library and full media lecture room with video presentations.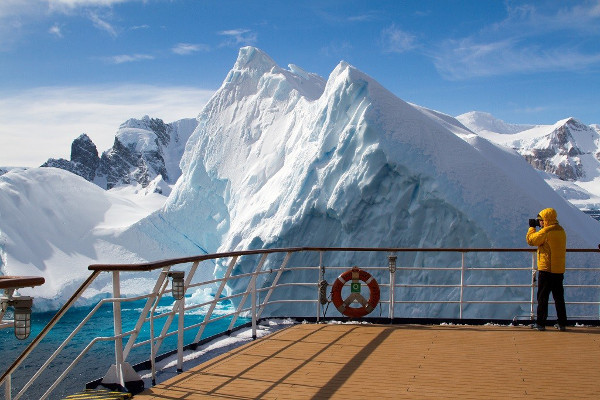 Do Your Research
Choosing your Antarctica cruise is an incredibly important decision.
The ship you board will not only affect the variety and quality of facilities/ entertainment you have access to, but will influence the time you have to explore the icy continent onshore and ultimately, your overall experience.
We recommend doing your research and considering your priorities before finalising your decision to explore this beautiful part of the world.
Make sure you are also aware of Antarctic tourist regulations prior to departure.
It's important to remember that while we have outlined the basic level of comfort and entertainment to expect, each ship will ultimately be different.
We recommend speaking to one of our Antarctica cruise specialists to discuss your individual needs and ensure you get the experience and comfort you're looking for.
FAQ
If you have nay further questions or queries regarding what to expect onboard you Antarctica cruise ship, then please leave a comment below.
Thank you and happy travels!