A journey to the White continent is an unforgettable experience and one that will stay with you forever. The sheer scale of the landscape and diversity of the wildlife is simply breathtaking. However, like most cruises, Antarctic cruise itineraries often include a number of days spent at sea.
The average voyage length in Antarctica is 10-12 days with an average of four days spent at sea. For longer itineraries, such as those that visit South Georgia and the Falkland Islands, these numbers can be doubled.
Because of this, we often get asked by potential travelers what activities are available to guests during sea days. To answer this, we have written a guide on what to do during sea days in Antarctica.
Wildlife watching
One of the most popular reasons for visiting Antarctica is witnessing the amazing wildlife. Sea days provide plenty of time to stand on deck and look out for the abundant marine life on display in this region.
The Drake Passage is home to dolphins, humpback whales, orca, and plenty of seabird species including petrels and the iconic wandering albatross. The albatross are magnificent to watch as they use their enormous wing span to glide inches above the water, often soaring right past the boat.
Dolphins are commonly seen closer to Ushuaia within the Beagle Channel where they often bow-ride the ship to the delight of the guests. Fur seals and magellanic penguins are also seen in these waters fairly regularly.
Most operators will provide binoculars if required, but we do recommend bringing your own as they are a fantastic way of seeing the majestic wildlife up close, especially whales. Most whale sightings occur when you reach the Antarctic convergence. This is generally around the half way point across the Drake Passage where the warmer currents converge with the colder Antarctic waters attracting huge amounts of krill, that in turn, attract numerous whale species.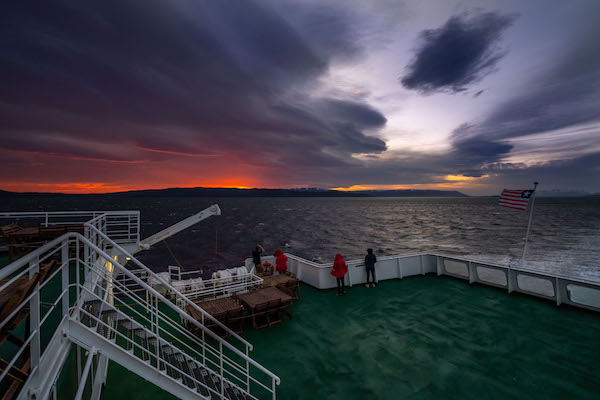 Onboard talks from the expedition team
One of the unique elements to expedition cruising is having daily talks from the expedition staff onboard the ship. Most expedition team members will be experts in their own right, usually on subjects that pertain to Antarctica.
The talks range in subject, but are often based around the fauna, flora, and climate of the Antarctic region. Talks on geology, penguins, global warming, etc. are common and provide a fascinating insight into the region you are exploring.
Most talks last about an hour and are not compulsory. More talks are given during sea days when people are less busy and they are a brilliant and informative way of passing the time.
For photographers, there will usually be a special photography talk given by the onboard expert during most voyages.
Citizen Science programs
Many voyages to Antarctica will participate in a program called Citizen Science. The program aims to make use of the thousands of people who travel to Antarctica each year by allowing them the opportunity to collaborate with scientists and contribute to their data collection.
The program focuses on five main subjects: glaciology, oceanography, ornithology, meteorology and marine biology. The Happy Whale initiative is one of the most popular studies and gives guests the opportunity to upload their own photos of whales which then allows them to track those whale's movements all over the world.
Other studies that are popular include seabird surveys and cloud observation. Citizen Science is particularly popular among kids as it gives them a hands on task during quiet sea days.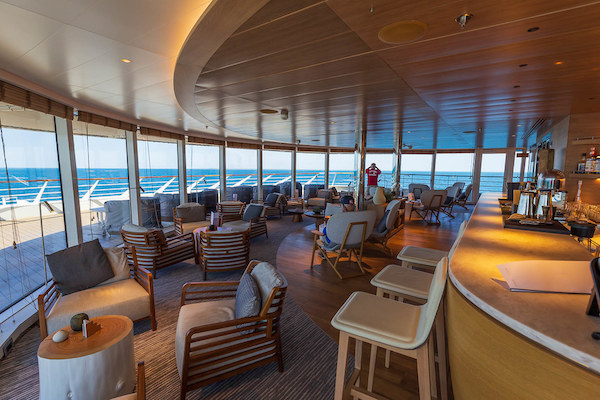 Use the onboard facilities to relax
One of the most relaxing thing to do during sea days in Antarctica is to read. Luckily, most ships come with a fully stocked Polar library for guests to browse at their leisure.
The Polar library is usually quiet and provides hundreds of incredible books about the Polar regions. If you can't get phone signal to find the answer to a question you might have, then just try the library.
Most Antarctic ships will also come with an observation lounge. These are usually large rooms, filled with chairs, tables and couches, encased with floor-to-ceiling windows for optimal viewing.
There is nothing better than taking a tea or coffee, finding a quiet seat and just looking out to sea and observing the incredible landscape around you.
Some of the more modern vessels will also be equipped with spa facilities. Jacuzzis are now quite common, as are saunas and massage treatments. Sea days provide the perfect opportunity to make the most of these facilities and get you nice and relaxed ready to face the busy days ahead.