700 miles north of the Antarctic Peninsula lies the Falkland Islands. This barren and windswept archipelago is often overlooked as a destination when planning an Antarctic itinerary.
I have been to Antarctica multiple times, but never the Falkland Islands. So, when I got told that my next Antarctic cruise would include a 3-day stop at the Falklands you can imagine my excitement. Given its remote location, it's a place that few people get to visit.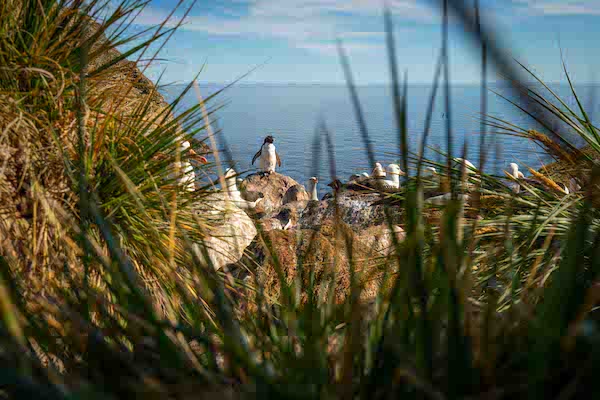 Arrival
We departed from Puerto Madryn late afternoon in good weather. Gulls and albatross soon found our ship and made for a pleasant distraction over the 2 days that it took to reach the remote archipelago.
The islands appeared like small rocks on the horizon, quickly becoming huge and rolling barren hills of grassland and sheer cliffs. Many of the bays we passed were dotted with beautiful white-sand beaches, completely deserted with blue water lapping their shores.
The islands instantly reminded me of the Western Isles of Scotland. The beaches, the windswept landscape and the scattering of farmers fences in need of repair conjured up images of the Isle of Skye or Mull. In fact, it could have been the same place if it wasn't for one thing - the wildlife!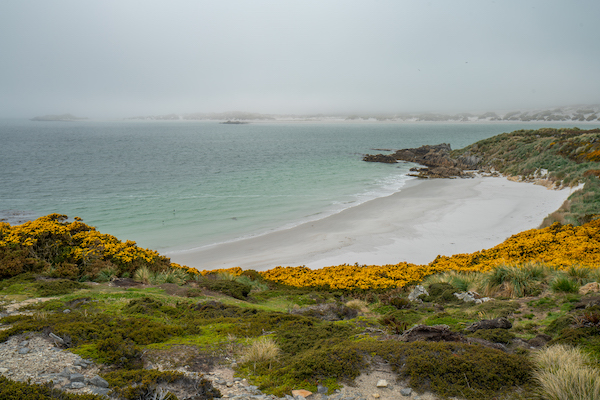 Saunders Island
Our first landing was a place called Saunders Island. It is the fourth largest island in the Falklands and, in 1765, was the location of the original British settlement. The island forms a narrow bottle neck in the middle, straddled either side by long white-sand beaches filled with penguins. Not just one species, but four species of penguin can be seen together at Saunders.
As we arrived on the beach we were greeted with a number of gentoo penguins coming down to the sea to forage for fish. The colonies of gentoos occupied the lower beach and the cute little creatures took no notice of us as we slowly made our way past them.
We soon came in sight of my favourite penguin species - king penguins. These brightly plumed birds are simply beautiful to watch and my camera was soon snapping away. Seeing these majestic penguins on a white sand beach with blue waters behind them was actually quite a strange sight. The photo I took below looks as though three penguin friends have gone on holiday!
Saunders Islands only got better. As we made our way up above the beach we came to a large rookery of rockhopper penguins. These charismatic little penguins were an absolute joy to watch as they jumped and hustled their way around the rocks, their bright yellow eyebrows lending them an almost comical appearance.
And finally, as we hiked to the top of the cliffs we were rewarded with a magnificent colony of black-browed albatross. From a distance you could be forgiven for thinking these birds were mere seagulls, but when you're standing 5 metres from them you suddenly realise just how big they really are. In the waves below the albatross we could see commerson's dolphins surfing in the swell, their black and white bodies clearly standing out against the blue water.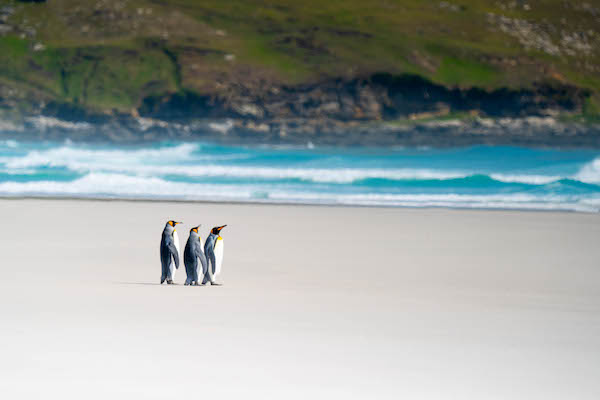 West Point Island
We were blessed with the weather in the Falkland Islands. Several days of bright blue skies greeted us and it was only when the expedition team exclaimed for the 5th time how rare this was that it began to sink in just how lucky we were. Apparently the norm was dark, overcast days with blistering wind.
Our second stop was West Point Island, a few hours sailing north of Saunders. This barren island is inhabited by just one couple and they greet visitors with some tea and cakes. Whilst this could be the start of a noir horror novel, the visit to the island was incredibly rewarding.
We were greeted at the picturesque jetty by the landowners and guided to an incredibly dramatic part of the coastline in which a large colony of albatross and rockhoppers penguins resided over towering cliffs. After taking a very rough and fun land rover journey back to the harbour, we were served fresh tea and cakes in their lovely cottage.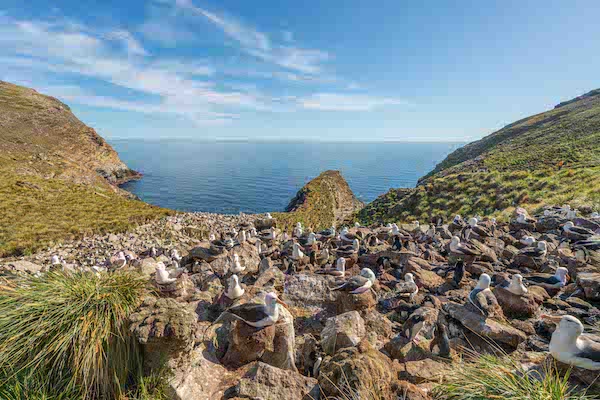 Stanley
The following day at dawn we sailed into Stanley harbour. The capital of the Falkland Islands, the town of Stanley is home to roughly 2500 permanent inhabitants and has a very British feel as you might expect. We were greeted on the jetty by three sea lions basking in the morning sun.
Stanley is a funny town. It's neither picturesque, nor ugly. What it is is quirky, and this makes it a fantastic place to visit. More importantly, there are a number of pubs in Stanley, and you can find local beers such as the tasty IPA affectionately named Iron Lady. Speaking of the Iron Lady, I spoke to one local who informed me passionately that the people of Stanley 'revere' Thatcher. The bust of her in the town did seem to attest to this statement.
Margaret Thatcher aside, there are plenty of things to do on a day trip to Stanley including the dockside museum which is packed full of maritime history, wildlife information, social history and, of course, a wide array of artefacts from the 1982 war.
After spending some hours in the town taking in the pubs, the shops and the museums, we made our way to Gypsy Cove which is a short drive away. This white-sand cove is home to magellanic penguins, steamer ducks and some lovely black-crowned night herons. There is a boardwalk that takes you on a great little circular walk around the cove and we spent ages just taking in the wildlife and glorious scenery.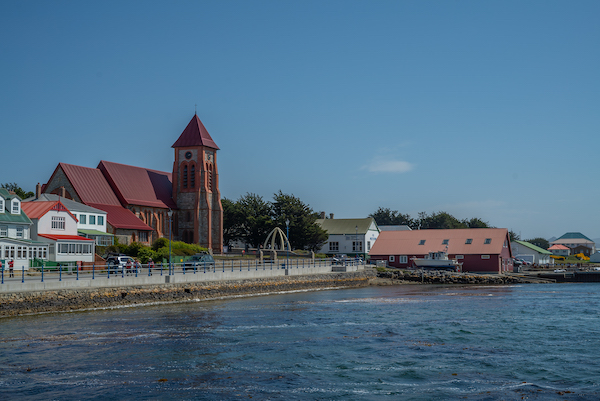 Leaving the Falklands
As we left the Falkland islands the following morning I reflected on the archipelago. It is very British. This fact clashes with its remote location and creates a very unique feel to the island and its people.
The wildlife is the standout memory of the Falklands and yet we did not even scratch the surface. If you spend longer on the islands you'll no doubt see many more seals, including huge southern elephant seals. Killer whales also stalk the waters here, not to mention macaroni penguins and numerous whale species.
There are very few places on earth where you can stand alone and watch penguins and seals go about their daily lives. The Falklands is like a lost world, a forgotten paradise of wildlife and dramatic coastline. Perhaps the only reason that it is not more popular is that it lies near South Georgia which frankly is like the Falklands on steroids, but much harder to reach if you are not on an Antarctic itinerary.
For anyone considering an Antarctic cruise, I highly recommend you choose an itinerary that includes the Falklands and South Georgia.