For wildlife lovers across the globe, South Georgia often stands a shining beacon. The sheer numbers of penguins to be found here demonstrate just how well an ecosystem can thrive in a landscape devoid of humans.
Look closely and you will often see documentary crews here from all over the world filming the majestic wildlife. Blue Planet and Frozen Planet are just two examples that have featured South Georgia.
The island itself is both remote and dramatic with towering cliffs, rugged mountains and large bays and beaches. Since the whaling industry there has been no permanent human settlement and all visitors have to arrive via small expedition cruise vessels.
Arrival
We had left the Falkland Islands behind several days previously when we came into sight of South georgia. There was an instant buzz on the ship and people from every direction came outside to lean against the railings and watch the island come ever closer. This was a place I had wanted to come and visit since I was a kid and it was almost surreal to see the large cliffs come into focus.
We anchored just before nightfall and sat down for the daily briefing from our expedition leader. He informed us that we would be making a dawn landing at St Andrews Bay and that anyone wishing to come had to be ready below deck at 5:30am. As a photographer, this was like music to my ears.
St Andrews Bay, South Georgia
St Andrews Bay is a bight about 2 miles wide that looks incredibly dramatic thanks to the towering peaks that sit behind it. The bay is fronted by a long beach and backed by grassy hills and rocky outcrops.
Fur seals and elephant seals patrol the shore line and can actually be quite aggressive when trying to land zodiacs. As we stepped off the zodiac the expedition staff had to form a barrier of bags and gear to keep the male fur seals from coming towards us.
Even so, several males still had a good try and the staff had to wave their trekking poles around to keep the aggressive males at bay. All this made for quite an exciting landing and certainly hit home just how wild this place truly was.
However, seals aside, St Andrews Bay is famous for one thing - having the largest colony of king penguins on earth. Over 300,000 king penguins breed here year-round and every single one of them is completely unafraid of humans.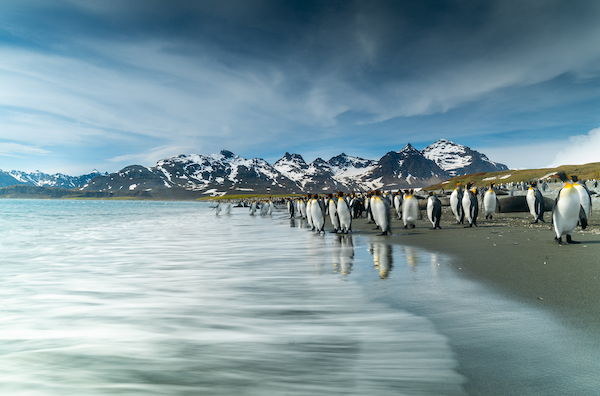 The penguin colony
Although there were plenty of king penguins on the beach to greet us, their long shadows flowing out in the early morning light, the actual colony was about 20 minutes walk away.
Before we made the short trek to the colony I quickly got my camera out and started snapping pictures of the penguins and seals along the beach. It was like standing in the middle of a safari and was actually quite difficult to pick out compositions with so much wildlife surrounding me.
I ended up sticking my tripod in the water and used the shoreline as a nice leading line into a large group of penguins - See photo above.
I then made my way slowly into the hills and further along the bay towards the colony. It was slow going purely because there is so much wildlife to take in en-route. Giant skuas flew above our heads and female elephant seals dotted the landscape, looking very chubby and cute.
After about 30 minutes I reached the top of a ridge and looked down upon the valley floor we had come to. What I saw took my breath away. Thousands upon thousands of king penguins stretched out as far as the eye could see. The cacophony of noise hit me hard, as did the smell! It was truly awe-inspiring.
The next hour was spent in a daze simply gawping at the spectacle in front of me. I was not alone in this. Other members of my expedition were sitting around just taking it all in slowly.
The photo below barely does justice to the scene, but it does give a little perspective to the sheer scale and numbers of penguins in the valley.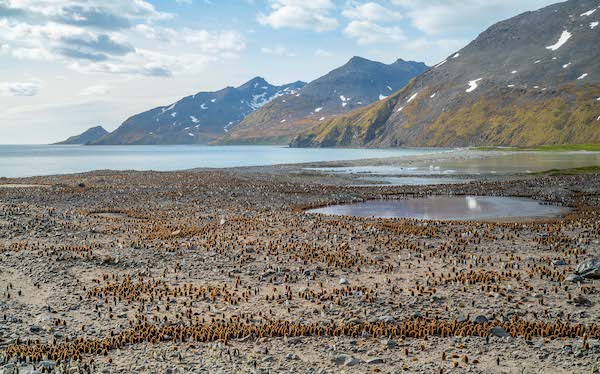 Return to ship
The return to the beach was perhaps even slower. I did not want the experience to end and thus walked very slowly back to the waiting zodiacs. Being amongst this much wildlife really blew my mind and left me wanting more. I was like a child in a candy shop, snapping pictures left, right and centre.
Once again on the beach the male fur seals were trying their best to make our zodiac departure much more exciting than it needed to be. They would constantly sprint at us with their teeth bared and stop dead just before they reached us.
We made it back to the ship for lunch and ate heartily. The passengers onboard were all abuzz from the morning's activity and it was great to see so many people inspired by what they had seen.
Although we had 3 full days in South Georgia, for me, St Andrews Bay is the one landing that really stood out in my memory. The sheer scale of wildlife was simply incredible.
If you are planning a trip to Antarctica then I highly recommend adding South Georgia onto your itinerary - it is a must for wildlife lovers!