Antarctica is often described as the end of the world, and for good reason. Its dramatic landscape and charismatic wildlife has a magical quality to it which is hard to describe for people who have not been.
Tourists can only visit the Antarctic Peninsula via an expedition cruise. These small ships have the ability to navigate the many bays and inlets along the peninsula, giving visitors a unique insight into the White Continent.
An Antarctic expedition cruise is not like a traditional cruise. Generally, the ships will have fewer than 150 passengers and there are daily shore landings and zodiac trips.
So, what does a typical day in Antarctica look like? Read below to find out.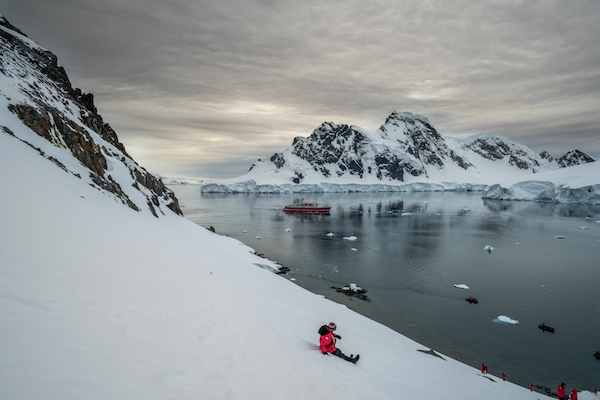 Wake up call: 7am
On most Antarctic expedition cruises the expedition leader will make an announcement around 7am that will be broadcasted to each cabin.
In the announcement the expedition leader will announce the ship's current location, the outside temperature, any nearby wildlife, and what the weather forecast is for the rest of the day.
It is not mandatory that you get up, but if you do not you will most likely miss breakfast and possibly the first daily activity.
Breakfast: 7:30am - 9am
Following the wake up announcement passengers shower, get dressed, and then make their way to the breakfast area.
The breakfast room is usually the same room used for lunch and dinner and generally consists of a mixture of different sized tables. Some will be for two people, whilst others will be for larger numbers.
There is no seating arrangement and you can either sit with the people you are travelling with or with people you have yet to meet.
The breakfast will be buffet style and consist of continental and cooked options, including vegetarian. The breakfast usually lasts from around 7:30am to 9am, but this can differ from ship to ship.
Morning activity 9:30am - 12:30pm
Following breakfast an announcement will be made detailing the first activity of the day. Weather permitting, this will either be a shore landing or a zodiac cruise to look for wildlife. This is when the excitement begins.
If the swell is low, the expedition team will always try and make a shore landing. Generally speaking, when you first arrive on the ship you will be separated into groups. An announcement will be made detailing what order the groups will be boarding the zodiacs.
When your group is called you will make your way down to the zodiac embarkation area and board your zodiac. The zodiac trip to shore is usually 5-10 minutes in length.
Once ashore one of the expedition members will brief you on where you are, what there is to see and where you can and cannot walk. Once you have this information you are free to make your own way.
Most shore landings last between 2-3 hours and there will always be flags to point you in the right direction. This is a great time to stretch your legs and get close to the amazing wildlife. Photographers will always get fabulous shots during shore landings.
You can take a zodiac back to the ship at any point, but most people tend to stay as long as they can. During the landing, the expedition team will also offer a zodiac wildlife cruise. This usually lasts around 45 minutes and is a great way to see some of the animals from a different perspective.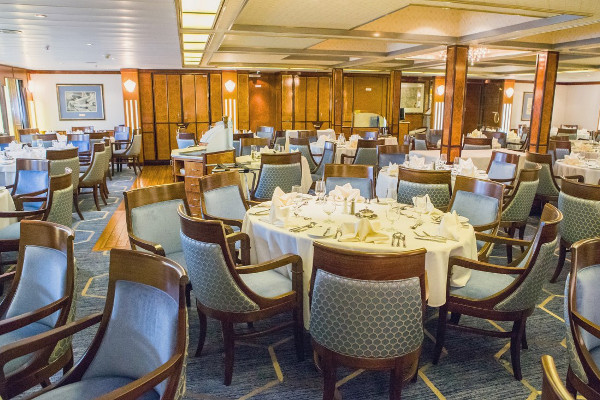 Lunch 1pm - 2pm
Following the shore landing everyone is ferried back to the ship for lunch. Like Breakfast, lunch is a buffet-style meal with open plan seating.
This is a great time to chat to your fellow passengers about the shore landing you have just experienced and rest up before the afternoon's adventure.
During lunch and for an hour or two afterwards the ship relocates to another location in search of somewhere safe to make another landing.
Afternoon activity 3pm - 6pm
Weather permitting, the afternoon's activity will run in the exact same way as the morning's activity. Groups will be called in order to board zodiacs and be taken ashore to witness the wildlife and landscape.
Sometimes, if the swell is too large then a zodiac-only option will be available. This is usually 1-2 hours in length and you will explore the area looking for wildlife, icebergs and stunning landscapes.
If the weather is too rough then there will be no activity and people will have to stay aboard the ship, rest up, edit some photos, read, and chill out in the bar.
The goal of all expedition teams is to make two landings a day, but weather does not always allow this.
If you have signed up to the kayaking program then you will either kayak during the morning or afternoon shore landing, weather permitting. Sometimes you will still have time to go ashore, but this is not guaranteed.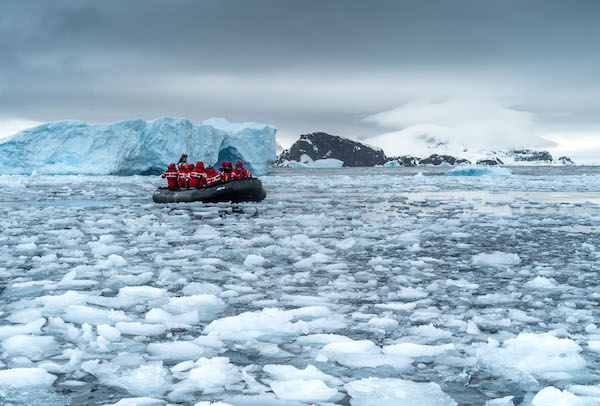 Evening round-up 6:30pm - 7:15pm
Around 6:30pmm there will be an announcement to say that the daily round-up will be happening in the bar or lecture theatre.
The daily round-up usually lasts about 45 minutes and is a great way to learn more about the landings you just made. Often the expedition team will show some passenger photos and talk more about the wildlife and landscape.
The daily round-up is also the time that the expedition staff announce their tentative plan for the following day. All expedition cruise itineraries are weather-dependent, so do not assume the plan will alway stay the same.
Following the daily round-up passengers often stay in the bar and share a drink or two with their fellow passengers.
Dinner 7:30pm - 9:30pm
Around 7:30pm dinner will be served. Unlike breakfast and lunch, dinner is usually dining service and not buffet-style.
There will be three courses with wine and beer. The seating plan is still open and dinner usually lasts several hours, but there are no set times for passengers to follow.
Following dinner passengers have the run of the ship. Some people retire early, tired from a long day, whilst others head to the bar.
A note on sea days
During sea days to and from Antarctica, a typical day looks a little different.
Breakfast, lunch and dinner operate on the same basis. However, the time that would be spent on shore landing is filled with other activities.
These include:
Wildlife watching from the deck of the ship. Sea birds will often follow the ship and provide photographers and birders with some great bird watching opportunities. Whales and dolphins are also a common sight on the Drake Passage.
Listening to the onboard lectures. Each member of the expedition staff will often give a lecture during the voyage of their chosen subject. These can range from geography and history, to wildlife and geology.
You can take part in a citizen science program. Most operators will provide a Citizen Science program and this is a great way to contribute something back to science and pass the time at sea. Programs like Happy Whale are hugely popular these days, but there is also cloud reading and seaweed watching.
For more information on what to do during sea days then please see our article here.