Are you seeking an exhilarating adventure that takes you deep into the Antarctic interior? Snowshoeing in Antarctica provides a unique opportunity to explore Antarctica's untouched wilderness by foot.
Dating back more than 4,000 years, snowshoes make walking over snow easier and allow users to transverse areas that were otherwise impassable on foot.
Snowshoeing in Antarctica is a surreal experience, worth it just for the spectacular views you'll witness along the way.
But it's also a sustainable, affordable and healthy way to explore this radiant land at the end of the world.
Snowshoeing in Antarctica - What to Expect?
If you like hiking, chances are you'll love snowshoeing in Antarctica.
Snowshoeing expeditions are group-based activities led by professional mountain guides. You'll trek together safely across hills and rugged terrain.
Expect to see stunning blue iceberg lagoons, penguin rookeries and unspoilt nature, all while learning about the Antarctic explorers that came before you.
How do Snowshoes Work?
Snowshoes have a larger surface area than the bottom of a regular boot and therefore distribute body weight over a much larger area.
By dispersing weight evenly, your steps put less pressure on the snow and won't break through. Once likened to a wooden tennis racket, today snowshoes are lightweight, easy to manoeuvre, and comfortable.
They attach to rubber and regular hiking boots and include a crampon-like bottom layer that grips to snow.
Get a Cruise Quote!
Antarctica Guide do not sell tours, we simply provide impartial advice. If you would like an exact quote with our recommended specialist click Get a Quote.
Preparing for your Snowshoe Adventure
One of the best things about snowshoeing in Antarctica is that it requires no previous experience.
Contrary to what many people believe, snowshoeing, other than involving snow, bears no resemblance to skiing.
There's no sliding involved and since you already know how to walk it's easy to learn. Snowshoes are provided for every excursion, and poles and hiking boots are usually available to rent or use at no additional cost from your tour operator.
That being said, there are plenty of things you can do to have the best experience possible.
Hiking poles are helpful for hills and inclines, while waterproof bags and backpacks are ideal for storing water, sunblock and camera accessories.
Layer your clothing to stay warm, and shed layers to cool down before you start sweating. Wear thermal underwear and a fleece or down jacket to ensure your body stays warm.
Gloves, hats, sunglasses and goggles will protect you from the unpredictable Antarctic environment as well as the sun's glare on snow and ice.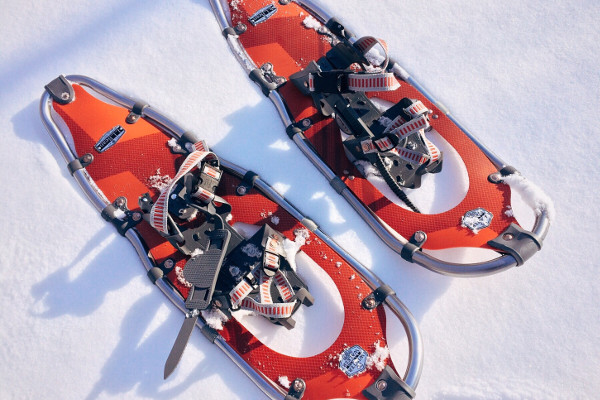 Safety, Difficulty and Physical Fitness
Antarctic snowshoeing hikes are relatively safe—about as safe as hiking back home.
Paths are optimised for protection and sightseeing, so you can enjoy the crunch of snow and the wild setting without worrying about your welfare.
Most snowshoeing expeditions offer a range of tours, from easy and relaxing walks across Antarctic powder to tough hikes with steeper inclines.
Challenging treks may have better views and exciting features, but require a higher degree of physical exertion.
Depending on the snowshoe expedition, you could be moving for 2-6 hours across a variety of terrain.
You'll get a pretty good workout regardless of the route you choose, so good physical health and fitness are recommended.
Other Snowshoeing Tips
November and December are considered the best months to snowshoe because the snow cover is at its heaviest.
Avoid bringing cotton clothing, as wet cotton takes much longer to dry than other materials.
Some regulations prohibit human waste from being left anywhere on Antarctica! Pack a disposable bottle or ziplock bag just in case nature calls.
Add Snowshoeing to Your Bucket List
The surreal experience of snowshoeing in Antarctica across the unscathed polar landscape is a highlight for many tourists visiting the Antarctic region.
Make sure you check with your tour operator on availability and don't forget to add snowshoeing to your bucket list!
Get a Cruise Quote!
Antarctica Guide do not sell tours, we simply provide impartial advice. If you would like an exact quote with our recommended specialist click Get a Quote.
FAQ
If you have any further questions or queries regarding snowshoeing in Antarctica, then please don't hesitate to leave a comment below.