Over the last few years, flights to Antarctica have become increasingly popular. By flying to Antarctica, guests with less time on their hands spend fewer days at sea without missing any time on the continent itself.
Flights to Antarctica also give guests the opportunity to explore Antarctica's vast interior, including the South Pole. Visitors who sail to the White Continent are prevented from doing this and must stick to the coastline.
For those wishing to know more about flying to Antarctica and the options available, we have written this guide to help you make an educated decision.
Why should you fly to Antarctica?
It is estimated that over 10% of travellers who visit Antarctica now choose to fly. Flights from Punta Arenas in Chile take just 2 hours to reach the White Continent and this can be very appealing to guests short on time.
Many families and couples simply cannot spare enough days to sail to Antarctica which takes two days either way. Flying cuts this time out and allows visitors to spend quality time in Antarctica without having to spend numerous days at sea. This is why many of these itineraries are called 'Express cruises'.
Spending less time sailing to and from Antarctica also gives travellers the chance to explore more of Argentina and Chile either pre or post departure. Some of the most incredible scenery in the South America can be found in both countries, including numerous national parks such as Torres del Paine and Tierra del Fuego.
Most cruises that sail to Antarctica depart from Ushuaia which means guests have to sail across the infamous Drake Passage to reach the White Continent. Although this body of water is safe to cross in modern vessels, it is often quite choppy. Anyone who suffers from severe sea sickness may wish to avoid this and fly instead. The waters around the Antarctic Peninsula are generally calmer than those of the Drake Passage and good sea sickness medication will see most people through without any major issues.
Antarctica flight options
Although flying to Antarctica is becoming more popular, there are no actual scheduled flights to the continent. All flights that depart for Antarctica are privately chartered by the company who is operating the trip.
This means that you cannot book yourself onto a flight. You must use an Antarctic operator to book for you. The operator will also arrange the rest of the trip once you land in Antarctica.
Most flights depart from Punta Arenas in the southern tip of Chile and fly to King George Island on the Antarctic Peninsula. The flight takes about 2 hours each way and most planes can hold roughly 80 guests. The plane itself is usually a BAE-146 with 4 turbo propeller engines and reinforced undercarriage for remote airstrips.
Once you land on King George Island you will then board a cruise vessel and sail around the Antarctic Peninsula for 5 days before returning to the island for your flight home.
There is also the option to fly to Antarctica for one day. This involves flying to King George Island and exploring the island for 5 hours. You'll visit old settlements, take a zodiac tour to a penguin colony, and explore the landscape of the island with a trained guide. After this, you return to Punta Arenas.
For the more adventurous type, there is the option to fly into the interior of Antarctica to reach the South Pole. You will camp in the interior, reach the South Pole, and visit an emperor penguin colony. Very few trips are operated each year and less than 500 people make the journey. 

How much does it cost to fly to Antarctica?

 Because there are no scheduled flights, only chartered flights to Antarctica, flying is generally a little more expensive than sailing. A typical fly-cruise itinerary in which you fly in both direction will start from US$10,000 per person in a shared cabin.   
 If you want to do sail one direction and fly the other, then prices are often cheaper and start from around US$6,000 per person. Please bear in mind that these prices not only include the flights, but the cruise itself, and all your food and daily activities. 
 Day trips to Antarctica cost US$6,000 per person. We advise people agains this type of trip unless you really have no other time available and just want to say that you have stepped foot on the 7th Continent. The value for money is not the same as it would be if you were to spend US$6,000 on a 10 day classic itinerary for example. 
 If you wish to fly to the interior of Antarctica to visit the South Pole and witness emperor penguins, this will cost a significant amount of money. This is a very remote region and few trips run each season because the logistics become are more challenging and specialised. A week at Union Glacier Camp for example will start from around US$25,000 and can go upwards of US$70,000.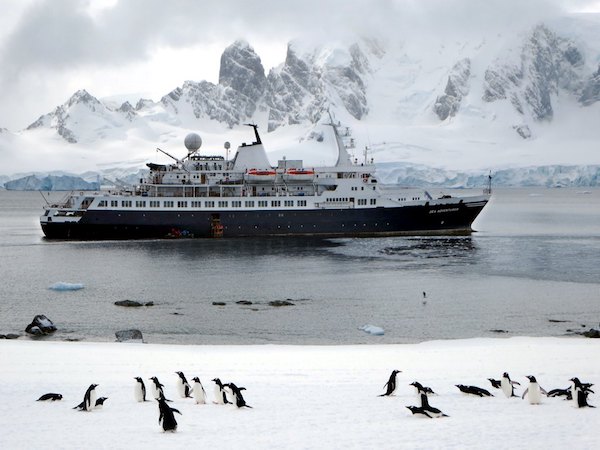 How likely are flight delays to Antarctica?

 All itineraries that visit Antarctica sail and fly to the weather. By travelling in summer, the risk of severe weather is greatly reduced, but can still occur. Travellers should always be prepared to for minor itinerary changes throughout their voyage.  
 Sadly, planes are slightly more susceptible to bad weather than ships are. Despite this, most flights to Antarctica arrive as scheduled. Over the last 15 years, just over 80% of all flights to Antarctic have arrived on the day they were scheduled. Because of the every changing conditions, exact timings are hard to predict and travellers will be on call to fly any time on a chosen day. 
 King George Island is particularly prone to low cloud and fog thanks to its location and this is the main reason why flights can sometimes be delayed. Most flights that are delayed are only delayed by a few hours. If you are delayed for a day or more then you will not be able to make up that time in Antarctica and you will still have to return on the pre-determined return date. 
 If your trip is cancelled due to bad weather then there will be a clear refund policy. However, this is extremely rare and has only happened once in the last decade.     

FAQ
When is the best time to fly to Antarctica?
Fly-cruise itineraries only operate between December and February. This is when the weather is at its warmest and most predictable. Delays are still possible, but they are greatly reduced by flying in this period. 

What is the baggage allowance? 

There is a very strict baggage allowance when flying to Antarctica and that is 15kg per person. Make sure to pack light and use the laundry service onboard your vessel.  

Can you see Antarctica from the plane window 

For most people flying to King George Island, you will not be able to see Antarctica en route. If you are lucky and the weather is clear enough, you may spot Cape Horn. 
 For those lucky enough to fly to the interior of Antarctica, you will get some amazing views of the White Continent below.   

What are the main Antarctic airports? 

The only commercial airfield in Antarctica is King George Island. This is where the majority of fly-cruise transfers land. For those flying to the interior, you land upon 'blue ice runways' which is a fantastic experience. 
 There are a handful of other airfields and runways scattered across Antarctica, but these serve research stations and are not available commercially.    

Should you book ahead? 

Even if you were sailing to Antarctica, we always advise to book well in advance. This is especially true of flying as there are only 80 seats available on each flight. We recommend booking at least a year in advance and further if you can. If you would like to be put in touch with a specialist who can twll you more or book a trip for you, then please fill this short form out.