Visiting Antarctica is a once in a lifetime trip. The end of the world is a breathtaking landscape of snow and ice where some of the most charismatic creatures on our planet call home. For many people visiting the Antarctic region, South Georgia is often the highlight.
Lying roughly 3,000km north of Antarctica, South Georgia is not technically part of the Antarctic Continent. None the less, this little island packs a large punch when it comes to wildlife and history.
Including South Georgia on your Antarctic cruise itinerary does add to the cost of an already expensive trip, but the rewards are certainly worth it. Visiting this part of the world in an investment and you're very unlikely to return. Therefore, we strongly advise including South Georgia in your itinerary if you have the means.
To give you a taste of what you can expect to see in South Georgia, we have written our top 5 reasons to include South Georgia in your Antarctica cruise.
The Penguins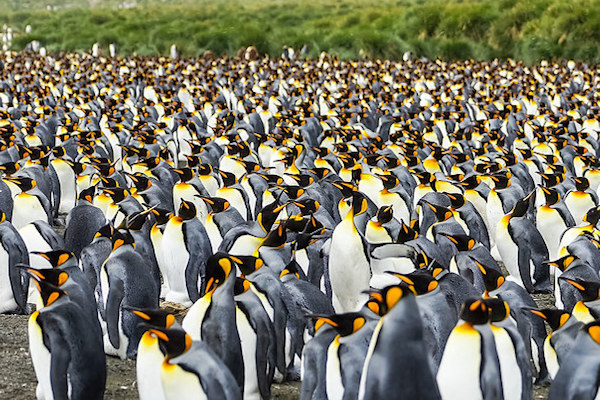 If you have ever watched a king penguin documentary, the chances are it was filmed on South Georgia. There are over 450,000 breeding pairs of king penguins on the island and these beautiful and charismatic birds are a complete joy to behold.
At some landing sites you'll be able to see enormous colonies of king penguins as far as the eye can see. Their distinctive orange and yellow plumage makes these birds incredibly beautiful and the ideal photo subjects.
South Georgia is also home to over a million yellow-feather macaroni penguins. These lovely penguins are far smaller than king penguins, but are still incredible to watch. Their distinctive yellow 'eyebrows' or crests give an almost comic vibe to them as they waddle in front of guests.
Remember that wildlife regulations mean that you cannot approach penguin too closely. However, you will often find that the penguins approach you and walk right past your feet.
The Seals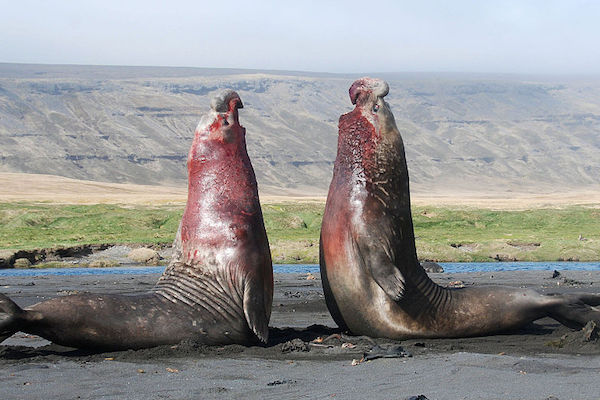 Much like the penguins, South Georgia is also teeming with seals. 95% of the world's fur seal population reside on South Georgia with an estimated 5 million calling the island home. Just pulling into shore aboard your zodiacs you are likely to see many of these friendly seals darting in and out of the water.
The real stars of South Georgia though are the Southern elephant seals. There are hundreds of thousands on the island and their belching can be heard almost as soon as you land on shore. The males can weigh up to 4,000kg and grow to a length of 6 meters.
If you arrive early in the season you might be lucky enough to see the bulls battling for supremacy and mating rights over the female harems. It is an unforgettable sight seeing two animals weighing the same as a family car going head to head against each other with full ferocity.
The History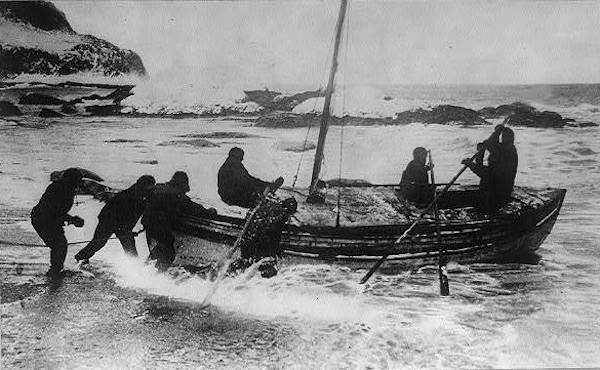 South Georgia, like a number of places in Antarctica, has a rich whaling past. The remnants of disused whaling stations litter certain parts of South Georgia and guests can tour the old stations and oil barrels. These stark remains are dark reminders of the old whale industry in South Georgia.
South Georgia is also the last resting place of the polar explorer Ernest Shakleton. The explorer made one of the most daring and dangerous sea voyages ever made when he sailed to South Georgia in 1916 after his Antarctic expedition vessel, the Endurance, became ice locked. He and his 6 crew sailed a tiny life boat across the open sea without any aid and eventually made it to South Georgia.
In 1922 when Ernest Shackleton died, he was buried on South Georgia in Grytviken Bay. Nowadays, no journey to South Georgia is complete without a short pilgrimage to his grave site.
The Jurassic-stye Landscape
South Georgia essentially lies upon the underwater chain of mountains that connects Antarctica with South America. Sometimes, these mountains are so tall that they poke their head above the sea and forms islands, such as South Georgia and the South Sandwich islands.
Because of this, the landscape of South Georgia is nothing short of epic. The ice-capped peaks soar above the white-sand beaches and photographers will love the contrast between penguin-covered beaches and the jagged mountains sitting behind.
There are plenty of easy hikes for people wanting to explore the mountains and surrounding landscapes. Most landings give guests plenty of time to hike and take in the wildlife. We always advise walking as much as possible as you never know what wildlife and views you'll come upon.
The Wandering Albatross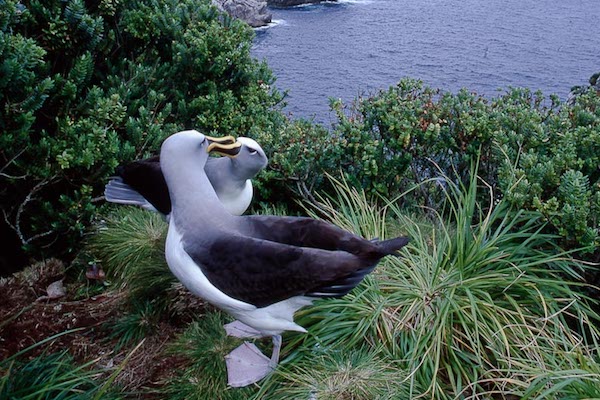 The wandering albatross has the largest wingspan of any bird on the planet. Wingspans can reach up to 3.5 meters and this allows these beautiful birds to glide over the sea without having to flap their wings. In fact, young albatross will often spend 6 or more years at sea without ever touching land.
These huge birds were once common throughout South Georgia, however, thanks to human activity rats were introduced onto the island which decimated the population. Nowadays, the wandering albatross can only be found in South Georgia on Bird Island and Prion Island.
Because of this, guests cannot visit these islands during the main nesting season from December to February. Anyone who wishes to step foot on the islands will need to travel in the shoulder months of the Antarctic season.