This article 'How to stay safe in Antarctica' is designed to get you through your amazing journey safe and sound.
Antarctica can be a beautiful yet perilous place- the risks are real.
From frostbite and hypothermia to sunburn, the treacherous and unpredictable environment must be taken seriously. With the right planning and the right precautions, you can make your trip to Antarctica a safe and enjoyable one.
Below are our top five tips on how to stay safe and healthy in Antarctica.
Note: Please remember that you will not be allowed to board your Antarctica cruise without suitable travel insurance. See here for more information.
How To Stay Safe and Healthy In Antarctica
1. Prepare for unpredictable weather
Antarctica is the coldest, driest and windiest continent on earth, as well as being one of the most unpredictable.
Weather conditions can change in minutes, and even in the peak of summer temperatures can drop well below freezing.
Packing a wardrobe that allows you to be flexible and adapt to all conditions is essential.
Rather than bringing one thick jacket, build your suitcase with several high-wicking layers that you can take on and off as needed.
We have provided a full packing list here, and it is advised to follow this exactly.
2. Don't forget sunscreen and sunglasses
Antarctica experiences continuing sunlight during the summer months.
While the extra daylight enables visitors to make the most of their time on the icy continent, particularly in regards to photography, the depleted ozone layer and extra sunlight present a real hazard to both your skin and eyes.
With approximately 85% of Ultraviolet Radiation (UVA) reflecting off the snow and ice, the damaging rays can cause a debilitating and painful condition known as snow blindness.
Make sure you pack at least an SPF 50+ sunscreen, plus protective sunglasses that block 100% of UVA, B and C rays.
Sunglasses should be non-metal to avoid damage to the skin from the cold and ideally, wrap around the side of the eye for extra protection.
Prescription glasses must adhere to the above guidelines, and be aware that while contacts can be worn in Antarctica, the dry climate can cause discomfort.
Pack adequate contact cleaning solution as there's limited supply in the South Pole.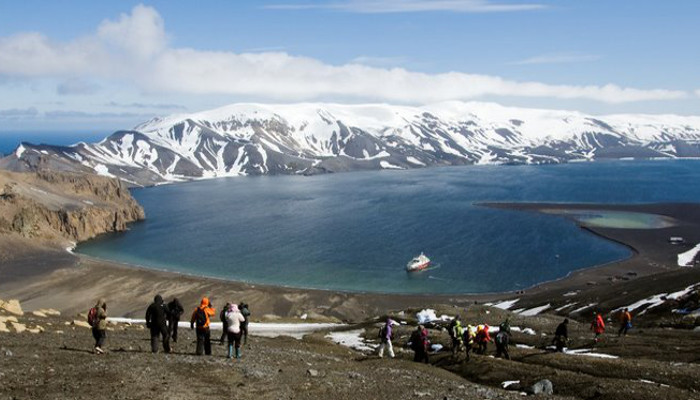 3. Stay Hydrated
Adequate hydration is an essential part of remaining healthy, fit and well energised throughout your trip.
Antarctica is a polar desert and therefore extremely dry. In these conditions, your body begins to lose water just through breathing.
It is recommended to drink at least six to eight litres of water each day to stay hydrated and maintain healthy circulation.
While you may be on holiday, it's also important to cut back on the coffee and alcohol. Both have the ability to dehydrate you rapidly, so if you do decide to indulge, make sure you do it sensibly.
Get a Cruise Quote!
Antarctica Guide do not sell tours, we simply provide impartial advice. If you would like an exact quote with our recommended specialist click Get a Quote.
4. Know the signs of Hypothermia
Hypothermia is a potentially deadly condition when a person's body temperature drops to a dangerous level.
Hyperthermia can occur within a matter of hours, so it's important to be aware of signs and symptoms such as drowsiness, confusion, slurred speech and excessive shivering.
Wear appropriate waterproof and windproof clothing, as well as adequate layers to ensure sufficient insulation.
Keep a watchful eye on those around you, and if you see any signs of hypothermia in those around you, alert your tour operator as quickly as possible.
5. See a doctor before you depart
It is recommended to consult your doctor 6-8 weeks before travel.
There are limited medical facilities onboard, and a trip to the nearest hospital can take days and cost you thousands.
Schedule an appointment with your doctor before departing to assess your health, identify individual risk and precautions, and have peace of mind that you are ready for your adventure.
If you have any underlying health problems, it's always best to consult your doctor prior to booking your trip. Small problems can sometimes turn into much larger ones due to the harsh conditions.
It is also worth checking that your travel insurance company covers you for any pre-existing medical conditions on your trip.
Travelling to Antarctica is a once in a lifetime experience. But as one of the world's most hostile environments, it's important to take additional precautions to stay safe and healthy.
Follow these tips, act responsibly and always listen to the advice of your tour operator.
FAQ
If you have any more questions about staying safe and healthy in Antarctica, please leave a comment below.
Thank you and safe travels!