East Antarctica Cruise: Walk In The Footsteps Of History
---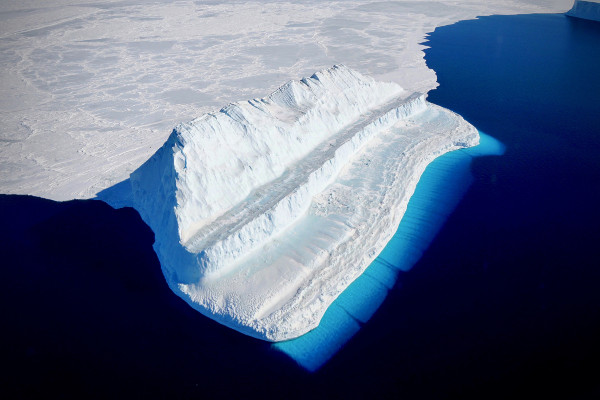 One of the most isolated areas on our planet, East Antarctica is a land of towering polar ice caps and wildlife-rich seas.
East Antarctica is also known for both its historical and modern day explores. After trekking over a 1,000 miles in a perilous landscape, Mackay, David and Mawson were the first intrepid men to reach the Magnetic South pole on January 15th, 1909.
Your cruise will visit the historic 'Mawson's hut' on Commonwealth Bay to learn more about the incredibly story of the three men. You'll also have the chance to step foot an a number of other islands that Mawson's crew visited and witness the rugged landscape that the men had to deal with on a day to day basis.
The East Antarctica Cruise is a fantastic way to experience an incredibly wealth of wildlife and history as you venture along a coast that few people have ever witnessed.
This is the perfect cruise for the adventurous spirit and people with a strong sense of curiosity.
Get a Cruise Quote, Now!
Antarctica Guide do not sell tours, we simply provide impartial advice. If you would like an exact quote with our recommended specialist click Get a Quote.
Route Map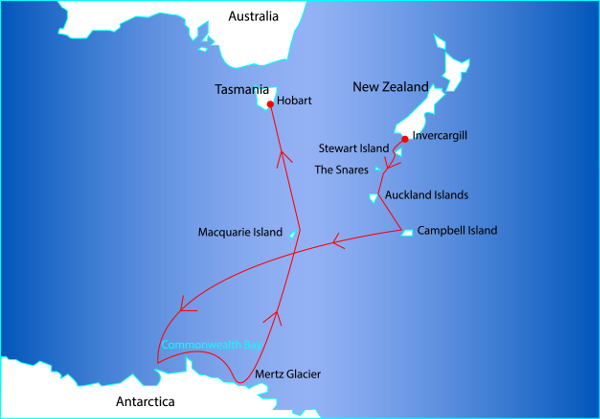 Route Itinerary
Please note that this itinerary is very much dependent upon weather and ice conditions and you will need to be flexible.
DAY 1: ARRIVE IN IVERCARGILL
Today you arrive in New Zealand's southern most city to meet your fellow passengers and crew members. You'll have a welcome dinner at your hotel before getting a good nights sleep before your journey.
DAY 2: EMBARKATION
Today your crew will transfer you to the port where you board your ship – Akademik Shokalskiy. Settle in to your cabin before the crew go over some all-important safety precautions.
DAY 3: THE SNARES – NORTH EAST ISLAND
One of the most wildlife-rich islands on our planet, the North East Island is by far the biggest of The Snares Islands and is home to more nesting seabirds than all of the British Isles out together! Depending on weather you will take some coastal zodiac trips where your guide will point out and discuss the wildlife on show including Snares Crested Penguins, Cape Petrel and the enormous Buller's Albatross. If you're lucky you will also spot White-fronted Terns, Red-billed Gulls, Antarctic Terns, Tomtits and Fernbirds on the towering cliffs.
​DAY 4-5 AUCKLAND ISLANDS
With its towering cliffs and huge rugged sea stacks, the Auckland Islands have been responsible for many shipwrecks over the years. One of the most stunning of these islands is Enderbey where your ship will make a shore landing for the day. Explore the island and take in the wonderful landscape and wildlife on offer. Over the two day you should try and spot New Zealand sea lions, parakeets, wild flowers and Hookers. If you have the energy then you should climb the hill overlooking the port to visit a shy albatross colony.
DAY 6: CAMPBELL ISLAND – PERSERVERANCE HARBOUR
You'll drop anchor in Perseverance Harbor. The island is a hot spot for seabirds and as you walk along the beach and surrounding hills you'll spot Royal Albatross's, Campbell Island Shag, Antarctic Tern, Southern Skua, Dunnock, Campbell Island Teal, New Zealand Pipit and hopefully the rare Campbell Island Snipe! If you hike up to the north west bay then you'll be greeted with superb megaherbs growing on the green hills.
DAY 7-11: CRUISING AT SEA
As you make your way ever south you should continue to keep an eye out for wandering albatrosses and petrels. Your guides will continue to give lectures and begin to discuss the Antarctic region in more detail, explaining the history, flora ad fauna that is likely to be seen. Relax on deck as icebergs begin to appear as you continue south. Celebrate with a glass of champagne as you cross the Antarctic Circle!
​DAY 12-18: COMMONWEALTH BAY
You have now arrived in the remote region of East Antarctica! Your first shore excursion will be on Cape Denison, Commonwealth Bay. Often termed the "home of the blizzard", here you'll visit Mawson's hut and learn about all the hardship that the men had to face. You'll examine relics of the trip and discuss other explorers who have passed through these dangerous waters. On another day, if weather and ice allow, you will head west of Cape Denison to visit the French Research Base, Dumont D'Urville. If you're lucky you will also see some of Antarctica's most famous creatures – emperor penguins! Although the breeding season will be over, there is often some stragglers still remaining. Other shore landings you're likely to make will be on McKellar Islands and Port Martin. Your crew will also be offering daily zodiac trips to go inn search of hidden wildlife!
DAY 19-21: CRUISING AT SEA
You now head to Macquarie Island. In order to prepare you, your guides will begin to give lectures on the upcoming islands. You'll have plenty of time to rest and relax on board and you'll be able to download edit those awesome photos you've taken so far! Keep a sharp eye out for seals and whales.
DAY 22-23: MACQUARIE ISLAND
A UNESCO World Heritage site, Macquarie Island is one of the most amazing places on earth! Described by one Australian explorer as "One of the wonder spots of the world" Macquarie Island is the one and only spot on earth where the Royal Penguin breeds. You'll also be treated to King penguins, Rockhopper penguins and Gentoo penguins! You'll be constantly amazed as these friendly and charismatic creatures walk right up to you without fear. If the penguins are not enough, there is also a huge colony of elephant seals along the beach. Look out for territorial disputes and penguins feeding their chicks. When you arrive you will be greeted by the park ranger who will discuss the region and her inhabitants. If you're a wildlife photographer then you will be in heaven here!
​DAY 24-26: CRUISING AT SEA
As you sail to the Port of Hobart you'll have plenty of time to reflect on your amazing experience. You'll be able to relax on deck and keep editing those photos! On your last evening aboard the ship your crew will put on a big farewell dinner.
DAY 27: IVERCARGILL, NEW ZEALAND
After a leisurely breakfast you'll say your final farewells before taking a complimentary transfer to your hotel or airport.
Get a Cruise Quote, Now!
Antarctica Guide do not sell tours, we simply provide impartial advice. If you would like an exact quote with our recommended specialist please complete the form.
Great recommendation, thanks!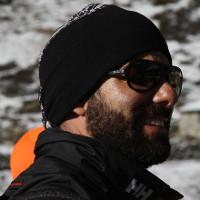 Mark W
USA
East Antarctica Cruise FAQ
How much does this cruise cost?
As the East Antarctica Cruise is one of the longest cruises in Antarctica, the price does reflect this a little. For basic accommodation you should be looking to pay in the region US$16,000. For a double room or suite then expect to pay upwards of $20,000.
Whilst we generally suggest doing your research when it comes to what operator and ship to choose, on this particular cruise options are limited. Only one or two cruises leave each year and the only ship option is the research vessel 'Akademik Shokalskiy'. Last minute deals are generally not available on this cruise as the itinerary is so specialist.
Please see our detailed page on Antarctica cruise costs.
What's usually include?
Please note here that all operators offer slightly different packages. The list below is what we would expect to be included for the East Antarctica Cruise – 27 days.
•1 night hotel stay in Invercargill before departure
•25 nights on-board the vessel
•Arrival and departure transfers to and from airport
•Daily zodiac excursions when near land
•Expert on-board lectures
•Waterproof boots for shore landings
•Expedition parka
•26 breakfasts, 24 lunches, 25 dinners
•Ratio of at least 1 expedition member per 10 guests
What is the best time for this cruise?
Given that there is only one or two East Antarctica Cruises each year, your options on when to travel are very limited. The cruise historically leaves in mid-summer during the high season around mid January.
This is the warmest period in Antarctica with temperatures often exceeding 10 degrees Celsius! The melting ice during this period gives your ship the best chance of reaching its destinations. During this period chicks have just hatched and seals are frantically going to sea each day to feed their pups.
Please see our detailed page on when to visit Antarctica.
What gear do I need to take?
Weather on the East Antarctica Cruise is often cold and having the right cold-weather clothing is key. You should bring thermal layers, gloves, parka, beanie and a waterproof jacket. You should also bring appropriate hiking boots.
Please read our full Antarctic packing list.
Photographic equipment is also an important consideration as the cold weather affects your camera in many ways. Make sure to bring some dry-bags and some zip-lock bags to store you gear in. Remember to bring filters, batteries and a sturdy tripod.
Please see our Antarctica photography tips page for more detailed information.
Do I need travel insurance for this cruise?
Absolutely. Travel insurance is mandatory for all Antarctica cruises. Make sure you read your policy agreement carefully as some policies do not cover you when you leave your ship to go ashore. You will also need appropriate emergency evacuation cover as rescue costs are very high in the wilderness. A minimum of US$100,000 is usually required.
Please see our detailed article on Antarctica travel insurance.
What level of fitness do I need for this cruise?
The East Antarctica Cruise does not require any serious levels of fitness. There is some hiking, however, the hikes are not very log and are completely optional.
A strong spirit of adventure is far more important than any real fitness level. However, having a basic level of fitness will increase your enjoyment as you will be able to explore further on the shore landings.
Ships that sail the East Antarctica Cruise Itinerary
Akademik Shokalskiy
The Akademik Shokalskiy ship is a fully ice-strengthened vessel designed for Polar oceanographic work. The ship carries 48 passengers and since becoming an Antarctic cruise vessel has undergone complete refurbishment.
Because of this the Akademik Shokalskiy is very well equipped for a research vessel and comes with a lounge/bar, library, lecture room and sauna. The ship has a lovely research feel about it that suits many people.
Get a Cruise Quote, Now!
Antarctica Guide do not sell tours, we simply provide impartial advice. If you would like an exact quote with our recommended specialist click Get a Quote.
FAQ
If you would like to know more, please leave a comment below and we will endeavor to get back to you within 24 hours! Alternatively, please see our FAQ page here. If you would like to get a cruise quote, please use this form.
Thank you - AntarcticaGuide Team