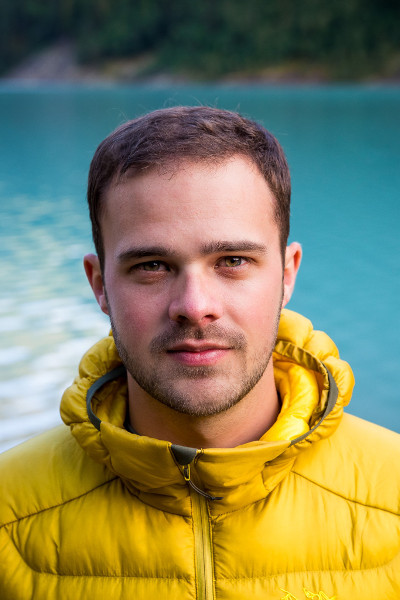 Interview with an expert – Callum Snape
October 13th, 2016 / Burnham Arlidge
---
Interview with an expert – Callum Snape
For this months 'Interview with an expert' we're very excited to be talking to one of our favourite landscape photographers on earth – Callum Snape.
Callum is a freelance adventure and travel photographer from Banff in the Canadian Rockies. His stunning landscape images have garnered the young Canadian a huge fan base, particularly on social media.
With an average between 15,000 and 30,000 likes per photo on Instagram, it's fair to say that Callum is one of the most well-known landscape photographers working today and it's easy to see why.
If you haven't already come across his vibrant landscape shots then please check out his Instagram feed here or visit his website. Be warned though – you won't be getting any work done for an hour or so as you drool over the screen!
The Canadian photographer is constantly on the move, often travelling away from home for more than 9 months a year.
Despite his hectic schedule, Callum was gracious enough to answer a few of our questions to help inspire and instruct our readers in the difficult art of landscape photography.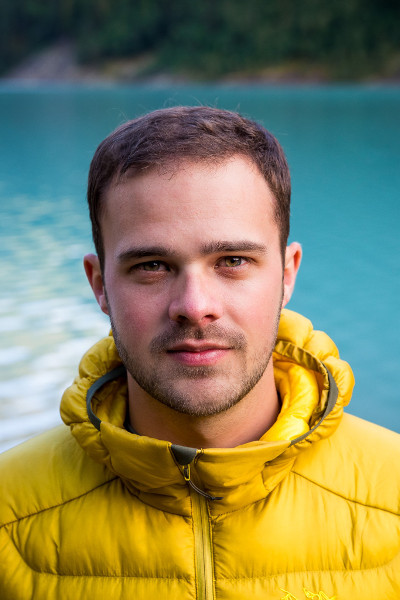 Hi Callum, what first drew you to landscape photography? 
My story with Landscape Photography began nearly eight years ago when I immigrated to Banff, Canada on my own from Canterbury, England. I moved to the Canadian Rockies to pursue a career in snow sports but quickly found a new passion, backcountry hiking. After a few multi-day hikes I started to take a cheap camera along with me to take photos of the views to share with family back in England and friends in town. I've always been a creative person so it didn't take long for me to start teaching myself the techniques and skills to capture my adventures.
If we opened up your kit bag, what would we find? 
My kit bag varies depending on what I'm shooting but you guarantee it's a complete mess in there, I have a hard time keeping my packs organized. Right now I'm on a flight
from Vancouver to England then India so I'm in travel mode and I have:
Goal Zero Venture 30 Goal Zero Venture 10 Sudio Headphones 13" MacBook Pro Induro CT104 Tripod Arc'teryx Cerium Down Jacket,  SanDisk Portable Hard Drives Notepad + Pens Too many Lithium Batteries F-Stop Loka UL Pack
Canon 6D Canon 5DIII Canon 16-35mm II F/2.8 L Canon 70-200 F/4 L Sigma ART 20mm F/1.4 LEE Big Stopper + .9 Grad ND Hoya Circular Polarizer x 2 DJI OSMO
What are the top 3 things you look for in a great landscape shot? 
I have a mental checklist of everything I look for in a landscape photo, at the top of that list is light, composition and creativity. Essentially, photography is capturing light, for me this is the most important factor for a photo and it takes a lot of planning to capture the best light in the right place at the right time. When there isn't good light it's a fun challenge to create something with what nature gives you. Next on my mental checklist is composition, this is important to create a photo that's pleasing to the eye. For example, having elements that lead the eye in to the scene with a finishing point and ensuring that no natural features compete for attention. Finally, creativity, in my opinion this is something that cannot be taught, it comes from inside. Creativity is essential to make work that is your own, that makes your work stand out from other people's images.
What type of landscape inspires you most and why? 
Mountain landscapes inspire me the most. I'm drawn to untouched wilderness and towering summits, they make me feel lost, alone and small, the feelings and emotions I thrive off when I create photos. I like the concept of having to work to create photos, hiking, sometimes for several days to get one photo, the experience is overwhelming and addictive.
I just love this shot below, can you tell us a little more about the story behind the picture?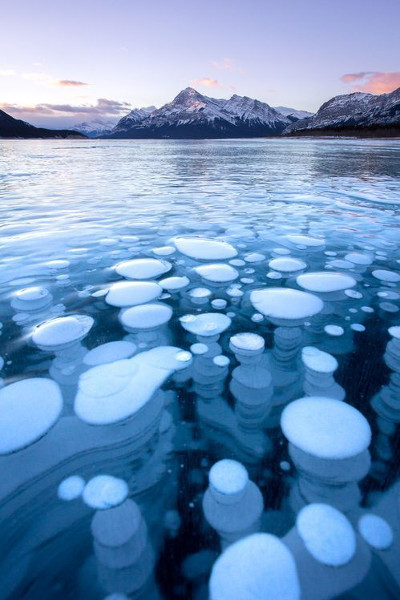 This photo took five years of attempts to capture, I thought I was never going to be able to photograph it in a way that justified it until this moment. The photo shows methane bubbles frozen in ice at Abraham Lake in Alberta, Canada. Dead plant matter on the lake bed releases methane over time, combined with freezing winter temperatures that ices over the surface of Abraham Lake, it creates these amazing formations. A number of factors make this scene particularly hard to capture, there is generally a one week ideal window to see them this good every year. Major factors that affect the quality are Snow covering the lake, warm weather frosting over the surface ice and warm weather not allowing ice to form at all.
What would be your 3 top tips for budding landscape photographers out there? 
The best advice I can give to budding landscape photographers is to get out and shoot at much as you can, it's the fastest way to learn and grow. Secondly, shoot on your own, it's great going out with friends but you will learn the most about yourself and your work when you have no distractions and you can refine your skills. Lastly, share your work, get feedback and ask for critique, the photo community can be competitive and arrogant so surround yourself with other photographers that can help you and vice versa.
What is next on the horizon for you? 
Right now I'm a plane to visit my family in England for a week before heading out to India, photographing Delhi, Agra and Jaipur in India, then I'm heading over on assignment to Japan and some other locations that I unfortunately I'm not allowed to share just yet. In additional, I have some really exciting projects coming up in 2017 and I'll be designating a huge proportion of my time to working with non-profit environmental organizations to help raise awareness about the global problems we're facing.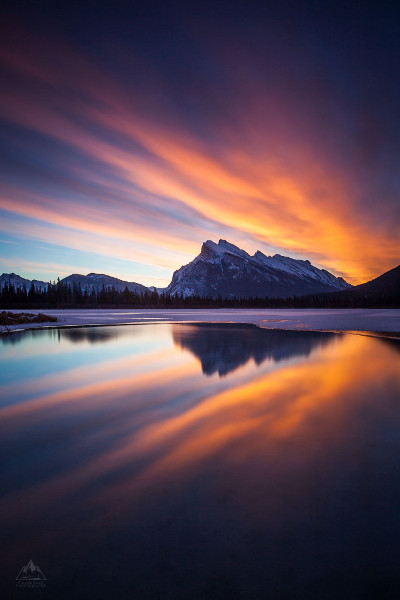 We hope you have enjoyed this interview with landscape photographer Callum Snape! If you have any questions or would like to know more about Callum, then please visit his website – http://www.callumsnapephoto.com/.
Please stop by again next month when we talk to another leading expert!
Thank you,
Antarctica Guide Team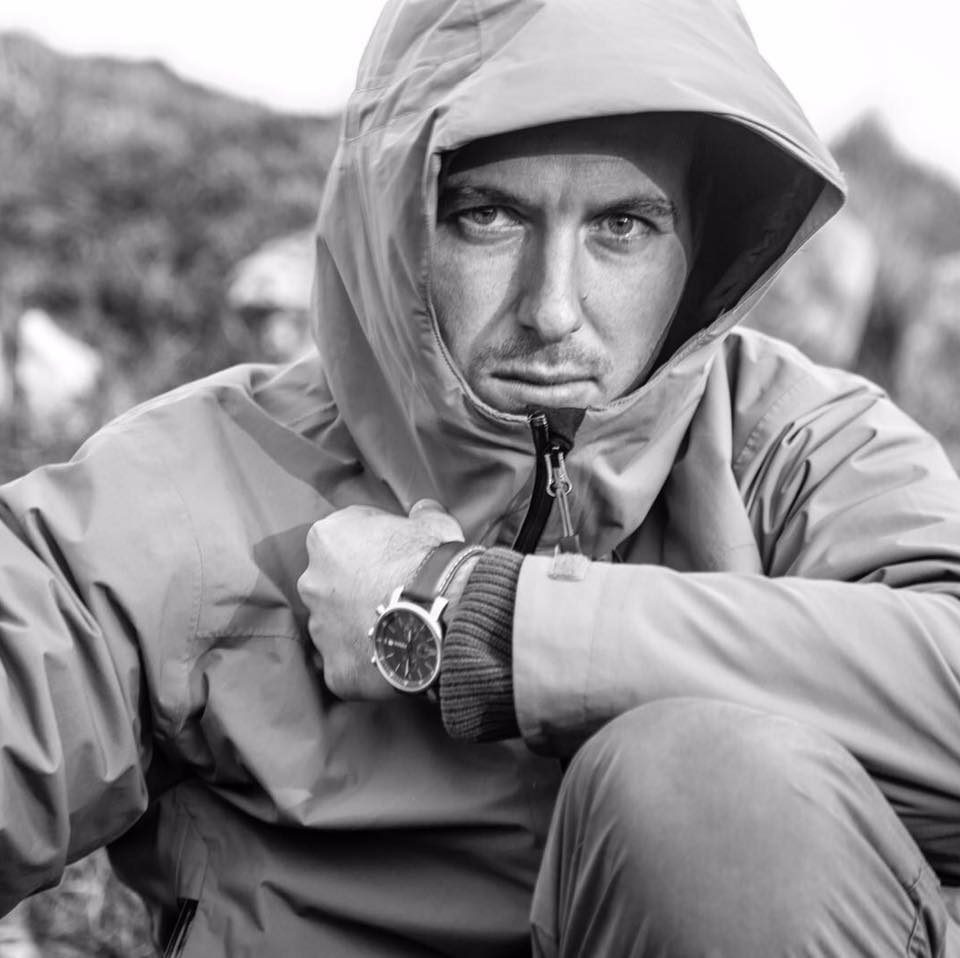 About the Author
Burnham Arlidge
Burnham started his career as a professional tennis player before retiring due to injury. Since then Burnham has thrown himself into adventure travel. He has visited some of the most iconic and obscure parts of the planet - his most memorable experience is Antarctica!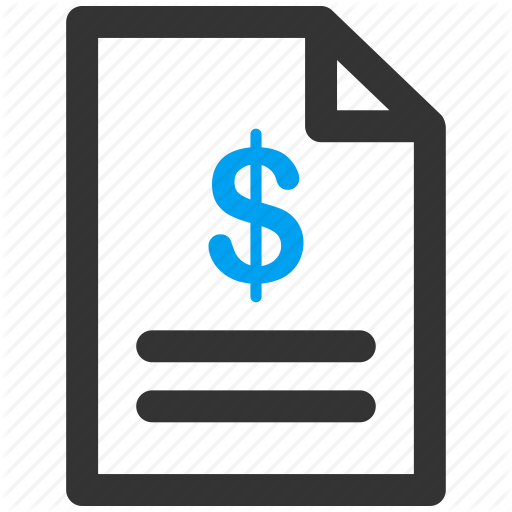 Get a cruise quote to your inbox, today!
Receive a price competitive quote from our trusted Antarctica cruise agent.
Get a Cruise Quote, Now!
Related Posts
Leave a Comment: