Antarctica is the highests, windiest, coldest and most remote continent on earth. Whilst these facts alone make it one of the most compelling places to journey to, it can also make people question how fit they need to be to visit Antarctica.
The good news is that you do not have to be very fit to visit Antarctica. However, a good level of fitness and physical health will make your trip more enjoyable.
It's worth noting that activities and shore landings in Antarctica are never compulsory. If you think the weather looks too rough, or you simply need a rest, you can stay aboard the ship.
So, to help you decide if your fitness levels are right for Antarctica, we've put together this guide.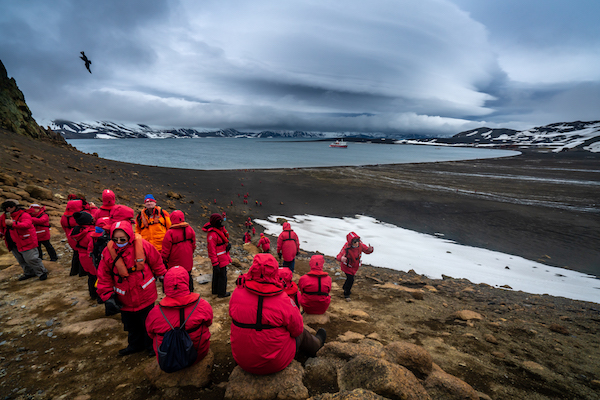 Zodiac boardings
One of the best elements of any Antarctic cruise are the zodiac trips. Most ships will have a fleet of zodiacs used to take passengers out in small groups in search of wildlife. The zodiacs are also used during shore landings to ferry guests back and forth.
Although the actual zodiac trips require no fitness, getting in and out of the zodiacs can sometimes be a little tricky, particularly in rough weather. When there is a swell, the boats will bob up and down and you'll need some balance to board the zodiacs.
You'll also frequently disembark the zodiacs via 'wet landings' which means leaving the zodiac when it is in shallow water and walking to the beach. Don't worry though, you'll have waterproof boots provided.
It's worth noting that there will always be several guides there to help you board and disembark the zodiacs and grab your arms for balance. If the weather is too rough, then the zodiac trips will be delayed.
Shore landings
Shore landings are fundamental to any Antarctic trip. If the weather is good, your expedition team will aim for at least one shore landing per day in Antarctica.
Most shore landings involve short hikes over uneven and sometimes slippery terrain. The boots you will be given will handle most surfaces, but you will still need to be careful.
The hikes are generally less than 1 mile long, but there are longer options on itineraries that visit South Georgia. Some hikes are quite steep, but generally speaking most are not.
Once ashore, there is no pressure to actually do the hike. If you prefer, you can stay near the shoreline, sit down, and enjoy the incredible scenery for several hours.
Because of this, a high level of fitness is not required for shore landings. However, a basic level of fitness will allow you to complete the shore hikes and see other parts of the environment and wildlife that you are exploring.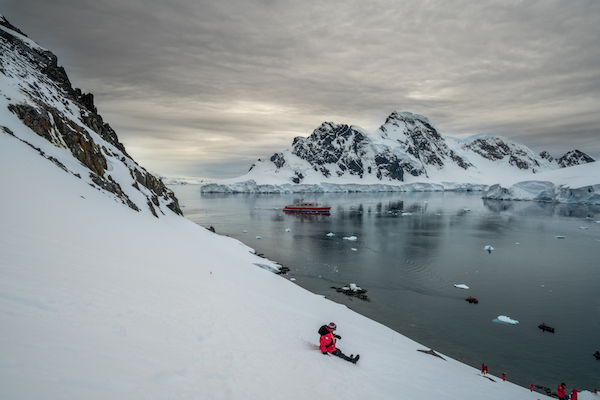 Age restrictions
Most operators have no upper age limit for Antarctic cruises. Octogenarians are not uncommon and many experience Antarctica to the fullest including participating in the Polar Plunge. As long as you are mobile enough to get in and out of a zodiac and walk short distances, you will be okay.
Many operators prevent children under the age of 8 taking a cruise to Antarctica. This is not to do with fitness, but instead child safety aboard the ship. Antarctic ships are not designed for small children as things like railings, steep steps and rope can be dangerous.
Medical Assistance
Onboard every Antarctic ship there will be a small medical clinic overseen by a doctor. It is important to note that these clinics are not for major medical emergencies, but instead are used to treat minor ailments such as coughs, headaches, cuts, etc.
Many operators will require passengers to send them a signed medical from their general practitioner prior to travel. This is important as emergency rescue in Antarctica is exceptionally difficult and very expensive. This is why getting the right Antarctic medical insurance is so important.
Always make sure prior to travelling that you inform your operators of any pre-existing medical conditions that you have. This will allow the onboard doctor to take the necessary steps should anything happen during your voyage.
Onboard gym
Most ships that sail to Antarctica will have an onboard gym. These can range in size and sophistication quite substantially depending on which ship you sail. If the gym is important to you, then choosing a bigger ship is a good choice.
It is important to keep in mind that whilst you'll be onboard your ship for long periods of time, most days are filled with several shore landings which can often tire people out. Therefore, your general gym session may not be necessary.