The Lemaire Channel is one of Antarctica's landmark spots and probably the most popular tourist destination on the continent. The serene beauty and outstanding wildlife of the Lemaire Channel has earned it the nickname 'Kodak Gap'.
The Lemaire Channel
The Lemaire Channel is a narrow gap of water that runs for approximately 7 miles between the mainland's Kiev Peninsula and Booth Island, a large and rugged outcrop of rocky terrain.
The Lemaire Channel was actually spotted by a German expedition in 1870, however, it took another 28 years before anyone actually traversed it. In 1898, a Belgian Expedition led by Adrien De Gerlache, became the first people to sail through the gap.
Strangely though, Adrien De Gerlache chose not to name the channel after himself, but instead chose to name it after another Belgian explorer Charles Lemaire (1863-1925). Charles Lemaire had no connections with Antarctica, instead, Lemaire was most known for his Congo expeditions.
Because of the channels location, the water is almost always calm and reflects the cliffs and glaciers that rise out of the water either side of the channel in a perfect mirror like fashion.
The mirrored surface allows even total amateur photographers to get some pretty epic shots! It's considered to be almost impossible to take a bad picture in the Lemaire Channel – hence the name 'Kodak Gap'.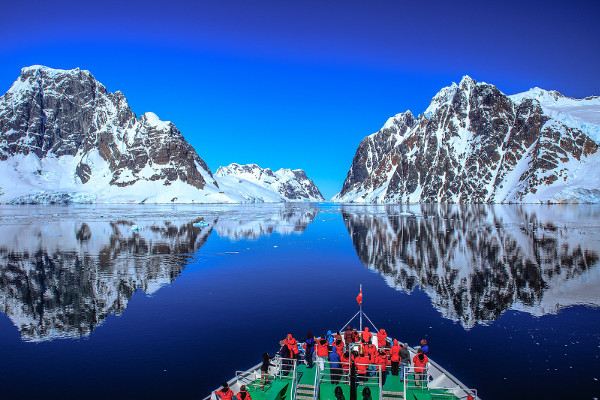 If the awesome scenery is not enough, the Lemaire Channel is also one of the most famous spots to see whales.
The calm waters attract the whales to the channel and you'll be unlucky not to spot one, particularly later in the season around February and March. Seals are also very common on the ice and you'll have great fun spotting each one as your cruise makes it way through the gap.
If you're thinking 'I hope my cruise visits the Lemaire Channel' then don't worry, almost every Antarctica cruise will visit the channel.
Your operator will usually arrive at the Lemaire Channel early in the morning to get the best light. The actual sailing time is about an hour, however, this often takes longer if whales are spotted. The Lemaire Channel is also know for its icebergs which make fabulous focal points for landscape shots.
Occasionally, the icebergs will actually clog up the channel and your cruise will be forced to turn around and navigate around the far side of Booth Island. Don't panic if this happens, you'll still get ample time to view the channel itself.
Get a Cruise Quote!
Antarctica Guide do not sell tours, we simply provide impartial advice. If you would like an exact quote with our recommended specialist click Get a Quote.
FAQ
If you have any further questions or queries regarding the Lemaire Channel, please just leave a comment below and we'll get back to you within 24 hours.
Thank you and happy travels!