Have you ever wondered what it would be like flying over Antarctica? What sights you would see?
An icy white expanse sprawling with dramatic cliff faces, majestic icebergs and rugged mountainous terrain. Antarctica from above is simply spectacular.
The icy continent has captured the attention of adventurous travellers for decades. However, for those of us with limited cash and spare time, the dream of witnessing Antarctica has remained just out of grasp - until now.
Privately charted Qantas 747 jets now fly over Antarctica for the sole purpose of sightseeing.
The full day experience consists of a 12-hour round trip that requires no passport.
Witness the uncharted landscapes of Antarctica with a glass of champagne in hand from the warmth and comfort of your leather seat!
Flying Over Antarctica: All The Information
Where do Flights Depart?
Australia is the only country in the world to provide sightseeing flights over the Antarctica.
There are several departure locations and different packages on offer. From 2017-2019, flights will depart from the following airports; Sydney, Melbourne, Perth, Brisbane, and Hobart.
Flights are not common, with only a few scheduled each year, and therefore sell out quickly.
We highly recommend you book well in advance to avoid disappointment.
What to Expect Onboard
Flying is the fastest, most comfortable and generally the cheapest way to see Antarctica.
With journey times of just 12-13 hours and luxurious in-flight facilities, Antarctica fly-overs have made the trip accessible for those unable to board a cruise ship due to medical or time restrictions.
No two flights are the same. Each trip has a bespoke service including two meals, snacks and a full bar to keep energy levels high and enjoyment off the charts!
Antarctic experts will also be moving around the plane, in addition to an in-flight entertainment system that will show documentaries and movies about the region.
However, the main attraction is flying over Antarctica itself.
Get your cameras ready and experience incredible views that make for an unforgettable trip! While you can't explore the continent by foot, you will get to see amazing views from above, all in one day.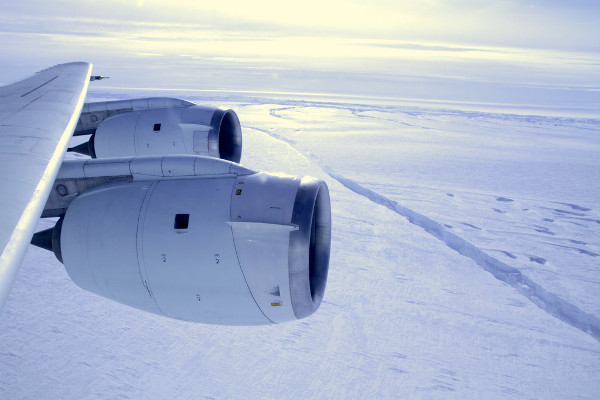 What Can You See During Your Flight?
Embarking on this visual excursion will provide you with spectacular sights of the Antarctic landscape, simply not available from the ground.
Expect to spend up to four full hours over the continent, with plenty of time to soak in the stunning scenery with a drink in hand!
There are 19 routes available, with the Captain carefully selecting the best possible option for each journey.
Each route takes into account the most spectacular viewing locations depending on the side of the aircraft, the maximum area covered of Antarctica, a variety of scenic views and the best possible visibility based on weather conditions.
Expect to see the first signs of icebergs and sea ice within three to four hours of departure. Antarctica is best viewed looking outwards, so even if you are in a centre seat or over the wing, there is still plenty to see.
While spotting wildlife is a little challenging from the air, passengers can expect to see breathtaking mountains, rugged landscapes, massive glaciers and huge ice floes.
Best Seats in the House
There are many different packages available to provide you with the best possible experience.
With only 3-4 hours spent flying over the actual continent, every passenger (excluding Business and Economy centre seats) will be allocated two boarding passes.
At the halfway point, an announcement will be made to switch to your new seats which allow maximum viewing for all.
Each trip is a unique experience, and everyone on board will get a chance to enjoy excellent views of Antarctica.
It's important to note that passengers do get up and move around the aircraft. Also, the plane flies in long sweeping figure eights over key points of interest to allow passengers on both sides to get the perfect view.
An Experience You Won't Forget
If seeing Antarctica has been on your bucket list for a while, this unique day trip will be an experience that stays with you forever. Contact our Antarctica cruise experts if you would like to learn more about Antarctica fly-overs or Antarctic cruises.
FAQ
If you have any further queries regarding flying over Antarctica then please just leave a comment below.